Page 2 of 2 •

1, 2

Jane Doe
((Close up of face))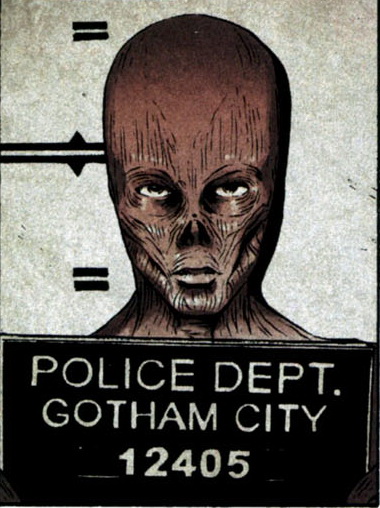 ((Jane Doe in costume))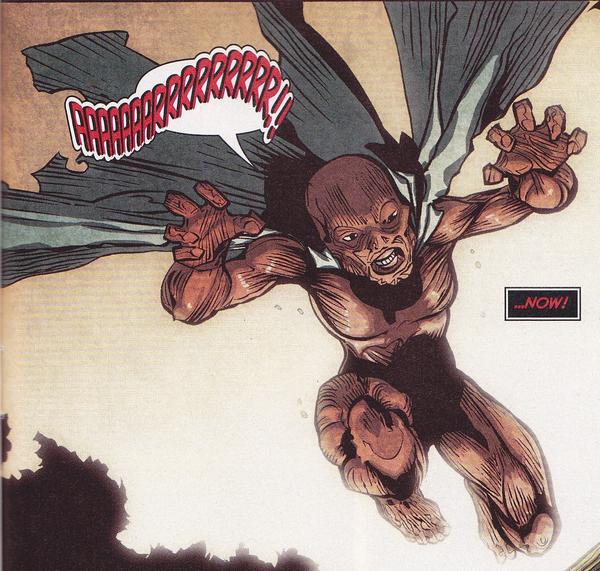 Race: Human
Gender: Female
Class: None
Jane Doe is an inmate at Arkham Asylum, and a notable serial killer.
She observes and gets to know people before killing them and taking their identity for herself, trying to find one she could be happy in. She does not limit herself in her choices by gender or occupation, based on her observations able to perform the job requirements of anybody she becomes, simply by forcing her mind to become to them.
In arguably her own words, albeit in the third person while still under the influences of the Anne Carver identity, "Jane is a cipher. She's incomplete. Her life is empty, so she covets the lives of others. She takes their lives so she can have their lives."
She had usurped the identity of Arkham psychiatrist "Anne Carver," and was giving psychological evaluations of other inmates. But she was defeated by Batman before she could murder billionaire criminal Warren White and assume his identity. Later she takes the identity of a security guard "Wrigley" and releases the criminal "Doodlebug" from his cell.
She later locks White in a freezer, where his skin bleaches, and his ears, nose and lips fall off, completing his transformation into the Great White Shark. Later, after escaping, he confronts her and strips her of his identity.
Her latest appearance to date it was revealed that she'd lost her face in an accident several years ago. She soon begins developing an obsession with "Bruce Wayne" who is actually his childhood friend and sworn enemy, Thomas Elliot aka Hush.
She takes the place of Wayne's new secretary and then cuts off Hush's Bruce Wayne face in hopes of becoming Bruce Wayne herself but the real Batman catches her and Hush in the act.
Stats
Strength: 3
Intelligence: 8
Willpower: 4
Speed: 6
Durability: 3
Personality: 10
Powers
((A show of her abilities))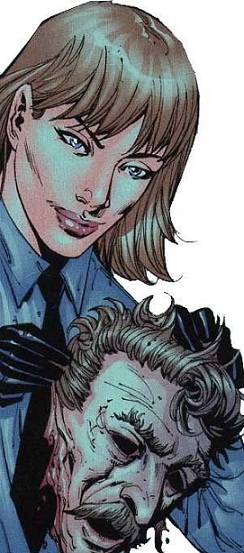 None
Abilities
Jane possesses a vastly above average ability to imitate others. Not only can she perfectly copy body language and speech patterns, but is a good enough judge of character to after observation nigh impeccably think the way somebody else thinks.
Equipment
Jane Doe has been shown to carry numerous different items. Besides all of the equipment of whichever person she's adopting the identity of, she carries a tape recorder to help her mimic voices. On one occasion, she nearly escaped from Arkham Asylum with a collection of body parts she had kept in unknown locations. The emergency exit required a fingerprint scan, a retinal scan, and a voice I.D., and she simply procured Dr. Anne Carver's severed hand, eyeball in a jar, and a voice pleading not to kill her on her tape recorder. She was immediately stopped by Batman however.
Weapons
Known to carry conventional and convenient weapons. A knife or a gun. Whatever gets the job done.
Killer Croc
((Killer Croc))
((Savage Killer Croc))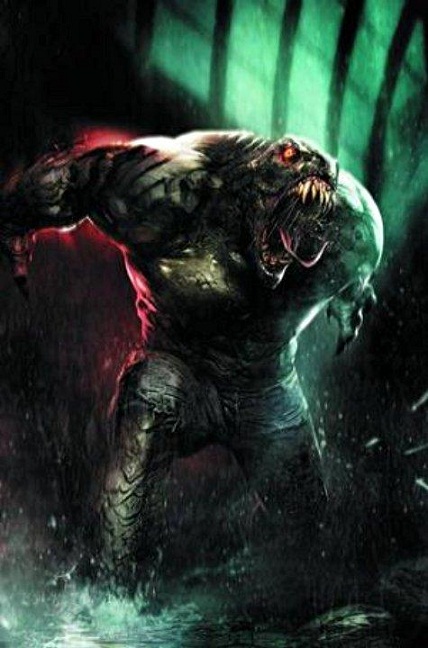 Race: Human
Gender: Male
Class: None
Killer Croc, or Waylon Jones, is a criminal and nemesis of Batman. He was born with a medical condition that caused him to grow progressively more like a crocodile, hence his name. His mother died in childbirth, and his father abandoned him. Waylon was raised by his aunt, but her persistent drinking prevented him from growing up in an ideal household. As a teenager, Croc had no friends, and was the object of ridicule of those who knew him. By the time he reached adulthood, Waylon found work wrestling alligators. It was at this point that he began referring to himself as Killer Croc. Even then, his strength level was greatly beyond that of a normal human. Croc soon realized that there was more money to be made in crime, so he set out to become Gotham's most powerful underground figure. One of the most significant of atrocities that Croc committed was the murder of Joseph and Trina Todd. Their deaths would inspire their adoptive son Jason to take up the costumed role of the second Robin. Ultimately, Killer Croc's criminal lifestyle brought him into conflict with Gotham's guardian the Batman. After a protracted battle, Croc was defeated and sent to Arkham Asylum. There, he suffered from intense electroshock therapy, which resulted in intense recurring nightmares.
Some time later, notorious sociopath Ra's al Ghul engineered a massive breakout of Arkham Asylum, freeing all of the patients, including Killer Croc. In exchange for their freedom, the prisoners agreed to help Ra's with a scheme to confound the Batman. Croc's roll in the plan was to break into Wayne Manor and abduct Bruce Wayne's butler Alfred Pennyworth. Croc had no idea what connection Pennyworth had to Batman, but he executed the deed without question, and brought Alfred back to Poison Ivy's Exotica Emporium where four other hostages were being held. Batman soon arrived to rescue the hostages and fought with Croc once again. As time was of the essence, Batman wasted little of it fighting Croc, and quickly subdued him with a gas pellet from his utility belt. Afterwards, Killer Croc was returned to Arkham Asylum.
Like many do, Croc eventually escaped from Arkham and began running criminal operations again. After robbing a shopping store, Croc discovered a secret stairwell that led into an old unfinished subterranean highway. The tunnel had since become a shelter for many of Gotham's homeless. Croc became friends with the homeless people and attempted to make a new life for himself. Croc's newfound lifestyle was short-lived however. Batman investigated the store robbery, and the trail led him right to Killer Croc's shelter. The two began fighting one another, but at midnight, the city flushed the tunnels with water from the river, and Croc was washed away. His friends believed that he had died in the flood. Croc survived however, and six months later had taken to living out of the Gotham City alleyways. He was tormented by visions of his past, calling to mind hurtful incidents where his peers would routinely comment about his physical features. In combination with his natural, instinctive rage, Croc's emotional state erupted into a wave of violence and he began going berserk throughout the city streets. News crews captured his latest rampage, as he began terrorizing the district known as Eden Park. An aspiring foreign crime lord known as Bane witnessed Croc's rampage, and determined that defeating him would be a stepping stone on his personal path towards destroying Batman. Before Bane could catch up with him though, Croc found himself facing neophyte vigilante Jean Paul Valley (who was masquerading in a Batman costume at the time), as well Batman's young sidekick Robin. Bane interrupted the fight and demonstrated his raw power by breaking both of Croc's arms.
Croc soon healed and returned to Gotham in an effort to re-establish himself in the criminal underworld. He went on a brutal murder spree that claimed the lives of several members of the Paretti crime family operating out of Gotham's waterfront district. At this point in time, Bruce Wayne had relinquished the role of Batman to his first ward Dick Grayson. As the new Batman, Dick and Robin (Tim Drake) fought with Croc at a warehouse. Surviving members of the Paretti gang were present and opened fire on Croc severely wounding him. Croc survived once again however and evaded capture.
Years later, Killer Croc was summoned by some strange paranormal force to break out of Arkham Asylum and make his way to the Lousiana swamps. Batman followed him there only to find that the mysterious force was actually the Swamp Thing, who offered Croc a place in the swampland where he could finally give in to his animal side and live free from human persecution. There he stayed, and Batman returned to Gotham City.
In recent years, Killer Croc has been portrayed as being much more reptilian than in past incarnations. In one incident, a virus forced Croc's body to devolve into a more primal and reptilian state. Croc later attempted to find a cure for his condition, but when this failed, Croc ate the scientist who tried to help him. Croc was later discovered feeding off the remains of the villain Orca. He was apprehended once again and taken back to Arkham Asylum. While being transferred from one prison cell to another, Croc wrestled free from his handlers and attacked visiting reporter Jimmy Olsen. Olsen spontaneously generated super-powers and was able to escape unharmed. Killer Croc soon escaped confinement however, and was one of many super-powered villains led by Deathstroke who crashed the wedding of Green Arrow and Black Canary. Fortunately, the wedding party was made up of members of the Justice League, the Justice Society, the Outsiders and the Teen Titans. By the end of the fight, most of the villains, including Croc, were apprehended. The administrators of Checkmate later decided that Croc was too dangerous for them to safely contain him. He, along with many others, were exiled from the Earth via Boom Tube and taken to the "Salvation" World.
A new Black Mask attempted to control Killer Croc by implanting a device in his body. He escaped Black Mask but was captured and imprisoned by the Outsiders.
Stats
Strength: 8 (10 when savage)
Intelligence: 2 (0 when savage)
Willpower: 6 (8 when savage)
Speed: 6 (4 when savage)
Durability: 10
Personality: 2
Powers
Regressive Atavism: Killer Croc is afflicted with what seems to be some form of regressive atavism, meaning he has inherited some of the traits of ancestral species of the human race. Over time the primal reptilian part of his brain gains more control of his psyche.
Regenerative Healing Factor: He has superhuman regenerative powers, able to heal even lost limbs.
Armored Skin: His skin has hardened to the point where it is invulnerable to most forms of abrasion and even high caliber weapons fired from a distance.
Superhuman Strength: He has grown so physically powerful and quick over the years that Batman has had to resort to planting explosive devices on Croc's chest to knock him unconscious. He has also been able to rip a large bank vault door right off its hinges with ease.
Superhuman Speed
Superhuman Agility
Superhuman Reflexes
Enhanced Senses
Claws
Fangs
Prehensile Tail
Abilities
Wrestling: Croc has some experience at street fighting and wrestling, but he is nowhere near as proficient as Batman or Nightwing.
Intense Rage: He harbors great rage against humanity, to the point were he could probably even operate a Red Lantern Ring.
Strength level
Superhuman: Killer Croc's mutated strength level is many times greater than that of a normal human. Over the years, as Croc's body continued to mutate, his strength levels increased accordingly. Killer Croc can lift roughly 5 to 10 tons originally he could lift 1000lbs.
Weaknesses
Lowered Intellect: Killer Croc's mind, once possessing above average intelligence, has now lessened greatly due to his advanced mutation level and the specialized virus designed to advance it created by Hush and the Mad Hatter. He is a high school drop out, but has proven to be moderately capable of organizing thugs in small-time racketeering operations. He is usually hired by other villains as muscle or as a hitman, as he is at least intelligent enough to follow instructions.
Maxie Zeus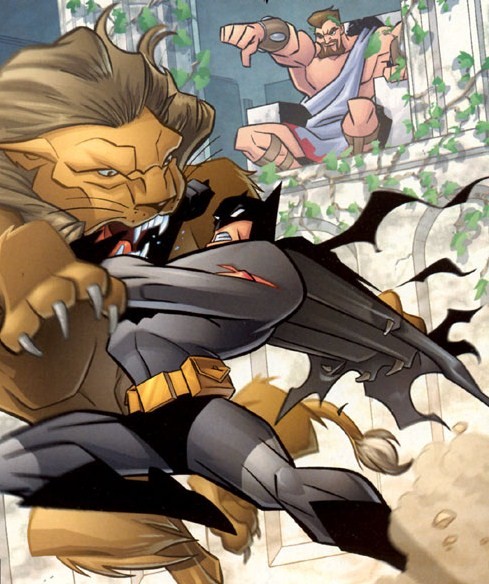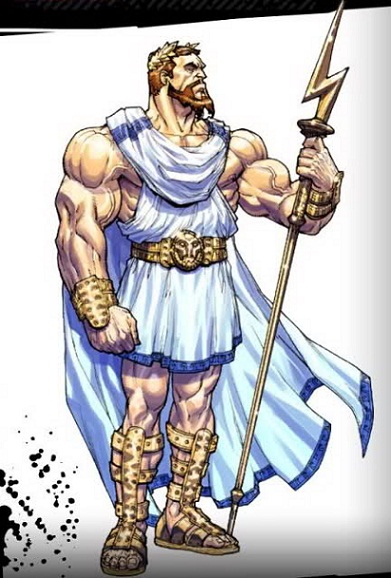 Race: Human
Gender: Male
Class: None
Maximilian Zeus, a slightly built, almost mild man, was a history teacher and a married man. Through unrevealed circumstances he lost his wife and his sanity. Completely delusional, Maxie Zeus believes he is the reincarnation of the Greek god Zeus himself. He became a crimelord, and uses his cunning and intelligence to rise to power amidst the chaos in Gotham City's underworld caused by the city's numerous insane criminals.
Zeus fought Batman on several occasions before being committed to Arkham Asylum, where he remained until escaping to form a team of superhuman agents, the New Olympians. He attempted to kidnap Olympic athlete Lacinia Nitocris and force her to marry him and become a mother figure for his daughter Medea. This plot is foiled by Batman and the Outsiders, who beat the Olympians in a series of Olympic-style games. Returned to Arkham, Zeus is one of the villains that escaped when Bane brought down the walls of Arkham Asylum during Knightfall. Maxie's escape attempt was disrupted when he collided with a tree. When the Joker escaped, he ignored Zeus's pleas for help because the Joker finds him annoying.
Sometime later, however, Zeus was drawn into a plot engineered by the children of the god Ares — Deimos, Phobos, and Eris - to merge Gotham City with Ares's throne capital, the Aeropagus. (The Greek gods actually exist in the DC Universe, and appear quite often in Wonder Woman). The intent being to re-establish Ares's rule on earth. Zeus is seemingly killed as a result of that plot, and his sacrifice brought about Ares' return. However, the scheme was foiled by Wonder Woman and her allies, and Ares himself banished his children back to Tartarus.
Recently, Zeus has resurfaced, having survived his apparent death (either his injuries were not severe or his history has been altered by the events of Infinite Crisis) and coming into conflict with Robin. In Batman: Cacophony, he begins selling a drug created from a combination of Joker venom and ecstasy. In retaliation, the Joker blows up a school where Zeus's nephew is a student. It is shown that Zeus can be coherent and sane when on medication but lapses back into a raving, delusional man-god when off them.
Maxie Zeus is driven by religious delusions and is a charismatic leader who has developed a long-standing cult. He is currently determined to extend his powerful reach and recruit new followers
Stats
Strength: 4
Intelligence: 8
Willpower: 5
Speed: 5
Durability: 4
Personality: 8
Powers
((How Maxie Zeus sees Batman))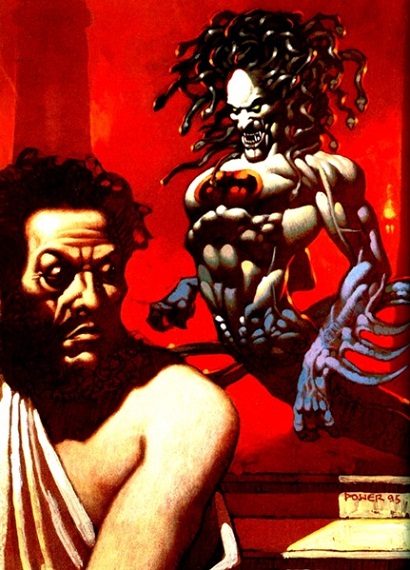 None
Abilities
Very Charismatic
Electrical Scientist
Weapons
Thunderbolt Rod
Henchmen
Achilles
Eddie
Fred Britt
Harpy
Hector
Heracles
Joey
Julie Caesar - An associate of Maxie Zeus that believes himself to be Julius Caesar. (Batman #19)
Morris
The New Olympians - A group of Greek Mythology-based criminals assembled by Maxie Zeus in his plot to affect the Olympic Games.
Antaeus
Argus - Maxie Zeus' henchman who is a member of the New Olympians. He has telekinetic powers that enables him to see great distances and was a poor fight as he was easily defeated by Batman. His talents make him similar to the actual Argus Panoptes.
Diana - Maxie Zeus' henchman who is a member of the New Olympians. She is superb archer and a fierce swordswoman. Diana was defeated in a sword fight against Katana. Her talents make her similar to Artemis.
Nox
Proteus
Volcanus
Mister Freeze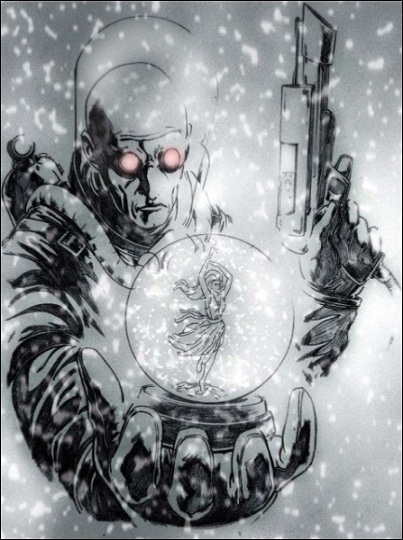 Race: Human
Gender: Male
Class: None
As a child, Victor Fries was fascinated by freezing animals – a hobby he developed to escape the pressures of his brutal, control-freak father. His parents, horrified by his 'hobby', sent him to a strict boarding school, where he was miserable, feeling detached from humanity. In college, he felt that he may never feel a warm touch, but then came Nora, a beautiful athlete, with whom he fell deeply in love with and ultimately married.
Nora later fell terminally ill with a rare malady. Fries took on a job working for a large drug company called GothCorp, run by the ruthless Ferris Boyle so he could find a cure. Using his great intellect and passion for cryogenics, Fries discovered a way to put Nora into cryo-stasis (using company equipment), hoping to sustain her until a cure could be found. Boyle found out about the experiment and canceled the funding, attempting to have Nora brought out of stasis and overruling Fries' frantic objections. A struggle ensued, which resulted in Fries becoming engulfed in his own cryogenic coolants and being for dead. Fries survived, but the chemicals had altered his body chemistry and his body temperature was lowered dramatically; he could now only survive at sub-zero temperatures. Fries escaped unnoticed with the frozen Nora. In hiding, he invented a special refrigeration suit to stay alive, and used cryonic technology to create a powerful gun which fired a beam that froze any target within its range.
With this technology, he became a criminal called Mr. Freeze with a taste for diamonds and revenge.
His first act as a costumed criminal is to take revenge upon Ferris Boyle, a plan with which Batman interferes. Mr. Freeze fired his freeze-gun at Batman, but he dodged, causing the beam to shatter Nora's capsule. Freeze blamed Batman, and swore to destroy whatever the Dark Knight holds dear (mainly Gotham City, and eventually Robin). Mr. Freeze once joined a team of Gotham's "costumed freaks" lead by Two-Face. The group attempted to destroy the remnants of Carmine Falcone's Crime Family. During the Columbus' Day Massacre, Freeze was assigned to remove of Edie Skeevers. Mr. Freeze and the others eventually fought Batman and Robin in the Batcave, after a botched assassination attempt on Two-Face by Hangman.
Mr. Freeze's crimes tend to involve freezing everyone and everything he runs into and stealing money (to fund activites and reasearch) and diamonds for his passion. In addition, he hardly ever forges alliances with the other criminals in Gotham, preferring to work alone, although he has worked as a hired enforcer/hitman for the Black Mask. Once, in the hopes of reviving Nora, he allied himself with the Secret Society of Super Villains, fashioning for Nyssa al Ghul a sub-zero machine in exchange for the use of her own Lazarus Pit. He attempts to restore Nora to life without waiting for the adjusting needed in the pool chemicals, however; she returns to life as the twisted Lazara, and escapes. She blamed her husband for her plight, and estranged herself from him (crippling his sanity even more).
He is usually imprisoned in Arkham Asylum when apprehended by Batman, for psychiatry on his insanity and a refrigerated cell for his medical requirements.
He has been seen among the new Injustice League.
A new Black Mask attempted to control Mister Freeze by implanting a device in his head. He escaped Black Mask and tried to preform brain surgery on himself to remove the chip, but was captured and imprisoned by the Outsiders. The chip was eventually removed by Owlman.
Stats
Strength: 7
Intelligence: 10
Willpower: 8
Speed: 1
Durability: 7
Personality: 1
Powers
Decelerated Aging: Some interpretations also suggest that because he has been soaked in the serum he intended to use for cryo-preservation, his age progression has slowed drastically. [citation needed]
Toxic Immunity:Thanks to his physiology,Victor is immune to most toxins, bacteria and viruses.
Abilities
Genius-Level Intellect
Cryogenics Expert
Genetics
Chemistry
Polymath: Victor is also a polymath who has studied many areas of physics and chemistry, as well as neurobiology and medicine.
Muti-Lingual: He's able to speak English, German, Greek and Latin.
Mechanical Engineering: He's a gifted mechanic, having built his Cryo Suit, Cold Gun and life support machine for Selina Kyle, who had her heart removed by Hush.
Weaknesses
Temperature Maintenance: He relies on his cryo-suit to regulate his temperature at a frozen level.
Insanity.
Equipment
Cryo-Suit: Wears a suit that keeps his body temperature below freezing. His refrigeration suit grants him:
Superhuman Strength
Superhuman Durability
Weapons
Mister Freeze's Cold Gun: He freezes areas around him using special weapons and equipment.
Mister Freeze's Cold Gun, also known simply as the 'Freeze Ray' or 'Cold Gun', is a piece of cryogenics weaponry which serves as Mister Freeze's signature weapon.
Mister Freeze constucted his signature weapon shortly after the incident which left him unable to survive outside a subzero environment. His weapon is able to produce gusts of cold degrees below absolute zero, as well as coat objects in a block of ice, create similar-looking constructs or encase opponents in a frosty 'cocoon'.
Mister Zsasz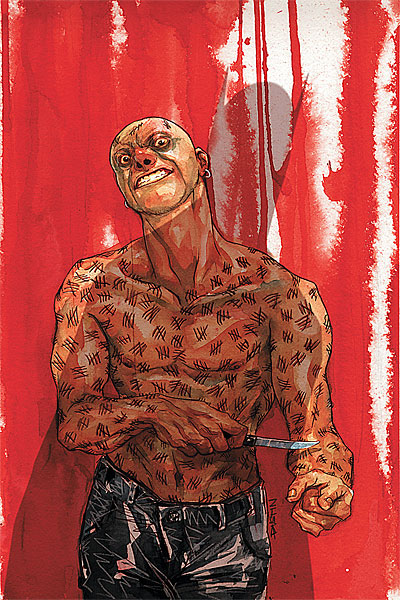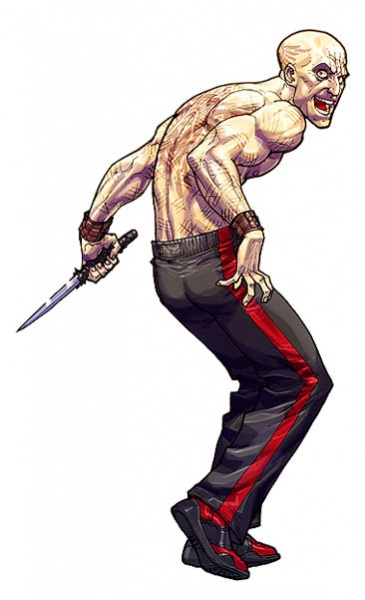 Race: Human
Gender: Male
Class: None
Victor Zsasz was the head of his own international company and had amassed a large personal fortune in addition to his family's wealth. At the age of 25 his parents died in a boating accident, sending him into a deep depression. He turned to gambling, losing money in competitions around the world. One night, he ended up in a Gotham City casino, where he gambled everything he owned and ended up losing it all to the Penguin; afterwards he saw that his life was empty, driven by desire, and there was no point to his existence. While he was attempting to commit suicide by jumping from Gotham Bridge, a homeless man tried to assault him with a knife after he refused to give him money. Instinctively grabbing the knife, Zsasz saw in the man's eyes that all life is meaningless and that nothing nor anyone matters. He then proceeded to stab the man to death as a "gift" for saving his life. From then on, he dedicated himself to "liberating" others from their pointless existence (Zsasz often refers to victims as "zombies"). He usually preys on young women, but has no qualms over whom he murders. He slits his victims' throats and leaves them in lifelike poses, adding a tally mark to his body each time. He has been diagnosed as insane and is regularly incarcerated in Arkham Asylum courtesy of Batman, breaking out on occasion to carry on killing.
Despite his imprisonment, Zsasz had bribed a contractor to include a secret passage leading out from his cell during Arkham Asylum's reconstruction under its new head, Jeremiah Arkham, who inherited the asylum from his uncle, Amadeus Arkham. Although Zsasz was restrained during the daytime when he is being treated personally by Jeremiah Arkham, he is brought back to his cell at night where he would leave the asylum through the secret passage, unbeknownst to the night guards. After murders fitting his modus operandi begin surfacing, Batman and Commissioner James Gordon faked Batman's insanity in order to get him inside the asylum and investigate Zsasz. Jeremiah Arkham was exceptionally brutal towards Batman, who had supposedly murdered a police officer; over the course of the "treatment", Zsasz had warped Jeremiah's mind and turned him into a mere henchman. Due to these continuous conversations with Jeremiah, Zsasz realized that Batman is a plant and subsequently murdered both the contractor and another inmate at Arkham who knows of Zsasz's ploy. However, both Nightwing and Batman catch up to Zsasz when he tries to escape for the final time and put him back in Arkham.
During the eventa of Knightfall, Zsasz took an all girl's boarding school hostage and holds the students at knife point until Batman arrives, briefly leaving to kill two police officers who were sent to arrest him. Though weakened both physically and mentally, Batman fought with Zsasz and tried to ignore the lunatic's mockery. He finally snaps, however, after Zsasz says that they are really one and the same, and administered a savage beating. Zsasz was then led out of the boarding school by police and Harvey Bullock personally threatening him.
Zsasz was a patient in Dr. Leslie Thompkins´ field hospital for a brief while, proving to be eminently deadly even when unconscious and strapped to a stretcher when he manages to open one of the arteries of a field orderly with his fingernails. Once he woke up, he is confronted by Dr. Thomkins, whose utter selfless charity sharply contrasts with his total emptiness; she briefly gives him pause, but is finally repelled by his profound evil.
He is part of the Secret Society of Supervillains and is one of the many of their members sent to attack the city of Metropolis. The Society loses.
Before a quarterly psychiatric review, Zsasz killed his guards with metal poles attached to his neck bracket and escaped to kill again. Batman hunted for Zsasz, which proves unsuccessful until Zsasz gains access to a charity event (attended by Bruce Wayne) and stabbed his beloved butler, Alfred Pennyworth, in the stomach. However, Wayne saved Alfred's life by driving him to a hospital. To lure Zsasz to him, Wayne holds a press conference in which he announces that Alfred is still alive. Having already made a scar for Alfred, Zsasz realized that his tally is off by one (Zsasz remarks: "My skin... it's crawling... every inch of it feels... wrong.") and was determined to finish off his kill.
Zsasz then proceeded to the hospital to finish off Alfred. However, Batman caught him off-guard and knocked him unconscious, thus saving Alfred's life and sending Zsasz back to Arkham.
Zsasz is later seen again the Gotham Underground story arc where he appears in a disguised Batman's cell at Blackgate Prison and attempts to kill him with a knife. He ends up cutting Batman's arm just as he was waking up and the resulting fight ends with Zsasz being knocked unconscious and Batman being rushed to the hospital.
Zsasz was recruited by a new Black Mask to a part of a group of villains that aiming to take over Gotham.
Stats
Strength: 4
Intelligence: 4
Willpower: 7
Speed: 7
Durability: 4
Personality: 8
Powers
None
Abilities
Business Management
Strength level
Above average strength, not outmatching that of Batman but great enough to withstand attacks. Zsasz also possesses a certain amount of agility which helps him to jump and run quickly.
Weapons
Knife, used for killing victims; on occasion, he has used whatever is to hand, such as metal poles or a gun.
Professor Pyg (Lazlo Valintin)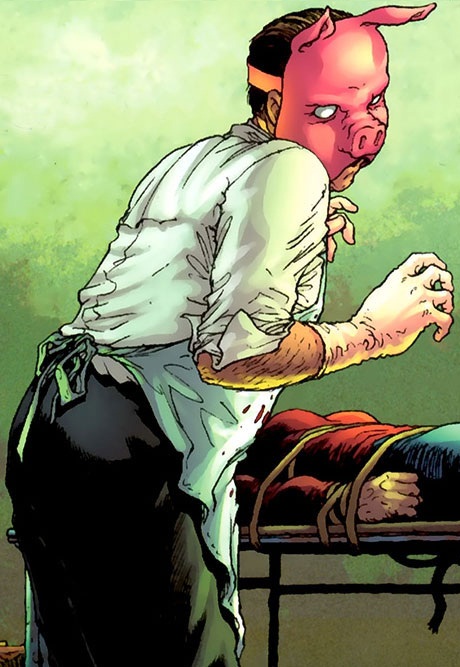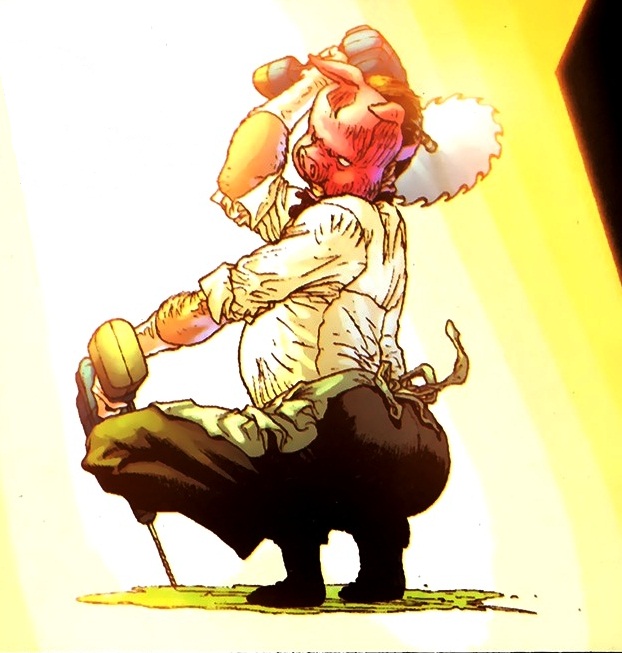 Race: Human
Gender: Male
Class: None
Valentin's past is unknown. Allegedly, he has a chemist for Spyral, who created a powerful thought-damping drug that mimics the effects of Alzheimer's disease. Trapped by their technology, he escaped the only way he could - a schizphrenic break, and a new persona named Professor Pyg. Escaping, he formed the Circus of the Strange. It is unknown what happened next, but apparently he was approached by Doctor Hurt and convinced to "share his vision" with Gotham City.
Pyg moved the Circus of Strange to Gotham, announcing the "Year of the Pig". Pyg started the campaign of making people "perfect", as his minions (Dollotrons) capture Robin. All of this is part of Dr. Hurt's plan.
Pyg then tries to introduce an addictive "identity destroying" drug into the city via his Dollotrons. The drug is sold to various different gangs and mobs who use it to control prostitutes. However, Batman quickly puts an end to this - he rescues Robin and subdue Pyg and capture all of his Dollotrons. Pyg is arrested and taken to Blackgate Penitentiary.
Dr. Hurt helps Pyg escape, as he is a major part of his plan, and Pyg is told to wreak havoc on the city. He then kidnaps Commissioner Gordon and tries to perform surgery on him. Batman stops this and almost captures Pyg, but he is able to escape.
Soon after, Pyg stops being an ally of Hurt and heads off to complete his own agendas. Pyg is then seen surrounded by his minions and his still trying to infect Gotham with his new drug. He reveals a "box" to a crowd of drug addicts, telling them it will take away the pain. However, the box is actually a Dollotron converter, and whoever enters gets changed into a Dollotron. Batman and Robin put a stop to the madness and Pyg is taken to Arkham Asylum.
Stats
Strength: 2
Intelligence: 10
Willpower: 6
Speed: 5
Durability: 6
Personality: 5
Powers
None
Abilities
Skilled surgeon: Pyg is a skilled surgeon and has the ability to preform any operation he sees necessary
Chemistry
Strength level
Below Average
Weapons
Surgical tools
Drills
Hammers
Icepicks
Tally Man 2 (Unknown Male)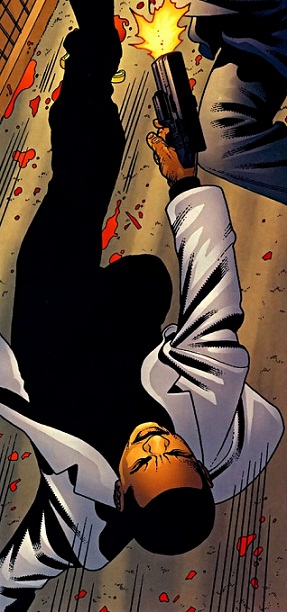 Race: Human
Gender: Male
Class: None
This Tally Man first appeared during the One Year Later jump, in the Batman Event "Face the Face." Unlike the first Tally Man, he is of African descent. During the Face the Face, he performs a series of hits knocking off supervillains in the Penguin's employ, such as KGBeast, Magpie, Ventriloquist and Orca. Tally Man shows up at Orca's household to finish off her husband, Terry Capshaw, who is being questioned by private investigator Jason Bard. Tally Man then shoots Bard in the arm as he is reaching for his gun. While holding Bard at gunpoint, he reveals his name to be Tally Man, then shoots Jason at point blank range. At the same time, however, Bard uses his cane to trip Tally Man, whose shot goes into Bard's arm. A struggle ensues wherein Bard, using his martial arts training, knocks Tally Man unconscious with a swift kick. It is later revealed that Tally Man is the gunman who had killed the villains with Harvey Dent's gun and is working as an enforcer for Great White Shark. He has apparently spent time at Arkham Asylum.
Stats
Strength: 4
Intelligence: 8
Willpower: 6
Speed: 8
Durability: 4
Personality: 4
Powers
None
Abilities
Skilled Sharpshooter
Weapons
Has been shown to carry a special double-barreled handgun, but this was possibly only to help frame Two-Face.
Tweedledee and Tweedledum
((Tweedledee))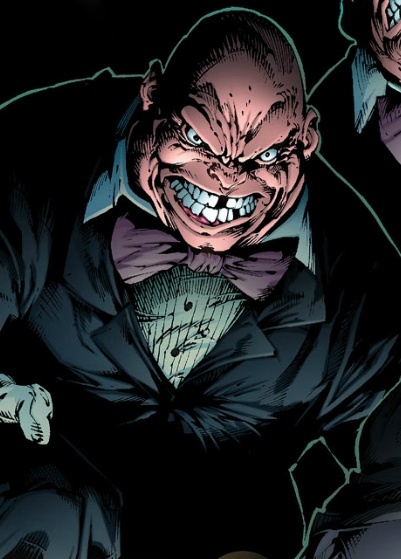 ((Tweedledum))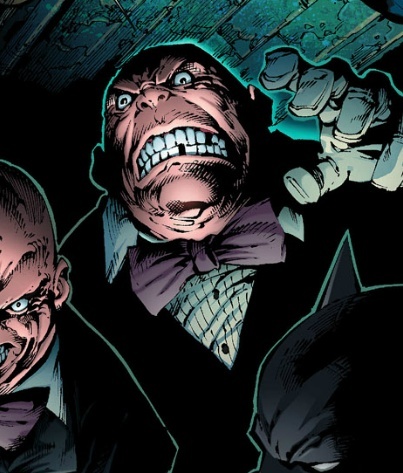 Race: Human
Gender: Male
Class: None
Lazy and obese, Tweedledum and Tweedledee have no fighting skills at all. They rely on their cunning and ruthless strategies in order to commit crimes. Dumfrey and Deever Tweed are cousins who resemble each other so closely that they are often mistaken for identical twins. The pair are known as Tweedledum and Tweedledee, both as a play on words on their real names, and because they closely resemble Sir John Tenniel's depictions of those characters in Lewis Carroll's sequel to Alice's Adventures in Wonderland entitled Through the Looking-Glass. The two Tweeds always conduct their criminal activity in partnership with one another. They prefer to mastermind criminal schemes and let their henchmen carry out any necessary physical activity. The Tweeds will often use their extraordinary resemblance to trick their opponents into thinking there is only one of them. Tweedledum and Tweedledee first encountered Batman and Robin when they began a crime spree in Gotham City. Batman and Robin have fought against the Tweeds and have overcome them on subsequent occasions.
The pair makes an appearance as inmates in Arkham Asylum. In this incarnation, they appear attached to each other by a pair of electroshock helmets, with Tweedledum representing the right half of the brain, and Tweedledee the left.
Although Tweedledum and Tweedledee are most often depicted as being the leaders of their own criminal organization, they sometimes are re-imagined as the henchmen of the Joker.
Tweedledum and Tweedledee appear as members of Alexander Luthor, Jr.'s Secret Society of Super Villains. Joker refers to them as "Tweedledee and the new Dum" implying that the original Tweedledum is either dead or still incarcerated. It was later confirmed that Dumfree Tweed had died and his twin brother Dumson Tweed had taken his place.
Recently, the new Tweedledum and Tweedledee were part of the Wonderland Gang. Originally believed by the public to be run by the Mad Hatter, it was revealed that The Tweeds really ran the gang using one of Tetch's own mind control on him in order to cash in on his notoriety. They filled the Wonderland Gang with other pairs based on Alice in Wonderland (such as the Lion and the Unicorn and the Walrus and the Carpenter), but the Mad Hatter eventually got back at them by sticking mind control chips on the two and turning them on each other. After some imprisonment, the Tweeds reformed the Wonderland Gang with the Walrus and the Carpenter but were quickly apprehended by Batman, Robin and Nightwing.
((Stats when they are together))
Stats
Strength: 4
Intelligence: 8
Willpower: 2
Speed: 8
Durability: 4
Personality: 8
((Individual stats))
Stats
Strength: 2
Intelligence: 4
Willpower: 1
Speed: 4
Durability: 2
Personality: 4
Powers
((Tweedledee and Tweedledum in casual wear))
None known but large and heavy.
Abilities
Criminal Masterminds
Strength level
Natural. Engage in almost no regular activity.
Weapons
Guns, Electric Canes
The Ventriloquist (Peyton Riley)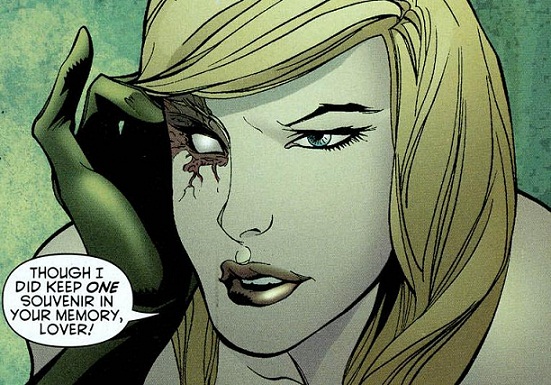 Race: Human
Gender: Female
Class: None
Peyton Riley was born into organized crime, her father "Sean Riley," one of Gotham City's most notorious Irish gangsters. To her immense annoyance as she grew up, she could never gain any real respect amongst her peers in the Gotham social circles, because she was looked down upon as just another "mafia princess." She finally found true love in a man named "Matthew Atkins," who judged her by her merits and not by her heritage. They were to be wed, but Peyton's father had other plans.
Sean Riley dreamed of a united Gotham City, where the Irish and the Italian mobs no longer fought. He planned to offer his daughter's hand in marriage to his enemy's heir, "Johnny Sabatino." Atkins told Riley that he would not be kept away from marrying his daughter, and Sean Riley put Matthew Atkins in the hospital. Later, he would send a note telling Matthew he admired his courage. So Peyton was trapped in an abusive and loveless marriage with Sabatino, who even worse, did nothing to help unite the gangs. When Sabatino was caught stealing money from his employer at the time, Arnold Wesker, the Ventriloquist and Scarface, he and Peyton were going to be executed by Rhino until Peyton's intervention. Peyton began talking to Scarface, and the Ventriloquist liked her enough that he decided to let both of them live, albeit, if Sabatino gave him a %30 cut of all of his future profits. This encounter led Sabatino to turn his life around, and he became a much more succesful criminal, eventually making enough money to open up his own nightclub down the street from the Iceberg Lounge.
Eventually, tired and angry of and at both of them, Sabatino decided to have Peyton and her father killed. Sean Riley was gunned down in a church, and he had his thugs bring Peyton to an old tenement to be whacked. Peyton was shot many times, and lay bleeding on the floor as the men left. Shortly afterwards, she heard two more shots, and even later than that, she heard Batman, Robin and Commissioner Gordon investigating the other corpse, apparently the body of Arnold Wesker, with Scarface lying beside him. Wesker had been murdered by the second Tally Man.
After laboriously dragging herself into the room, to her surprise, Peyton found Scarface had begun talking to her (she had actually just started talking to herself). She pulled herself out of the building and to the hospital, taking Scarface with her, where she made a full recovery. She repaired Scarface, and decided to take on the identity of the new Ventriloquist.
Scarface and Peyton plan to throw Sabatino over the side of his own yacht (ironically a wedding present from Sean Riley). Zatanna rescues Wayne and, as Batman, he rescues Sabatino while Zatanna tries to talk down Peyton, trying to convince her that Peyton no longer needs to seek vengeance. Before she can have any effect, Moose (Rhino's sister) hits her with an oar. While Batman protects Zatanna from Moose, Peyton makes another attempt to throw Sabatino over the side, but gets too close, and he begins to strangle her with his own bonds. Scarface quietly says "Jump, Sugar" and Peyton desperately sends them both over the side.
Peyton and Scarface, along with Lock-Up, Firefly, and Killer Moth are told by Scarecrow that The Penguin is working for the Suicide Squad. Furious, they go attack him, but end up meeting a team of criminals working for Penguin. While Peyton tries to escape she and her colleagues are brought to a dead end by Scarecrow. Firefly, Lock-Up, and Killer Moth survive with varying injuries, and Scarface is shot by Tobias Whale. Whale lets Peyton live, but later whispers to a subordinate that she is to be "hurt". Riley has not been seen in comics since.
Stats
Strength: 4
Intelligence: 8
Willpower: 4 ((all attacks on Scarface hurt willpower))
Speed: 4
Durability: 4
Personality: 10
Powers
((She is much more proficient and calm in ventriloquism than Wesker. Scarfaces normal costume.))
None
Abilities
Criminal genius
Can throw her voice
Weaknesses
Suffers from dissociative identity disorder, which manifests in her psychotic dummy, Scarface.
Equipment
Scarface
Weapons
Usually a tommy gun in Scarface's hands.
Doctor Phosphorus
((Original Look))
((Arkham Asylum Look))
Race: Human
Gender: Male
Class: None
A crack in a reactor core caused Alex Sartorius to get "five million slivers of (radioactive) red-hot sand" into his body. Burning forever, he started a quest for revenge against the people he blamed for his terrible fate.
A leering skeletal face -- projected by lasers -- leered down at the audience of a rock concert at Gotham's Sprang Stadium. Toxic phosphorus fumes were being pumped through the ventilation system into the sealed dome. The audience's life span, the madman cackled, could now be measured in minutes. The death toll from the ensuing stampede for an exit and the poison is unknown, but Police Chief O'Hara would later shudder that "it was TERRIBLE!"
Nearly twenty-four hours earlier, in the wee hours of a winter morning, Gotham General Hospital had unexpectedly been thrust into crisis mode when more than four dozen citizens were admitted in the span of an hour. Among the victims rendered comatose by a fast-acting poison was Alfred Pennyworth, butler to millionaire Bruce Wayne. Three minutes after Wayne had brought Alfred to the hospital, Batman was on the case.
The Dark Knight soon learned that the police had already received a note claiming credit for the outbreak: "Phosphorus BURNS when exposed to the AIR! The good citizens of Gotham City have earned my RIGHTEOUS WRATH, and THEY will BURN for it -- for I am -- Dr. Phosphorus."
Systematically checking off possible avenues that might have spread the virus, Batman hit on the source just as he prepared to drink a glass of water. "Of course! Gotham's a twenty-four hour town, so it must be only night-workers who have drunk water so far. But there'll be SEVEN MILLION MORE PEOPLE getting up in the next two hours -- !" The alert reached Commissioner Gordon too late -- he'd already been infected -- but a call to the Assistant Commissioner enabled the water system to be sealed off before the count of victims began to multiply into the hundreds of thousands
Batman himself headed for the Gotham Reservoir and found the instigator of the Phosphorus Plague was still on the scene. The madman was a ghastly sight, a glowing skeleton whose nearly invisible flesh surrounded him in a white outline. The aura, he proclaimed, was "living phosphorus" and the flaming man proved more than an unprotected Batman could withstand. Suffering from multiple burns, the Dark Knight could only watch as his deranged foe fled. "You never say die, Batman! That is why I cannot kill you now ... not on our first encounter. The thrill of the game would be ended too soon!"
Although the radioactive burns represented a clear problem, the Dark Knight was determined to see the case through to its conclusion. The Gotham City Council didn't help matters when they inexplicably banned Batman's activities during the recovering Commissioner Gordon's absence. In the wake of the Sprang Stadium massacre, Batman realized that a nuclear power plant three miles offshore was the only facility in the area capable of concealing the radioactive villain.
Hoping to solve both of The Batman's problems, Bruce Wayne invited much of the City Council and other influental Gothamites to a weekend dinner party aboard his yacht -- that just happened to sail near the plant. Making his apologies to his date Silver St. Cloud, Bruce slipped into a radiation-shielded costume and confronted Phosphorus in the nuclear facilty. With his burning touch no longer effective, the villain made a feint intended to cast Batman into the reactor core -- only to plunge to his apparent doom.
The Dark Knight didn't piece together the full story until a week later, when he eavesdropped on a meeting of Councilman Rupert Thorne's cronies. After Phosphorus' first encounter with Batman at the Reservoir, he'd had an intimate conversation with Doctor Bell, a practioner at Gotham General and, more importantly, a member of the City Council. Bell had induced his friend and fellow physician Alexander James Sartorius into joining the inner circle of Gotham's influential Tobacconists' Club and convinced Sartorius to invest in a forthcoming nuclear power plant.
Eventually, protests from the city's citizens forced the reactor to be constructed outside the city limits, three miles offshore. "Now, the plant needed more money to cover the structural changes -- and there was no more money. We had already dangerously overextended ourselves -- so we had to cut corners elsewhere." While checking out the site in a private tour in November of the previous year, Sartorius witnessed the newly-installed reactor core beginning to break open.
It was far too late to flee so the doctor took cover behind a blockade of sand bags " -- and then everything let loose!! Five million slivers of red-hot sand were driven through my body! But not -- hee hee -- ordinary sand. No! RADIOACTIVE sand -- blasted upward one level on the chemical scale. Atomic number fifteen -- silicon -- became number sixteen -- phosphorus. Phosphorus -- which must forever BURN!"
Under penalty of death, Bell was instructed by Phosphorus to muzzle Batman by declaring his activities off limits in Gotham. Thorne was determined to leave Batman's outlaw status intact and the Dark Knight, whose wounds were still radioactive, was in no position to fight back. Over the next few weeks, Batman's burns were healed -- by Hugo Strange, remarkably enough, who discovered Bruce's secret identity. Thorne, meanwhile, suffered a complete breakdown soon after murdering Strange and confessed to decades of wrongdoing -- including his role in hampering Batman's activities.
The return of Doctor Phosphorus was heralded by flaming footprints outside the power plant two years later. After paying a brief visit to Thorne at Arkham Asylum, the skeletal terrorist prepared to punish the citizens of Gotham for once again threatening to close down "his" nuclear facility. Proclaiming to Batman that the core had given him even greater power, he shouted that "Dr. Phosphorus shall reign over all!"
While chatting with Barbara Gordon at a nuclear protest rally, Batman keyed in on Phosphorus' likely means of attack when Babara mentioned the chance of rain (as in reign). The Dark Knight concluded that "Phosphorus HAS to try seeding the clouds with material he's irradiated. There's no other way!" Batman -- again clothed in an anti-radiation uniform -- and Batgirl raced for the airport and, as anticipated, the villain was preparing to take off in a private plane. Batman disabled the craft by ramming it with the Batmobile, but he was rendered unconscious as a result. Doctor Phosphorus had no such problems.
With no protection from the burning man, Batgirl could do little more than dodge his attacks -- until she remembered Batman's costume. Pulling off his shielded cape, Batgirl encircled Phosphorus with it and tightened its grip with her lasso. The villain's flames were extinguished and a groggy Batman awoke to find "the situation well in hand".
Doctor Phosphorus soon joined Rupert Thorne in Arkham but spent a period at large after being freed from Arkham by Ra's al Ghul. Ra's wished to use Phosphorus in his plans against Batman, but after Clayface stated he would follow no man's orders and stalked away, Doctor Phosphorus was the first to follow, prompting fellow rogues Cluemaster, Black Mask, Captain Stingaree, Tweedledum, and Tweedledee to leave as well. However, He was soon back in his custom-made glass cell at the asylum after being recaptured.
Later, Phosphorus had been transferred to the Belle Reve facility in Louisiana and it was there that he and the other inmates were unleashed by the inhuman Neron, who offered to fulfill their greatest desires in exchange for their souls. Sartorius agreed to the deal and was transformed. Now he glowed with an orange-red flame that he could control with such skill that he could wear clothing (a quaint, gangster-derived suit and tie) without burning it off. His power, Phosphorus claimed, was "twenty times what it was" and he was now capable of projecting bursts of fiery energy from his fists.
The villain would subsequently wonder whether the bargain had been worth it. "Ahh, but the joy of a cigarette ... that he can hold one again". Now a chain-smoker on the order of Infinity, Inc. ally and current DEO director Mister Bones, Phosphorus kept a cigarette clenched between his teeth as he stalked Ted (Starman) Knight through the old man's observatory home on his first outing as a free man. Sartorius had been approached by the female Mist while in Belle Reve and, newly enhanced, he agreed to work on her behalf to murder the foe of the original Mist -- Knight.
Having failed to stop the burning man with water, Ted -- already burned on the arm -- gambled on a final strategy and used his cosmic rod to knock Phosphorus into the room where he prepared his unique liquid coolant. The fire was extinguished as the fluid poured over Phosphorus and Knight knocked him out with a blow to the head by a steel bar.
While awaiting trial in Opal City's Cray Prison, Phosphorus was among several flame-based villains who suffered ill health or had their powers temporarily negated by invading white Martians. Faking a relapse, Phosphorus engineered a horrific escape from Cray. "Seventeen guards were killed in the breakout, many dying hours afterwards from a severe and advanced form of radiation poisoning." A baffled Ted Knight wondered why the radiation had failed to affect him in their earlier clash.
The desire for revenge against the elder Starman burned in Phosphorus but he vowed to bide his time and entered into an alliance with other enemies of the Knight family and their friends. Phosphorus struck the first blow against Mikaal Tomas before making his long-awaited second attack on Ted Knight.
This time, Phosphorus had given Knight a significant dose of radiation, which gave him terminal cancer. In a third and final confrontation, Knight was determined to ensure that Phosphorus would harm no one else. During the battle, he used his cosmic rod to tear the pavement from beneath Phosphorus and drive him into the earth, apparently killing him.
After the supposed death of Doctor Phosphorus, Oracle suspected that there may be more to the villain's story than what has been revealed. Having fought him while she was Batgirl, she was initially skeptical that he was even the same person. "While this Doctor Phosphorus appears to have recovered somewhat from the tragic madness that had afflicted James Sartorius, his mental state is still far from sound. As noted, he has adopted a bizarre style of dress and the demeanor of a b-movie gunsel."
Phosphorus returned where he was being held in Cadmus Research laboratories. When one of the scientists examining him said he heard Sartorius had died, the other replied, "From being crushed? Hardly. Everything human in Sartorius was consumed by fire long ago. We believe his powers manifested a fusion reaction that completely sublimated his central nervous system--creating functional facsimiles of his heart, his lungs, his kidneys--all working in concert to produce a near-endless supply of clean energy."
Phosphorus was able to escape from Cadmus, and once again sought revenge on the people who had caused his decision. He was defeated by Batman during an attack on Rupert Thorne, and he was imprisoned in Arkham Asylum.
Phosphorus briefly appears were he fought Robin but was defeated by Nightwing.
Phosphorus was hired by Roulette as part of a show to kill Batman who was injured when his Batmobile crashed. Phosphorus was the first hunter to catch up with Batman and was deciding whether to kill Batman or give him cancer when robin attacked him he overpowered Robin but Roxy Rocket's rocket crashed in to him after Batgirl overpowered Roxy Rocket.
Stats
Strength: 8
Intelligence: 8
Willpower: 8
Speed: 4
Durability: 4
Personality: 2
Powers
Radiation: Doctor Phosphorus' body perpetually produces harmful radiation. An involuntary power, Phosphorus can use this ability as a weapon to kill his victims with a toxic radiaoactive touch.
Radiation Production: After being empowered from selling his soul to Neron he seems to give off an aura of radiation in his immediate area and can regulate this effect to burn incoming projectiles or as low as being able keep his clothes from burning.
Energy Projection: Alexander can manipulate this radiation for various effects. Such as a burning field of radiation in the form of shields or offensively as a radiation explosion. He can also emit toxic fumes from his body in all directions, making it hard to breathe and burning sensitive sensors.
Superhuman Endurance: His body's major organs are no longer present but the nuclear radiations serves his body for these functions. As such he produces an endlessly clean source of energy for himself, which is also just as endlessly occurring.
Weaknesses
Radiation Dependence: If he were able to shut off his phosphorus form he would die because this form keeps his body running at peak capacity.
Radiation Sickness: It is suggested that since the radiation replaced his central nervous system that the only function his brain serves to understand now is revenge. Every time he is left to his own devices he plots revenge to Gotham City, never using his powers for anything productive.
Abra Kadabra
((origional costume))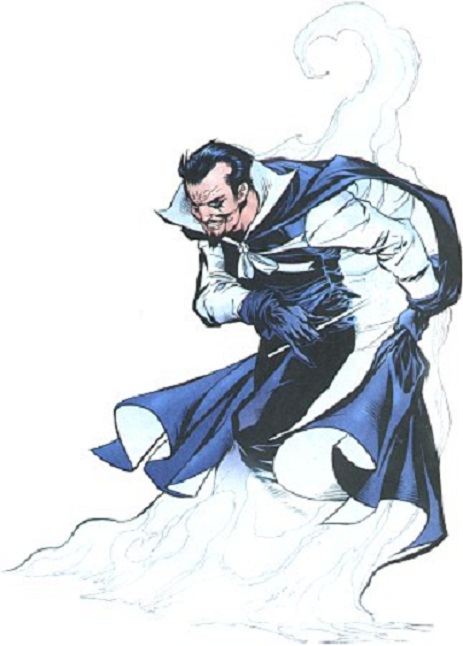 ((other costume))
Race: Human
Gender: Male
Class: Sorcerer
Abra Kadabra is from the 64th century, at a time when science has made stage magic obsolete. However, he desires a career as a performing magician, so he goes back in time to find an audience to entertain after stealing a time machine and inventing a device to paralyze the guards, and soon clashes with the Flash (Barry Allen). He has a hypnotic device that makes people clap regardless of their thoughts, which he uses to force applause from audiences even when they don't applaud his magic tricks. He finds his magic is being overlooked, so decides to involve himself in important events. When the Flash tries to stop a crime he is committing, he makes the Flash clap, enabling him to escape. He is able to send the Flash into space after challenging him to a fight at the theatre, but the Flash is able to change the course of the planetoid he is on so he is sent back to Earth, and finds Kadabra took his left-behind costume, meaning he can follow the impulses, and Kadabra is jailed. But he hypnotizes the Governor using a ray from a device made out of pots and pans, to let him out, and starts staging a puppet show where the Flash is defeated by a puppet called Captain Cream-Puff. When the Flash passes a poster advertising Kadabra, he is turned into a puppet and used in the performance. But the Scarlet Speedster is able to restore himself slightly using the organic matter in his brain, which was not transformed, and then reverse Kadabra's ray so he is restored completely. He again defeats Kadabra.
In one of his many confrontations with the Flash, Abra Kadabra's technology is damaged and his body becomes insubstantial and wraith-like. After his body is returned to normal, he is captured by a bounty hunter named Peregrine, and returned to his native century to serve a death sentence, although he is saved by the Flash before he can be executed. Shortly after returning to the 21st century, during the Underworld Unleashed storyline, he forgoes his technological implements and tricks five rogues into selling their souls to Neron so he can gain genuine magical powers. Abra Kadabra later kidnapped Linda Park, the girlfriend of Wally West (Barry Allen's protégé and successor), during their wedding and erases her from history, though he is ultimately defeated.
Abra Kadabra appears later when Timothy Hunter, escorted by Mister E, visits the 64th century, described by E as a time when the differences between magic and technology have become blurred. The inhabitants tell them they have selected their "date-line" to send the "Madchild Abhararakadhararbarakh". Timothy Hunter responds "Abracadabra?" and Mister E tells him not to talk to the inhabitants of this time, and so they then continue their path into the future.
When Abra Kadabra next appears he became a member of the Secret Society of Super Villains.
When Abra Kadabra next appears he and several other Rogues are approached by Inertia with a plan to kill the Flash (then Bart Allen). Though Inertia is defeated, Kadabra and the other Rogues successfully beat Bart to death, though not before Kadabra recognizes that Bart is too young to be the Flash they are used to dealing with.
Abra Kadabra is one of the exiled villains imprisoned along with his fellow Rogues: Captain Cold, Heat Wave, Weather Wizard, and Mirror Master. Upon coming across the planet's local pygmies, Abra Kadabra deciphers its language and uses it to locate a "safe zone" for himself and the other Rogues before leading the other villains dispatched there to it.
He was a member of the Rogues who joined Libra's Secret Society of Super Villains.
He was last seen being attacked by Professor Zoom. at the end of the story, Abra is seen to have survived Zoom's attack and says Zoom should have made sure he was dead.
Stats
Strength: 2
Intelligence: 10
Willpower: 2
Speed: 8
Durability: 2
Personality: 10
Powers
At first his magic-like powers were purely the result of futurist technology, but after a deal with the demon Neron, he became a true sorcerer, able to cast spells and fire energy bolts.
Strength level
Abra Kadabra possesses the strength level of a man his age, size and weight who engages in minimal regular exercise.
Equipment
Hypno-Ray: Hidden in the gem-flower on Kadabra's lapel, it was capable of paralyzing Kadabra's targets or compelling them to perform an action, such as applauding.
Abra Kadabra usually channels his mystic energy through his magic wand. He does so out of a sense of style and showmanship, but can just as readily perform magical feats without the wand.
Transportation
Early in his career, Abra used a time traveling device to teleport backwards in time to the 20th century.
Page 2 of 2 •

1, 2

---
Permissions in this forum:
You
cannot
reply to topics in this forum