Daniel Karthan (later to be known as Techk) wakes up for another day at work in the Stark Labs. He was on the verge of finally solving the stumbling block that halted his team from perfecting the nanobots for use on humans. He felt he had an idea that would finally solve the problem where the nanobots kept considering the hosts organic bodies as damaged and replacing said damage by replacing the organic material and thus turning them into cyborgs. But first it was time for breakfast and he had to go make it. He also had to get dressed in his lab coat and tie for work which was in an hour and a half from now. Knowing he had a long drive to work he realized he better hurry.
((And it begins the monster makes his way to his untimely end and rebirth.
  Unfortunately I cannot do much until you get to work so yea sorry the post is small. You ready for the madness!
 ))
Last edited by Admin on Tue Oct 29, 2013 2:35 pm; edited 1 time in total
((Just a note, they don't absorb the organic tissues they obliterate it and take the place of said tissues after scanning and storing the DNA, then basically copy the neural map and the mind of the person across all of the bots making the mind heavily fragmented and so forth. It's really not an ideal situation lol
))
Daniel looked at his alarm clock and narrowed his eyes in a glare. "Stupid alarm clock, why you no go off?" He said as he smacked it with his fist in an overhead swing. Of course as he hit it, it went off. He knew exactly what was wrong with it, his mutant power of course allowing him to surmise what the problem was, he just never had time to fix it between work and being exhausted from it. He rolled out of bed and ran into the bathroom turning the shower on, then running back out to the kitchen, shoving a frozen waffle he grabbed from the freezer in the toaster while pouring a coffee. "Son of a biiiiitch I'm going to be late!"
Taking his coffee with him into the bathroom he picked up the electric razor he had and quickly ran it over his stubble to cut it back as much as possible while drinking his coffee. After chugging his coffee and finishing shaving he took a 40 second shower. Coming out of the shower he threw on his clothes after drying off as quickly as possible, almost forgetting his lab coat as he headed toward the toaster. Coming up to the toaster he slammed his fist onto the counter making the toaster jump and cause it to violently eject the waffle. Daniel caught it in one hand and dragged it through the butter in the dish on the counter and squirted some syrup onto it before putting it up to his mouth to grab while he got his shoes on. Finishing tying his shoes he ran out the door, stopped half a foot out before kicking his leg out in a horizontal arc before tucking it in to turn around quickly and run back it. Taking another bite from his waffle he muttered "Son of a.." After grabbing his keys and wallet he then headed out the door again, pausing to look at the photograph of him and his girlfriend Clarissa together at the park and giving it a smile, then closed the door locking it behind him.
Running down the stairs of his apartment building he ran to the door and slid past someone coming in through the lobby door and took off down the street. Getting to his car he hit the button to turn off the alarm and hopped in, looking up at the traffic to notice a parking ticket. "FFFFFFFFF- WHAT THE HELL?! I HAVE THE PERMIT IN PLAIN VIEW YOU ASSHOLE!" He shouted grabbing it off the windshield and throwing it in the glove box. He turned the key in the car and it revved to life, one of the few things he hadn't neglected whenever it broke down even though it looked about as budget as they come. He threw it in gear and started his drive to the Stark Industries building nearly an hour and 15 minutes away. "Swear to god, this day couldn't have gotten off to a worse start."

Deciltor




Posts

: 178


Join date

: 2013-06-03


Age

: 30



((Ok oops well I will alter that statement just after I am done with this I mean it is just one word right lol
 ))
((Ooh a girlfriend I have plenty of ideas for her atm idk what one to do?
 ))
Daniel would speed off for the highway only to see that there was heavy traffic due to a recent battle last night between Iron Man and Iron Monger (Zeke Stane) which caused heavy damage to the highway. Techk could see that this would take a long time and that he would definitely be late unless he found another way to work. Techk would notice an off ramp going in the direction of another town that seems to split off and reconnect to the Highway past the damage but he would have to make a u-turn as it reconnects going the opposite way. Luckily the barricade was wrecked and there was an opportunity to do so should he be daring enough to go crazy taxi on this.
((So now what will you do will you wait in traffic or go driving the other way and possibly upset the security there trying to organize this situation.
 ))
((I have something planned out for that, so if you want just follow my lead when it comes down to it
))
Daniel just stared at the traffic jam and he felt his eye twitch. "WELL... I was mistaken in what I said earlier." He said with an uneasy smirk. Noticing the broken barrier and the other access route, Daniel sighed loudly.
He pulled his car over to where the barrier was and waved over a security guard. "Excuse me! I have very important business to attend to at Stark Industries! Is there any way you could let me just turn around through here and take an alternate route? Mr. Stark is going to have my ass nailed to his office door if I'm not on time!"
((If he's allowed to, he'll go that route, if not he's going to be late for work, he wasn't nearly as unsafe as he is now back then
))

Deciltor




Posts

: 178


Join date

: 2013-06-03


Age

: 30



((Sorry to say this just is not your day. 
 ))
The security guard would look at Daniels ID card and say "So you work for Iron Man huh? How about when you get to work you tell him that he has to pay for the damages to the highway after his fight with Iron Monger. What you think that just because he saved that little girls life means that any coworkers of his can get away with disobeying rules. Bringing Iron Monger here is what endangered the girl in the 1st place.  You aren't going anywhere bub." The security guard would continue to direct traffic finally getting to you after an hour of wait. Daniel knew he would be late as if he had hustled he would have barely made it. As it stands now he had some explaining to do to Stark. Daniel heard the news about the incident before he left as it was playing in the background and by the newscasters own admission Iron Man was thrown into the highway where they finished their battle. He did not bring Iron Monger there meaning the security guard did not get all the facts straight.
((the guard is not a total ass he is just a stickler for rules and was misinformed upon arriving there. 
 ))
Arriving at Stark Industries the foreman and old codger who seems to have been doing this for a long time comes over to Daniel and says "What happened?!? Your usually never late for work. Did you get hit with that abysmal traffic! Oh well no matter. Your here now and Tony did not yet make it to see us for the presentation of your breakthrough. Now get in there and get ready! He should be here any minute!" The man directed him to his lab where he could do some last minute preparations before the presentation to Tony Stark. He is greeted by his assistant and the other lab workers he works with the assistant Anna a woman with green hair down short (she dies it) green eyes glasses wearing a white shirt white lab coat blue bow tie and standard lab skirt says "Good morning Mr Karthan! I just finished stabilizing the power source for the nano machines but we could not do the testing to see if they will be safe for people to use and we did not double check to see if the programming was done correctly while you were gone unfortunately. We tried to fill in for you but I'm not sure if we did a good enough job." She would show concern in her face as she said the last 3 sentences. Daniel would see the nano machines in front of him ready to be worked on.
((Well what will you do now before Tony Stark enters the office.))
Daniel pinched the bridge of his nose and sighed as he walked past the old man. "Honestly, living and working in New York is a pain all around these days. Insurance is off the charts for just about everything and it seems like every other day there's a super battle wrecking part of the city and endangering countless lives. Something's gotta give man."

After entering the lab and listening to his assistant's update, Daniel ran his hand through his hair and exhaled slowly. Grabbing his lab coat and goggles from the hooks he threw them on and went to work. "Great, well that's one problem solved at least, now for the next." He walked over to the table where he took a rat they keep there, and injected it with a pain killer. "Sorry little buddy, but if this works you'll be feeling good as new." he said to the rat comfortingly before breaking it's leg, the pain killers dulling the pain considerably.

Daniel then carried the rat over to the testing containment chamber and placed it inside, before closing and sealing the area. "Alright folks, since we don't have much time we're going to run a live test, and I'm going to try and fix any bugs I find on the fly. Anna, I want you to to keep an eye on the debug reports as they come in for any conflicts in the coding, and everyone else keep an eye on everything in case something happens to go wrong. I want no mistakes here people, our jobs could be on the line if we can't produce results for Mr. Stark."

Sitting down at the desk close to the containment field so he could observe the behavioural changes in the nanobots as he edited their code, he initiated the start of the experiment.

Deciltor




Posts

: 178


Join date

: 2013-06-03


Age

: 30



As Daniel broke the leg of the rat he would hear a screech of pain from the rat. ((Even dulling the pain your still breaking a leg I would imagine that would still hurt I don't know how good painkillers are now unfortunately)) Upon placing the rat into the chamber it would cower away from Daniel. The nanobots would begin to pour into the containment field and begin to repair the damage to the rats leg. Anna would then say "The nanobots show no signs of deviation of programming they are healing the rat aiming for the damaged leg."[/color] Daniel would notice the rat trying to get away from the cloud of nanobots but was unable to do so as they heal its leg and begin to hover around the subject. ((microscopic things in comics and other media have been known to appear this way.)) The rat would begin to move its leg and walk around the containment field healed. Anna would say "The procedure was a complete success. The rat is completely healed."
Daniel would suddenly hear the other scientists start talking as they said stuff like "He's here!" and "It's Tony Stark!" When Daniel turned around he could see Tony Stark also known as Iron Man standing in the doorway to the lab. Tony would say to Daniel after rubbing the back of his neck and his left shoulder "Sorry I was dealing with your standard super villain attack. Nothing special." Tony would then say after looking at the project and its results "That's quite impressive Daniel. I'm glad I decided to partner up with you." Turning to Anna he would turn back to Daniel and say " . . . And your assistant is also an impressive sight." Anna would smile at the complement and say "Thank you sir." Tony would then say with a raised eyebrow "So how long are you before you feel can bring this out to the public? I don't want you to rush and make a mistake that can cost lives so I'll give you all the time you need." Tony would wait for Daniels response eagerly. ((I'm letting Techk decide the progress as I nor the original writers came up with this.))
((This is what he looks like at the moment))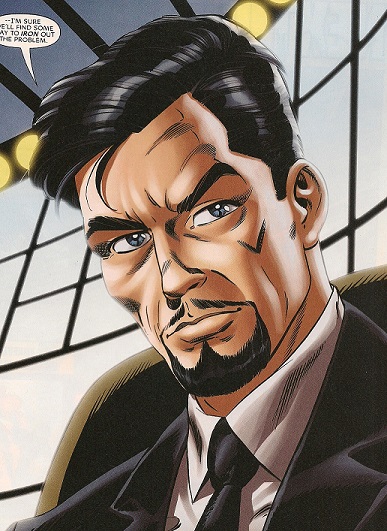 Daniel looked up at the ceiling and ran his hand through his hair with an audible sigh. "It could be anywhere between one to three months? You know me, Mr. Stark, I'm always going through my coding and testing things dozens of times before I'm satisfied. It's the whole perfectionism OCD thing as usual eh? Heh heh." He looked over at the terminal where they recorded the rat's healing process for review and queued it up on the monitor to take a look at it.

The monitor showed the nanobots scanning the injured area, compiling a diagnosis, then going to work in mere seconds. Already far outstripping diagnostic procedure doctors currently do for speed and accuracy. Things seemed to be going rather well, the bots removed the damaged tissues then reset the bone using the damaged tissues as a catalyst for rebuilding the bone structure. When it came to repairing the flesh some bone splinters went into though, something weird happened. The nanobots removed the bone fragments the same way they removed the damaged tissues, but instead of making new muscle tissues they instead simply replaced it with themselves. "Hmm. That's not quite right.. The bone repair is solid but when it comes to fragments of bone it has a miss-written argument for muscle tissues it seems." Daniel comments aloud analyzing the process in slow motion. He noticed that the stressed and torn muscle tissue from the torsion required to break the leg was repaired normally though.

Daniel checked the time data and other readings quickly as well. "10.6 seconds for full diagnostic and repair sequence, status reading as healed and aside from that little glitch, everything seems to be running right and smoothly. Don't worry Mr. Stark, I should have this bug fixed by next week at the latest, depending on the traffic i have to endure getting here." He looked to Tony and raised an eyebrow at him as he finished speaking to give Tony a subtle hint to take his super brawls away from the highways next time.

Releasing the combined total of the nanobots they have in stock into the main chamber to run diagnostics and find the bug, Daniel activates the holographic interface he convinced Tony to install in order to help him speed things along, quoting him a 40% increase in time efficiency by not having to turn his head to look at the containment unit from a monitor. ((I'm assuming Tony would be on board with this since that's what he seems to do with his own stuff normally.)) "Loading source code.. Search for bone fragment protocols.. Now then let's see where i miss-worded what.." He begins muttering to himself aloud while he begins to focus more on his work and less on Tony since the presentation went rather well and didn't have much else he needed to discuss with him. Daniel knew Tony was a constantly busy man and wanted to keep him there for as short of a time as possible.

Deciltor




Posts

: 178


Join date

: 2013-06-03


Age

: 30



Similar topics
---
Permissions in this forum:
You
cannot
reply to topics in this forum