Page 7 of 7 •
1, 2, 3, 4, 5, 6, 7
Firefly pops her nose back into place and resets any dislocated bones then looks up at Wolverine and says sarcastically "Yea it was only a boulder to the face! I'm fine! Never better!" before flying back to meet them. She would mutter under her breath "That fucking hurt!"

As Shuriken calls out for Weapon III and runs off She calls out "SHURIKEN WAIT!" before deciding to help gambit blasting Daken and flying over to Gambit putting a light barrier around us. She would say to Gambit "Looked like you needed some help my friend." Continuing in a slightly sarcastic tone "What the hell happened here anyways! You leave us behind and everything blows up in your face? . . . And mine!"

maltastarlight




Posts

: 68


Join date

: 2012-03-10


Age

: 32



((The Scarlet Witch Entity hit 3 times out of 36 times))
((Daken Hit 3 times out of 20 times his healing heals him 1 point per admin post))
((Sabretooth Hit 0 times out of 24 times his healing heals him 1 point per admin post))
((Mystique Hit 3 times out of 15 times))
((Shadow King Hit 3 times out of 9 times in Human Form and 0 times out of 11 times in Astral Form))
((Skinless Man Hit 6 times out of 14 times))
((Blob Hit 1 times out of 20 times))
((Omega Red Hit 0 times out of 6 times))
((Omega Black Hit 0 times out of 6 times))
((Omega White Hit 0 times out of 6 times))
((Sentinel 1 hit 10 times out of 10 times destroyed))
((Sentinel 2 hit 10 times out of 10 times destroyed))
((Sentinel 3 hit 10 times out of 10 times destroyed))
((Nyako, Typhoon, Hope Summers, Sabertooth, Blob))
Nyako would prepare for a counter strike (she can do 12 counterattacks this way) claws at the ready. Hope Summers would nod at Typhoons proposal and try to talk to Scarlet Witch while Typhoon grabbed Cyclops saying "Scarlet Witch! Were here to help you! Please stop this attack and we can take you to Professor X and see what is wrong with you!" The Scarlet Witch would not listen her focus on The Sentinels who harmed her.
((Nebula, Sentinel 1, Sentinel 3, Scarlet Witch, Firefly))
(Assuming Nebula dropped Mystique to do what he did) Nebula would send the spikes at Sentinel 1 which miss as The Sentinel just swipes it away saying "Adapting to mutant shape shifting powers." and turns to Mystique before firing some wires to wrap up Mystique. It would quickly return its attention onto Hope Summers. Sentinels 1 and 3 would say "Adaptation complete. Diverting all power to Scanners, Energy Weaponry, Energy Shields, and Reactive components. Target acquired readying Energy Weapons to eliminate Hope Summers." They would then fire energy blasts at Hope Summers both missing as Hope dodged the attacks using Typhoons Air Mimicry. The Scarlet Witch would summon 2 Tyrannosaurus Rex's from alternate realities (this is all in line with chaos magic.) which would appear beside her. She would command the 2 T-Rex's to attack the 2 remaining Sentinels, Both The T-Rex's charging and biting a Sentinel for 2 damage each. The Sentinels begin showing major damage as they begin malfunctioning. She would then do 2 more hex bolts to each of them both hitting and destroying them as they exploded. Managing to get the trio to The Stratojet Cyclops would immediately say "What are you doing you left the others out there!" receiving Nebulas response Cyclops would respond "What! Why would I leave my team behind! Is that what you think of me? What would make you think that way!" Hope would say "Cyclops we need to go back. She needs our help." Cyclops saying "No it is better if we get you safe." Looking at Nebula as if to confirm to him what has to be done. Firefly would then get to Gambit and hit Daken for 1 damage blowing him towards the cliff. She would then go and support Gambit who would respond to her snark and questions by coughing and saying "Well You could say she had me choked up but I'm sure I could have handled it. Well I cant say what happened to you Mon Petite but as for what happened here Scarlet Witch got hit with one of the stun blasts of the sentinels and she just freaked out blowing up a good chunk of the mountain. Ever since then she has been rampaging on The Sentinels as if she was possessed or something."
((Skinless Man, Shadow King, Mystique, Daken, Gambit))
Skinless Man would look at Shuriken and say "And who might you be. Seems you have special skin as well. Seems like that's going around as of late. Well It would be unfair to let you have yours when mine was taken from me." Skinless man would then make every sinew of muscle he could without harming himself to turn into tendrils. He would then attack with many tendrils piercing 4 tendrils each onto Shuriken and Colossus/Juggernaut. Shuriken got hit 2 times for 2 damage while Colossus/Juggernaut got hit 2 times for 2 damage Colossus/Juggernaut would fall to one knee. Shadow King would swing with his cane 4 times aiming for the weak points on Emma Frost to break her hitting 2 times for 2 damage but missing the weak spots. Mystique would recover from the attack Nebula made against her and would grab her gun and fire at Firefly's shield 3 times the shield holding up. Mystique would then slam the rifle into the shield and finally break it grabbing Firefly by the throat with the spiked tail dealing 1 damage as the tail clenched tight leaving the spikes outside the neck to prevent Gambit from getting her out himself. She would then aim her gun at Firefly and say "Surrender now or she dies." Daken would notice Wolverine looking for allies and says "Wolverine! Mystique. You seem to have that handled ill go deal with other problems." Mystique would turn her head and shout "Daken! Where are you going!" Gambit would react and grab a card charging it for but an instant throwing the card into her face blinding her temporarily. Mystique would drop Firefly as Gambit said "You left yourself open Mystique. You should have kept your eye on the cards." Gambit would then whack her head with his bo staff for 1 damage. Gambit would then ready a card and stand on her chest saying "Looks like the tables have turned. Now I think your the one that should surrender." Daken would slash at Wolverine 8 times savagely hitting 4 times 2 being grazing shots in the left shoulder and throat for 1/2 damage while the other 2 were direct hits that stabbed the right arm and lacerated the stomach for 1 damage.
((Omega Red, Omega Black, Omega White, Shuriken, Colossus))
Shuriken would rush Skinless man slashing at him multiple times the first 2 would hit for 1/2 damage as Skinless man was not able to dodge fast enough. Adapting to Shuriken's speed Skinless Man would dodge the second couple of attacks Shuriken made. Shuriken would then grab some of the snow and throw it into Skinless Mans eyes and slashes 2 more times for 1/2 damage each. (Skinless Man has enhanced durability so unless you have superhuman strength a person only does 1/2 damage or 1/4 damage to them) Colossus/Juggernaut would run over and punch Skinless Man for 1 damage knocking him flying into the snow. He would then try to jump onto Skinless Man but missed as Skinless Man rolled over dodging the attack. Colossus/Juggernaut would then try to stomp onto Skinless Man but missed again as Skinless Man would grab his foot and trip up Colossus/Juggernaut getting back up. Colossus/Juggernaut would then get up while charging and hitting Skinless Man with his shoulder knocking him back for 1 damage. Shuriken would then go to hold down Skinless Man who would roll backwards to dodge.
((Emma Frost, Cyclops, Wolverine, Beast, Cable))
Knowing what Shadow King was trying to do Emma Frost would respond to the attack Shadow King did by transforming into her Normal Form. She would then try to assault Shadow Kings mind and manages to deal 1 psychic damage to him. She would the punch him in the face for 1 damage knocking him to the floor. Shadow King would get back up saying "So you changed out of your Diamond Form. You do realize you leave yourself open to my mental attacks." She would just ready for the mental fight of her life Shadow King saying "Suit Yourself. But it will be me that wins this duel and once I do ill take control of your body and become unstoppable!" Cyclops would try to see if he could get the plane running from where he was but was unable to get anything to respond. Cyclops would slam his fist on top of the ship saying "Damn it! Typhoon I need you to try to see if you can get the ship to start. Ill see what I can do from here." Wolverine would attack Daken 4 times missing the first 2 as Daken dodged but the third would hit Daken's right arm for 1/2 damage and the other attack grazed Daken's left side for 1/2 damage. Wolverine would then try to stab his sons head with his claws but misses as Daken uses his claws to grab Wolverines and uses his other claw to jam into Wolverines gut for 1 damage. Wolverine would then use his other claw to try to rip Daken throat out but misses as Daken ducks and just jams the claw into Wolverines stomach further dealing another 1 damage. Beast would notice Wolverine was in trouble but would try to talk to Scarlet Witch saying "Very good dealing with those Sentinels. Now lets all go home and see if Professor X can fix your memory problems." touching his hand on her shoulder she would immediately wrench herself away from him and say
"Don't touch me!"
She would then use her hex bolt to cause Beast to spontaneously combust into flames dealing 2 damage. Beast screams "Aaaaaah!" as he drops and rolls trying to use the snow to put himself out. (This will deal subsequent 1 damage for 4 turns or until someone puts out Beast) Cable would respond to seeing this by pointing his guns at Scarlet Witch and saying "Now lets just go and get you fixed up before you do something your going to regret." the 2 would just stand there waiting for the other to move.
((Turns needed for the Omega Clan to return 2))
((Turns needed for Sabertooth and Blob to return 5))
((This is the map as it stands now. Those off the mountain area are in a lower part of the mountain.))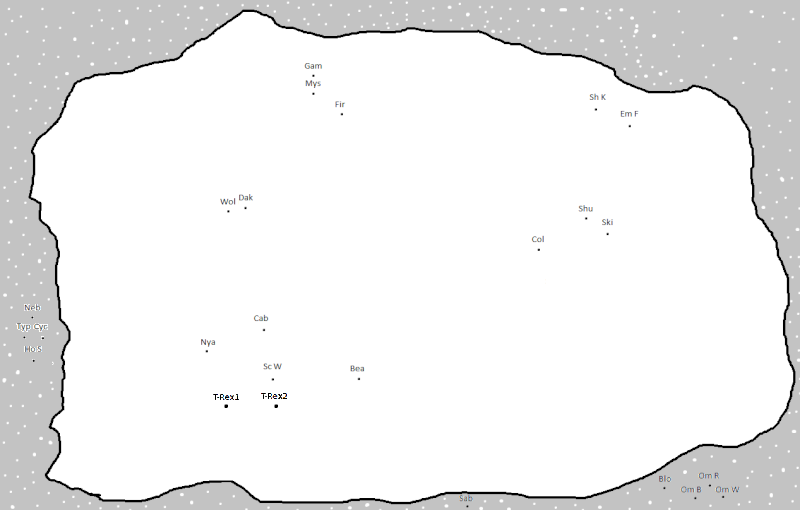 ((Shuriken Hit 2 times out of 9 times his healing heals him 1 point per admin post))
((Firefly Hit 1 times out of 7 times her healing heals her 1 point per admin post))
((Typhoon Hit 3 times out of 6 times))
((Nyako Hit 0 times out of 5 times))
((Nebula Hit 0 times out of 8 times))
((Hope Summers hit 0 times out of 24 times))
((Cable Hit 1 times out of 10 times))
((Cyclops Hit 18 times out of 19 times))
((Emma Frost Hit 8 times out of 9 times))
((Colossus/Juggernaut Hit 9 times out of 10 times))
((Wolverine Hit 5 times out of 10 times his healing heals him 1 point per admin post))
((Beast Hit 5 times out of 8 times))
((Gambit Hit 3 times out of 8 times))
As Nebula shifted through the repair kit grabbing the biggest monkey wrench he could find, he turned to Cyclops. Y'know the way you been talkin to us, all of us, it would not fucking surprise me if you bailed. What would Jean say if she heard you pulling this? Nebula would begin to reorganize his portals for a quick trip. I'm borrowing this, be right back. He would then communicate to Nyako. Get to Emma, and take beast with you were going home.

Portals ready, Nebula would quickly teleport behind a preoccupied Shadow King striking him across the head with the wrench using a combination of Nebula's strength and telekinetic force (being too far away when Nebula planned this, Shadow King could not have forseen this). Hi Emma, you need first aid. Wanna go home? Nebula would say as he ushered her (and Nyako and Beast if they met us) through a portal to Daken and Wolverine.

In a hurry to get everyone to safety, Nebula lifts Daken telekinetically and throws him away to the north west. he then signals Wolverine and all present company to follow as he teleports them back to the jet.

Returning to the jet, Nebula turns to Emma Frost. I can get your mind close enough if you can tell everyone else telepathically to cluster together. (only if anyone was left behind)

jamwalsh




Posts

: 90


Join date

: 2012-03-08



Typhoon would phase into the main body of the ship to find the problems and directly repair them. He had build tiny robots with AI (well VI technically) out of scrap parts, and he studied this plane a lot hoping to fly it, so putting it back together shouldn't be a problem. "You got it one eye."

vinio2323




Posts

: 299


Join date

: 2012-03-08



Nyako teleports behind the sentinel that is about to attack, rips into it with her claws, opening its chest.

Nightmare696




Posts

: 247


Join date

: 2012-03-09



Firefly goes over to Gambit and says in a sarchastic tone "Well this was fun. We should totally do it again sometime." Then she begins to heal Gambit while pointing one hand at Mystique and saying to her "I don't like you too much. If you move I'm going to blast you."

maltastarlight




Posts

: 68


Join date

: 2012-03-10


Age

: 32



Page 7 of 7 •
1, 2, 3, 4, 5, 6, 7
---
Permissions in this forum:
You
cannot
reply to topics in this forum