Page 2 of 2 •
1, 2
Sif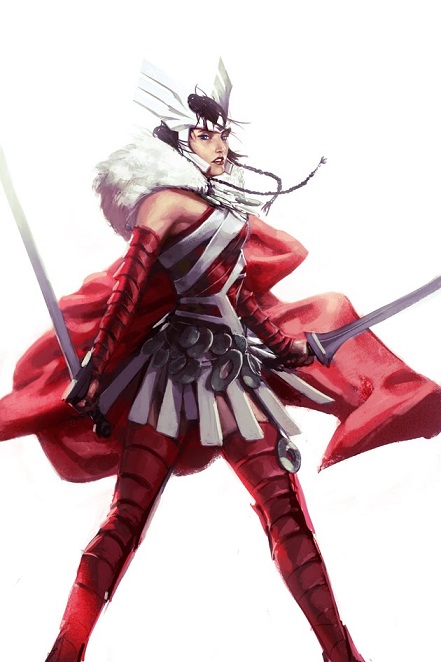 Race: Asgardian
Gender: Female
Class: None
Sif was a beautiful warrior-goddess of the Asgardian pantheon. Heimdall, her brother, was the sentinel of Asgard's Rainbow Bridge, which connected Asgard and Midgard (Earth).
When Sif was a child, she possessed long golden hair. She often played with young Thor, Odin's son, and Loki, Thor's adopted brother. Sif and Thor fell in love while they were quite young. When she was kidnapped by Storm Giants and made a prisoner of hela, Thor offered his own life to ensure her release. Hela, impressed by his nobility, released both of them. Later, jealous Loki cut off all of Sif's golden hair while she was asleep.
Guessing that Loki had something to do with Sif's loss of hair, Thor angrily demanded that Loki restore her golden locks. The scared Loki contacted two dwarfish craftsmen, Brokk and Eitri (who would later create Thor's hammer Mjolnir), and asked them to create new hair for Sif. Loki was either unable, or unwilling, to pay the dwarfs enough gold to create golden hair. The dwarfs decided that "for the price of naught" they would make "strands of naught." The dwarfs created magical strands of hair from the blackness of the night. The strands of darkness took root the moment they were placed on Sif's head, and then began to grow out. Thor found that Sif's new black tresses made her even more attractive, disrupting Loki's plan to ruin their relationship.
For a time, Thor and Sif had a falling out. Many years later, Thor began his career as a super hero on Earth, and had a long-time love affair with the mortal Jane Foster. After this, however, Odin arranged for Thor to meet the now adult warrior-goddess, Sif. They became close companions and fell in love again. They promised to someday marry each other.
Unfortunately, Thor's feelings of responsibility to the Earth and its people often came between the two lovers. In the past, Sif tried to adjust to living on the mundane Earth. Unfortunately, Sif preferred the majesty of Asgard.
At one point, Thor's former mortal lover, Jane Foster, was dying, and Sif merged her life force with Foster's, reviving the dying woman. Sif did this partially so that she could try to understand Thor's attraction to mortals, especially Jane Foster. Soon afterward, Foster was separated from Sif, when Foster was exiled to a limbo-realm called the Runestaff of the Possessor. Sif and Thor eventually rescued Jane Foster and reunited her with her mortal love, Keith Kincaid.
Thor and Sif later came to the aid of the alien champion, Beta Ray Bill, who was the guardian of a large space fleet that carried the surviving members of his alien race in suspended animation. Sif, Beta Ray Bill, and Thor drove off a horde of Surtur's demons that were attacking Bill's fleet. Beta Ray Bill and Sif found themselves attracted to each other while the war with Surtur raged on. During this time, Thor had fallen under an enchantment that caused him to fall in love with the Asgardian Lorelei. Thor was so blinded by the spell that he even struck Sif in anger.
In a final climactic battle with Surtur, Thor, Loki, and Odin defended Asgard. Meanwhile, the Ancient Casket of Winters had been opened on Earth. The warriors of Asgard, led by Sif and Bill, protected Earth from Surtur's demons and the renegade Dark Elves working with Surtur. Surtur and his forces were defeated on Asgard and Earth.
Before returning to Asgard, Bill and Sif spent some time together on Earth. Once back in Asgard, Sif and Bill defeated the Titanium Man, the Russian villain, who was leading a group of disgruntled American war veterans wearing the Credit Card Soldier armored battle-suits.
Sif and Bill eventually returned to Earth. Sif finally came to forgive Thor, after realizing that Lorelei was to blame for Thor's brutality. Sif was also impressed by Thor's heroism when he entered Hela's realm to rescue some mortals' souls stolen by the death goddess. This also caused Sif to accept Thor's guardianship of Earth and Asgard.
When the Egyptian death god, Seth, attacked Asgard, Sif fought along with the other brave Asgardian warriors. During the battle, Leir, the Celtic god of Lightning, saw Sif and developed an attraction for her.
Later, when the Ice Giant Ymir attacked Asgard, Leir arrived in Asgard planning to ask Sif to marry him. A worried Sif agreed, once two conditions were fulfilled. The first condition was that Leir help her find Thor and bring him back to Asgard. Leir agreed and they traveled to Earth in search of Thor. The trail led from Earth to the Black Galaxy, where they finally found Thor. Leir got them back to Asgard in time to witness the final battle between Ymir and Surtur, which heralded Ragnarok.
Thor and Odin were able to permanently postpone Ragnarok, saving the universe. Leir then had to face Sif's second condition: to defeat Sif's chosen champion in battle. Thinking that Sif would ask Thor to be her champion, Leir was stunned when Sif acted as her own champion and easily bested the arrogant Leir.
Since then, Thor and Sif continued their close relationship.
During Ragnarok, Sif died in battle against Thor's enemies, who possessed weapons that were forged in the same way as Mjolnir.
When Thor was revived and began awakening the Asgardians, Sif's absence was notable. Hoping to find her, Donald Blake, briefly separated from Thor, sought out Jane Foster in New York City to see if she was again housing Sif's spirit. Finding Jane to be lacking Sif's spirit, Donald left the hospital where she worked, little realizing that one of the patients there was actually Sif, being held hostage in the body of an old woman named Mrs. Chambers who was suffering from what was thought to be terminal cancer in that hospital. Loki was reborn in the female body that was originally meant to be for Sif and used his sorcery to mask her from Thor's abilities, giving her a mirror that showed Sif her true form, but she was unable to let anyone know who she was.
Sif remained in the hospital inside her host, fighting to stay alive. When he could not find Sif, Thor began to wonder what would happen to the spirit of an Asgardian if their host died.[3] Loki later revealed to Thor Sif's spirit was too weak to answer Thor's original summons to the Asgardians and when Loki was in the process of transfering his soul from her current female form to his true male form, the process would kill Sif's host, and he should say goodbye to her.
Upon learning the truth from Mrs. Chambers, Jane Foster called Donald Blake and informed him that she had found Sif, with Thor successfully being able to restore Sif mere moments before Mrs. Chamber dies. With Sif resurrected, Mrs. Chambers passed away.
Sif later joined Thor in exile in Oklahoma and checked into the same hotel as Donald Blake under the name Sylvan. She was seen fighting alongside the Asgardians during the Siege.
When Odin sensed that the Serpent had returned, he hastily ordered all Asgardians to return to Asgard (The 'true' one rather than the ruins after Seige). When Thor fought back against the All-Father, she could only watch in shock as the Thunderer was defeated and taken to the realm in chains.
When Loki freed Thor (believing Odin is going too far to destroy the Serpent), Sif along with the Warriors Three, Balder and Hermod offered to take him back to Midgard to aid the Avengers, but not before Odin noticed what was going on. However, Thor managed to convince him to save Earth, and the All-Father promptly sent him there. But Odin gave Thor a warning; his time limit was up to the point where Dark Asgard would rise. With that, Odin promptly sent him to Midgard, even tossing him Mjolnir (which the All-Father had previously confiscated).
When Thor died, she attended his funeral.
When Asgard was restored as Asgardia, Sif watched Tanarus rescue a worker that almost fell to his death. Like the rest of the universe however, she had forgotten who Thor was.
Stats ( Lv 9 )
Strength: 10
Speed: 12
Dexterity: 8
Durability: 8
Constitution: 10
Intelligence: 7
Wisdom: 12
Charisma: 11
Powers
Sif possesses all of the various superhuman attributes common among the Asgardians.
Superhuman Strength: Like all Asgardians, Sif is superhumanly strong and possesses greater physical strength than the average Asgardian female. At her peak, Sif is able to lift about 30 tons.
Superhuman Speed: Sif is capable of running and moving at speeds much greater than that of even the finest human athlete.
Superhuman Stamina: Sif's musculature produces considerably less fatigue toxins during physical activity than the musculature of a human being. She can exert herself at peak capacity for about 24 hours before fatigue begins to impair her.
Superhuman Durability: Sif's body is much more resistant to physical harm than the body of a human being. She is capable of withstanding great impact forces, exposure to temperature and pressure extremes, powerful energy blasts, and high caliber bullets without sustaining injury.
Superhumanly Dense Tissue: Sif's bodily tissues have about 3 times the density as the bodily tissue of a human. As a result, Sif is actually much heavier than she appears. This increased tissue density also contributes somewhat to her physical strength.
Superhuman Longevity: Like all Asgardians, Sif ages at a rate that is much slower than that of a human being. However, Asgardians aren't completely immune to aging, as some other god pantheons are.
Regenerative Healing Factor: Despite her body's resistance, Sif can be injured like any other Asgardian. However, her metabolism enables her to rapidly regenerate damaged bodily tissue with greater speed and efficiency than a human being is capable of. Injuries such as slashes and punctures can fully heal within hours, whereas broken bones can heal within a few days. However, she isn't able to regenerate severed limbs or missing organs.
Instant Teleportation: Sif has, by birthright, the power to transverse time and space, and travel faster than the speed of thought by piercing the fabrics of Infinity and travel to any destination she chooses. Sif can also use her enchanted sword to teleport herself to other dimensions beside Earth and Asgard.
Abilities
Sif is a formidable combatant and has recieved extensive training in unarmed combat and swordsmanship. Among Asgardian women, her fighting ability is second only to Brunnhilde The Valkyrie.
Strength level
Class 50; Sif is stronger than the average Asgardian woman, and is able to lift 30 tons[17].
Weapons
Sif wields a special sword enchanted by Odin to enable her to cleave passageways between dimensions, primarily between Asgard and Earth, by a special pattern of swinging motions. Also, during Ragnarok she used the sword Dragonfang after Valkyrie (Brunnhilde) was slain.
Last edited by Admin on Thu May 08, 2014 12:30 am; edited 3 times in total
Heimdall

Race: Asgardian
Gender: Male
Class: None
Heimdall was a valiant Asgardian warrior. After another attempt by the Storm Giants to storm Asgard, Odin decided to chose a warrior to guard the Rainbow Bridge Bifrost, which connects Asgard (Home of the Aesir) to Midgard (Earth). He invited three warriors to prove their prowess, Agnar the Fierce, Gotron the Agile and Heimdall. Heimdall was chosen because of his powers of perception, being able to see and hear across time and thus predicting a coming attack by the Storm Giants. After the attack was repulsed and their King captured, Odin chose Heimdall to be the guardian of the Raibow Bridge forever.
His first known failure as guardian of Bifrost came when the air spirit Vanna, who was considered uncatchable, slipped by him on its mission to spy on Asgard for Brimer, King of the Storm Giants. Heimdall was so ashamed of his failure that he reported it to Odin at once, enabling the All-Father to catch the spy.
After Thor reappeared on earth in the human guise of Don Blake, Heimdall accidentally freed Loki from his entrapment into a tree. Odin had decreed Loki would remain imprisoned until another Asgardian would weep a tear for him. When Heimdall passed under the tree, Loki made a leaf fall, striking Heimdall in the eye, shedding the required tear.
Heimdall has continued to stand as guardian of Bifrost often serving as the first line of defense. He has battled against Thor the times the latter has been banished from Asgard only to be quickly overwhelmed. Other times he has fought beside Thor against threats to Asgard. At one time he served as ruler of Asgard when Odin was in the Odinsleep.
After one of Surtur's attacks on Asgard, Bifrost was destroyed. Heimdall used his free time to form a romantic relationship with Amora the Enchantress. Despite their mutual affection for each other Heimdall returned to his position as guardian of Bifrost when it was repaired.
Post-Ragnarok
Following the return of Asgard after Ragnarok Heimdall was the first Asgardian Thor found. Using his powers, Heimdall was able to easily lead Thor to his fellow Asgardians. When Thor was banished for killing Bor, Heimdall served as one of the advisers to Balder. He foresaw the attack on Asgard by Norman Osborn, but was prevented by Loki from warning anyone. He fought against Osborn's forces and later resumed his position as watchman of Asgard.
After Thor died fighting the Serpent, he was replaced in everyone's memories by Ulik as Tanarus thanks to a spell cast by Karnilla. Heimdall became suspicious when he was occasionally unable to locate Tanarus with his enhanced sight. He confronted Tanarus only to be severely beaten. He recovered enough to see through the spell and warn the All-Mothers' of Ulik's treachery.
Stats ( Lv 6 )
Strength: 10
Speed: 8
Dexterity: 9
Durability: 8
Constitution: 11
Intelligence: 6
Wisdom: 12
Charisma: 6
Powers
Heimdall possesses all the typical superhuman attributes common go the Gods of Asgard.
Superhuman Strength: Like all members of his race, Heimdall is superhumanly strong. He is somewhat stronger than the average male Asgardian and is capable of lifting about 50 tons.
Superhuman Speed: Heimdall, despite his great size, can run and move at speeds superior to that of the finest human athlete
Superhuman Stamina: Heimdall's musculature produces considerably less fatigue toxins during physical activity than the musculature of a human being. He can physically exert himself at peak capacity for about 24 hours before the build up of fatigue toxins in his blood begins to impair him. Heimdall never sleeps.
Superhumanly Dense Tissue: The tissues of Heimdall's body have about 3 times the density of the bodily tissues of a human being. This contributes, somewhat, to Heimdall's superhuman strength and weight.
Superhuman Durability: Heimdall's body is much harder and more resistant to physical injury than the body of a human being. Heimdall can withstand high caliber bullets, falls from great heights, exposure to temperature and pressure extremes, and powerful impact forces without sustaining injury.
Superhuman Agility: Heimdall's agility, balance, and bodily coordination are all enhanced to levels that are beyond the natural physical limits of even the finest human athlete.
Superhuman Reflexes: Heimdall's reflexes are similarly enhanced and are superior to those of the finest human athlete.
Extended Longevity: Heimdall, like all Asgardians, ages at a rate that is considerably slower than an ordinary human. However, the aging process of the Asgardians isn't completely halted as it is with some other of Earth's god pantheons.
Regenerative Healing Factor: Despite his resistance to injury, Heimdall can sustain physical injury if exposed to a sufficiently powerful force or weapon. However, if injured, his godly life force and metabolism enables him to rapidly regenerate damaged tissue much faster and more extensively than a normal human. However, Heimdall isn't able to regenerate missing limbs or organs.
Superhumanly Acute Senses: Heimdall's post as Sentry of Asgard is due in large part to his extraordinarily acute senses. Heimdall's sight, hearing, and smell are enhanced to the point that they qualify as extrasensory. Heimdall can see and hear as far as creation. He can look across time and space and is able to detect the approach of most beings within hundreds of miles. Heimdall can sense the life force of Asgardian gods throughout the Nine Realms and can willingly focus his senses on certain sensory information and selectively block the rest of it from his consciousness. Otherwise, he would be mentally and physically overwhelmed by the extraordinary amount of input generated by his extremely acute senses. Certain magical spells can block his sensory powers and his sight is limited if his eyes are damaged.
Avatar Projection: Heimdall has the ability to project an avatar of himself to converse with Thor from Broxton to Manhattan.
Formerly
Odinforce: Before Odin was about to enter the Odinsleep, he gave a portion of the Odinforce to Heimdall to act as his Regent unitl he awoke. Heimdall used the Odinforce to recreate the Bifrost Bridge.
Abilities
Heimdall's duty requires him to be one of Asgard's most formidable armed and unarmed combatants. He is particularly skilled with bladed weaponry.
Strength level
Class 50, Heimdall is strong enough to lift 50 tons
Weaknesses
Heimdall's senses, as extraordinarily acute as they are, can be blocked by certain magical spells.
Transportation
His steed Gulltopp
Weapons
He carries the Gjallerhorn, used to signal when he sees any impending attacks on Asgard.
Hofund: Heimdall carries an uru sword enchanted by Odin. With his sword Heimdall can command cosmic forces into his sword to strike down a half powered Thor from entering Asgard, he can also use his sword to wield blue flames from countless cosmic stars, and the ability to mystically disguise himself as a mortal human while he was on Earth.
Last edited by Admin on Wed May 07, 2014 11:05 pm; edited 1 time in total
Balder the Brave (Balder Odinson)

(Balder as king)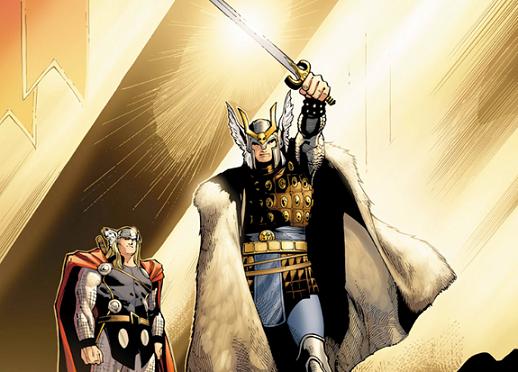 Race: Asgardian
Gender: Male
Class: None
Balder was one of the Asgardians, an extra-dimensional race of beings once worshiped by the Vikings and Germans, as well as half-brother and close friend to Thor. Due to prophecies that Balder's death would help trigger the coming of Ragnarok, the destruction of Asgard and its inhabitants, Odin, ruler of Asgard, commanded his wife Frigga to make Balder invulnerable to harm.
Before he allowed her to cast the spells, however, he accused Balder of treason, because during a battle with the Storm Giants, he had deserted the fight to put a bird who had fallen from its nest, back with its mother. Odin ordered his brothers Tyr and Honir to shoot arrows and throw lances at Balder, but the projectiles were stopped by an eagle and a plant. Seeing that Balder did not flinch, Odin was content that Balder was the bravest in all of Asgard and decided to grant him the invulnerability.
Frigga cast spells that would protect Balder form harm by any living or inanimate thing while he was in the Asgardian dimension; however, Balder remained vulnerable to mistletoe. Loki, the god of mischief, learned of the prophecies and vulnerability, and tricked the blind god Hoder into firing an arrow tipped with mistletoe wood at Balder. Odin prevented Balder from actually dying, but when he was finally restored to life, his hair had turned white as a result from his experiences in Hel. Later, Balder's beloved, Nanna, sacrificed herself to save Balder from entrapment in marriage to Karnilla, and Balder was so distraught that he resolved never to speak of this incident or of her again.
These experiences of death led Balder to forswear the life of a warrior and tried to forget his misery through eating, growing considerably fat. He rode to the desert to die, but encountered the Norns, three goddesses who oversaw the workings of destiny. The Norns gave Balder a vision that restored his faith, and he rode back to Asgard, eventually losing his excessive weight as he became a warrior again.
Balder fought in all the recent battles of Asgard, including one against the demon Surtur, in which he needed to seek out the aid of the sorceress Karnilla. During a time when Odin had departed Asgard, Balder became the ruler of Asgard.
Balder accompanied Greyval Grimson on the quest for the Raven Banner.
Balder was killed during the final Ragnarok by an army wielding mistletoe-tipped spears.
Balder's spirit was pushed into the Destroyer by Loki and attacked Thor who was searching for the missing Asgardians. He was restored by Thor along with Loki and resided in Asgard Oklahoma. Balder replaced Thor as Lord of Asgard due to the sinister plans of Loki during the Dark Reign, and was convinced to move the Asgardians to Latveria, the domain of Doctor Doom, where they were placed at his mercy. Until the prompt arrival of Thor who brutally bested Dr. Dooms Destroyer freeing the Asgardian's held prisoner including Balder. Once again ruler of Asgard yet broken in spirit Balder attempted to abdicate the throne. Thor convinced him to not to. When the threat of the world eaters ensued over the nine realms Balder did not pursue any action despite the encroaching threat. Forcing Thor to resurrect Odin after which Balder departed Asgard with Tyr. Intent on dying a warriors death to atone for the sins of failing to protect Asgard. Defeating many of the world eaters including Thane the prince of the Ano-Athnox before falling to their deaths. Later after the defeat and banishment of the Athnox to the limbo in the world tree Balder's vengeful spirit is present along with Tyr.
Stats ( Lv 8 )
Strength: 10
Speed: 8
Dexterity: 9
Durability: 8
Constitution: 10
Intelligence: 7
Wisdom: 12
Charisma: 10
Powers
Balder has the ability to radiate unmeasured degrees of heat and light as the God of Light, though this ability is rarely displayed; like all Asgardians, Balder is extremely long-lived, more fast-healing than Earth-based beings, and immune to terrestrial diseases. As a senior Asgardian god Balder's physical abilities are slightly superior to common Asgardians. Balder is also a capable leader and swordsman. Also, while in Asgard, Balder cannot be mortally wounded by any weapon; however, after being reborn on Earth, he has lost this magical ability. Balder also managed to shield both himself and Odin's flying steed from mortal eyesight while on Earth in one instance.
Badler has several superhuman physical attributes that are common to Asgardians. Balder possesses superhuman strength, speed, stamina, agility, reflexes, senses and durability.
Danger Sense: While in Asgard, Balder was able to sense when Thor was in danger on Earth.
Photokinesis: Being the Asgardian God of Light, Balder can generate an intense beam of light that is strong and hot enough to melt the fortress of Utgard-Loki and the Frost Giants within it down to small sizes.
Teleportation: Balder is able to teleport himself to Earth from Asgard.
Animal Communication: Balder has the ability to communicate with the animals he is charged to protect.
Energy Projection: Balder has limited energy and magical abilities. He has shielded himself from mortal eyes when he flew to Earth on Odin's behalf to find Thor, He can create an enchanted fog to transport Thor from Earth ot the Bifrost Brigde.
Abilities
Skilled warrior and horseman
Strength level
Superhuman class 50. Balder is significantly stronger than the average Asgardian and can lift 35 tons. However he may be stronger now as he is the king of Asgard and is also said to be able to lift 50 tons in his latest OHOTMU entry
Weaknesses
Is vulnerable to weapons made of mistletoe; can die of natural means (such as severe lack of food, water or air); according to Loki as she warned Balder after helping him slay a Frost Giant on Midgard as part of a ploy to gain his trust, the spells of invulnerability no longer shield him beyond the boundaries of the now-lost Asgardian dimension and he can be far more easily slain, even by mortal weapons.
Equipment
Once wielded the Norn stones.
Transportation
Asgardian horses, occasionally inter-dimensional portals.
Weapons
Pair of swords. An Odin-blessed sword that Balder can summon from Earth across the Nine Realms to where he stands in Asgard and transport other beings to other realms.
Last edited by Admin on Wed May 07, 2014 10:24 pm; edited 1 time in total
Hope Summers
((Current Costume))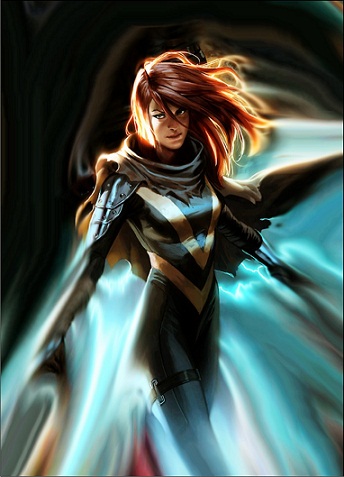 ((Old Costume))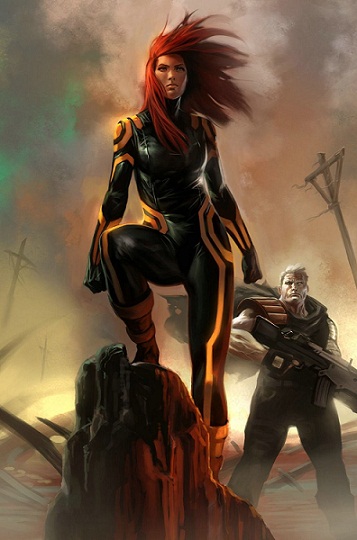 Race: Mutant
Gender: Female
Class: None
Background
Hope was the first new mutant born since the M-Day. The moment she was born, Cerebra blew up. Soon after her birthplace of Cooperstown, Alaska was attacked by the Purifiers, who had used information given from the time-traveling Sentinel Nimrod warning them of her arrival. Although everyone else in town was murdered by the Purifiers, Cable managed to save her. According to him, the baby was the messiah supposed to save both mutants and humankind. However, according to the Purifiers and Bishop, she would become an evil antichrist and kill a million humans in six minutes, turning humanity against mutants once again, thus leading into a new era of mutant persecution, the very timeline in which Bishop was born.
The baby was later kidnapped from Cable by the Marauders and delivered to Mister Sinister who was actually Mystique in disguise. She took the baby and made her touch the comatose Rogue. Gambit quickly took her away from Mystique, believing that she just killed her but he was amazed to see that the baby was alright and that it even cured Rogue of the Strain 88 virus. After a huge battle between the Marauders, X-Men, and Predator X, Cyclops decided that the baby would be better off with Cable, and allowed his son to take her to the future. However, an adamant Bishop decided to track Cable and the baby in order to finally kill her and prevent his future from happening.
Upon jumping into the future, Cable took her to the secluded safe haven of New Liberty in the future, where Cable married a fellow civilian named Hope, who became like a mother to the mutant baby. Years passed, since his last battle with Bishop damaged his time machine, Cable could only jump forward in time. She was now seven years old. But then New Liberty was invaded by humanoid insects who called themselves the United States Army. Cable fought them and left New Liberty with his wife and Hope in order to make sure New Liberty didn't fall. After spending months in the wasteland, the family was attacked by the president of the insects, whom Hope managed to save her family from by stabbing the insect in his weak spot, since she had been watching Cable fight. Cable questioned the president where he found out that Bishop, in order to find Hope in the future, had destroyed all the continents in the world, except North America, in order to easily find her and kill her. Cable killed the president, and the family moved on. The family encountered a settlement, but were met with resistance. Cable took care of them easily, but not fast enough, as her mother was shot and died in Cable's arms while she watched. Hope saw Cable bury her mother and departed with him. After arriving at a church, the pastor asked the name of the child. In that moment, Cable decided to name her Hope Summers, in honor of her adoptive mother.
Hope later became the center of another conflict, this time between Cable, Stryfe, and X-Force. Hope was kidnapped by Stryfe who was working with Bishop. She watched as Stryfe tortured Warpath until Cable, Wolverine, and Elixir came to their rescue. In the following fight she survived along with the rest of the X-Force and Cable with Bishop losing an eye to Wolverine and having his time travel device damaged. When Cable and Hope were forced to time travel again, Hope resisted because she wanted to stay with X-23 and Elixir, with whom she had bonded during the War. That caused her to kick Cable in mid jump stranding herself and Cable two years apart from each other.
Hope fled the rubble of Stryfe's Celestial City and befriended Emil Spence, the descendant of Stryfe's warriors, Stryfetroopers. Hope survived for two years, with the help of Emil, until rejoining Cable and fleeing Earth on the second last spaceship on the planet, the Ensabahnur I, which Cable commandeered posing as Stryfe. Hope was devastated at being forced to leave Emil, the boy she loved.
At some point during their journey Hope accidentally revealed Cable's true identity, and he was imprisoned. Bishop and Emil eventually caught up to Cable and Hope, Emil under the impression that Cable had kidnapped Hope and Bishop was her true father, Bishop was also armed with a thermo-nuclear device which he planned to activate as soon as he saw Hope. While Bishop and Emil raided the Ensahabnur I, Emil and Hope were reunited and Hope explained to Emil that Bishop was in fact trying to kill her.
During Bishop's invasion the Brood, attracted to Hope's power, attacked both ships, distracting Bishop from Hope. While Cable and Bishop both fought the Brood, Hope and Emil made their way to the ship's two terraforming pods, which would facilitate their escape. Emil placed Hope in the pod against her will as she refused to leave Cable. As Emil was preparing the second pod Cable appeared and Emil gave the second pod to Cable, sacrificing his own life.
After Cable and Hope had left Emil obtained Bishops thermo-nuclear weapon, detonating moments before he could be attacked by a Sleazoid. However, Bishop escaped by allowing himself to be absorbed by an Acanti, and two years later he had tracked Hope and Cable in cryo-sleep within their terraforming pods.
Hope and Cable survived the brutal crash-landing back onto the dying Earth. Hope and Cable make encampment in ruins infest with mutant rats. Soon Hope made the decision that she was ready to go home and join the X-Men. However, the only fully functioning time machine in Bishop's robotic arm, and Bishop is still trapped inside a dying Acanti. Cable blows up the Acanti corpse, awakes Bishop and narrowly escapes with Hope into the past, but not before Bishop fires a bullet point blank at Hope's head. Fortunately, Hope mutant powers manifested and she used Cable's telekinesis to stop the bullet in midair.
The cobbled together time machine turned out to be somewhat faulty, making it difficult to timesliding to a specific date. Also, the remnants of Bishop time device were triggered with each jump which allowed him to follow Cable and anywhere in time. A violent chase ensues across numerous time periods on Manhattan Island including Revolutionary War and ruins of the apocalyptic future. Suddenly, they arrive in 2044 where Cable and Hope were briefly reunited with Sophie Pettit. However, Bishop also met some former comrades, Turnpike Authority, and begins chasing Hope with his new reinforcements. Unfortunately, during the chase, the car carrying Cable, Hope and Sophie crashed in Central Park. Cable was able to save Hope and time-jump, but Sophie died. Hope and Cable land in Central Park of 1933 and waste no time in moving before Bishop follows. Cable and Hope made several more rapid time jumps, each time over shooting their true destination, but each time getting closer. Bishop finally reach them and was almost successful in killing Hope until Cable activated the time device in his arm to send Bishop to the year 6700 AD. Finally free of their pursuer, Hope and Cable borrow a car and drive to the X-Mansion and prepare for their final jump into the present.
Cable and Hope arrived at in the present at the ruins of the Xavier Institute. While searching the rubble for clues on the X-Men's current whereabouts, a team of Smiley Faces attacked them. They were able to escape, but now Bastion knew about the Mutant Messiah's return. Bastion began tracking the pair using Cable's T.O. virus as a beacon. Hodge's Smiley-Faces and Stryker's Purifiers both continued to pursue the pair, but the X-Men were also alerted to Hope and Cable's return via the Stepford Cuckoos and Cerebra.
A select team of X-Men was able to stop both the Purifiers and Smiley Faces, and catch up to Cable and Hope. Once the X-Men understood how Bastion was tracking Cable they broke into two teams: Nightcrawler, Rogue and Hope teleporting back to Utopia and Wolverine, Cable and the remainder of Alpha Team acting as decoys. Bastion quickly uncovered the deception and attempted to kill Hope personally, but he was confronted by Rogue and then damaged when Nightcrawler sacrifices himself to save Hope by teleporting in one leap from Las Vegas to Utopia.
After Hope arrived on Utopia, Bastion launched the next phase of his plan. During the months leading up to Hope's return a large energy dome was built over the Bay Area to cut off the X-Men from escape or help. Once the dome was activated, Bastion opened a dimensional portal from his home reality to allow in more Nimrod-Series Sentinels. Like the original Nimrod, these Sentinels are able to detect, analyze and adapt to mutant powers. They are also self-repairing. The X-Men were barely able to subdue them, and several X-Men sustained severe injuries. Every five minutes a wave of five new Nimrod Sentinels continued to appear through the portal. Only by sending X-Force, Cable and Cypher on a one-way mission into the future to reprogram and destroy the Nimrod Master Molds were the X-Men successful to defeating them. However, to get X-Force home safely, Cable sacrificed his own life.
Once the dimensional portal was closed, Bastion decided it was time to confront Hope personally. He converted both Graydon Creed and Stephen Lang into robotic forms to battle the X-Men on the Golden Gate Bridge. Hope, grieving profusely at the death of her father, allowed her sorrow to turn into purposeful rage. Her mutant powers manifesting once more, Hope was able to draw on the mutant powers of the X-Men around her and single-handedly destroyed Bastion, Lang and Creed.
After the battle, Hope laid down cradled in the remains of Cable's techno-organic arm and fell asleep for nearly 30 hours due to sheer exhaustion.
Once the dust had settled after the final battle with Bastion, Hope, accompanied by Rogue and Dr. Nemesis, was sent to the Baxter Building in New York City to be thoroughly examined by Mr. Fantastic. After the examination, Richards concluded that Hope showed no major signs damage from time-traveling. He did recommend she have some dental work done and begin her vaccination regiment. He also said what would be most helpful is a biological family history.
When Hope returned to Utopia, she was confronted by Cyclops. They agreed to not let Cable's death stand between them. Cyclops began to talk about Hope and a small group of X-Men visiting the five newly manifested mutants, but Hope refused to go. Cyclops realized he was expecting too much from Hope, and per her request promised to send her and a few X-Men to Cooperstown, Alaska to search for clues of her biological family.
Hope with Rogue, Cypher and Dr. Nemesis went to Alaska, and discovered that Hope's mother was Captain Louise Spalding of the Cooperstown Fire Department. While visiting Louise's grave, Hope met her own grandmother, who told Hope about Louise.
Immediately after leaving Alaska, Hope and the others headed to Vancouver, Canada to save "the first light". Hope arrived just in time to save Laurie's life and stabilize her powers. After that, Laurie committed to follow Hope to the ends of the Earth. From Canada, Hope and the others went to Mexico City, Mexico where Hope similarly saved Gabriel Cohuelo.
Next Hope accompanied by Storm traveled to Nigeria to save Idie Okonkwo from a paramilitary group threatening to kill her. Hope stabilized her powers and brought her back to Utopia with the others.
The next light was originally located in the Ukraine, but when Hope, Rogue and the other lights arrived in Kiev, he was gone. They tracked him over most of Europe and finally found in in Miami Beach, Florida. Like the other lights, Hope was able to stabilize Teon's powers, and unlike the other she also "tamed" him. After Teon joined, they group set off for Japan to stop the fifth light from destroying Tokyo.
At first, Hope was unable to get close enough to touch Kenji, but she was able to control her powers enough to mimic Kenji although the strain of mimicking his powers made her faint with exhaustion. Cyclops then ordered the lights and Hope to stand back while the X-Men handled Kenji. Ignoring this order, Hope convinced the lights to help her save Kenji. She was able to again mimic Kenji's powers and use them to successfully subdue Kenji so she could physically touch him which resulted in the stabilization of both his powers and personality.
After the incident in Tokyo, Cyclops replaced Rogue with Kitty Pryde as his envoy to the team. As a newly officially sanctioned X-Men team, The Lights were deployed to Germany, where a sixth light had activated. They discovered the the new light has in fact an unborn child who telepathically took control of those near him. Kenji and Teon proved immune to its power, and Kenji was able to create links to the rest of the lights to protect them as well. Laurie theorized that the child was acting out because it did not want to be born, and so Hope had Kenji link them to the baby. After several attempts to reason with it, Teon managed to calm the baby, and he was successfully delivered. Hope touched him, stabilizing his powers. The Lights then left Germany to return to Utopia; Teon's family had started legal action to regain custody of him.
While awaiting the trial, Hope was furious with the blasé attitude taken by Dr. Rao and Evangeline Whedon Teon's custody. In an effort to distract her team from the looming legal proceedings, Hope insisted on adopting code names. Later despite his normally animalistic nature, Teon was able to eloquently offer a sound case of why he needed to stay with Hope and the X-Men. Immediately after the trial, Laurie and Kenji began to speculate on the reason all of the Lights (themselves included) seemed to be so drawn to following Hope.
After the events in Germany and Teon's trial, Hope and her team continued to train and prepare for more new mutant activations. Thanks to the Stepford Cuckoos monitoring in Cerebra, Hope and The Lights were alerted almost immediately of activation of the Seventh Light's powers. The left quickly, but arrived just after Zee had committed suicide. The whole team took the death very hard.
Laurie and Idie decided to confront Hope and force her to take a break from her constant training. The trio went shopping in San Francisco and was ambushed Crimson Commando, who kidnapped Hope. Wolverine tracked her down and rescued her. This allowed Hope to confront him on why he's avoided her, and Wolverine shared his fear of the potential of eventually having to kill her, which Hope respected.
When Kuurth, one of the Serpent's Worthy, was marching on to destroy San Francisco and Utopia, Hope was a vital part of Cyclops second plan. After the initial attempt to stop Kuurth failed, Cyclops instructed Hope to utilize the power of other X-Men to remove Kuurth helmet. She was successful, but Kuurth proved more difficult to stop than the regular Juggernaut. Kuurth was eventually driven off by Colossus, who had become the new Juggernaut.
After Idie killed the attacking Hellfire Club at the Mutant History Museum, she argued with Laurie whether it could have been prevented. Laurie also disagreed with Hope on the issue of whether to remain on Utopia or not, but Hope forced her to stay. In the aftermath, Laurie insisted that Idie be made to go with Wolverine; Hope relented.
Hope's relationship with Gabriel was cut short when she discovered him kissing Pixie. However, Hope harbored no ill will towards Pixie and invited her to join the Lights.
Hope and her team thought that they had found a new Light, but instead found Sebastian Shaw who had previously been mind-wiped by Emma Frost and now had no memory of his past. Hope brought him back to Utopia and convinced Cyclops to allow him to join her team. Later, Kenji put his plans to betray her into motion and attacked her and the rest of the Lights. With help from No-Girl, they managed to kill him.
Stats
( Lv 6 )
Strength: 6
Speed: 6
Dexterity: 9
Durability: 6
Constitution: 12
Intelligence: 8
Wisdom: 10
Charisma: 11
Powers
((Hope using her powers))
((Hope mimicing several X-Men powers simultaniously))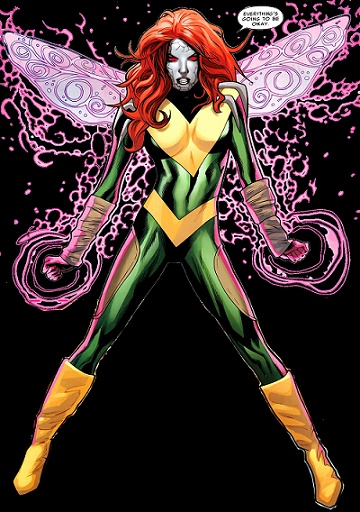 Hope Summers is an omega level mutant born with the following powers:
Empathic Power Mimicry: The limits of this power have yet to be reached or determined. She does not need to physically touch her subjects (as with Rogue), nor does it appear as though her using an individual's powers subtracts at all from their own power level. It appears that Hope needs to be in close proximity to subjects to exhibit their powers, and that powers fade with distance from subject. She can only copy mutant powers.
Hope has demonstrated a flaming energy aura like the Phoenix raptor several times, even as early as five months old. These manifestations could suggest she is a potential avatar for the Phoenix. After Cable's return from the future and being consumed by the techno-organic virus, Hope absorbed the virus and used the Phoenix flames to destroy the virus and cure Cable. Cable then told Cyclops that Hope was the Phoenix. the Scarlet Witch said that Hope is a part of Phoenix.
Pheonix Force: As the Phoenix comes nearer to Earth, Hope has been able to feel its presence and exhibit the following powers:
 Cosmic Pyrokinesis: Hope has created cosmic flames often under duress, but with increasing control.
 Concussive Force Blasts: Hope has wielded this energy to project beams of immense concussive force.
 Resurrection Force:Despite being fatally stabbed by the Shi'Ar Death Commandos, Hope was almost immediately revived by the Phoenix Force, with all of her injuries healed.
 Immortality: Hope cannot die, as the Phoenix will resurrect her if she sustains a fatal injury.
It is also notable that after Hope's initial detection at birth, Cerebra blew up. After repairs were made the Three-in-One tried to search for her because she had been kidnapped by the Marauders yet she somehow became undetectable by mutant-detecting equipment. It is possible, however, that she was merely being shielded by Cable, as he was with her from the time she left the hospital until he left to stop the Nimrod-Series Sentinels.
Also, soon after Hope's return to the present, five new X-Genes manifested across the globe. Besides her own birth, these are the first new manifestations of mutant powers since M-Day. More new mutants have continued to manifest, but slower than the original five.
 X-Gene Stabilization: Thus far, all of the post-M-Day mutant activations have been wildly unstable. The only thing the seems to stabilize the new mutants powers is direct contact with Hope. 
 Influence: Hope has exhibited some subconscious low level of persuasion or manipulation over the post-M-Day new mutants.
Abilities
Hope has learned to fight from Cable by observing him. Hope was further tutored in survival techniques, various hand-held firearms and blades, stealth, CPR, combat first-aid, warfare strategy, and some gymnastics.
Strength level
Possesses the strength of a normal girl her age, height, and build who engages in extreme regular exercise (although this can vary, depending on what powers she has access to)
Weaknesses
Hope's mutant powers are not fully under control and generates power levels that are potentially dangerous to people and environments around her.
Hope ability to mimic superpowers is limited to mutant. Therefore, she cannot duplicate the abilities of non-mutant superpowered being (i.e. Spider-Man, Luke Cage, or the Fantastic Four).
Transportation
X-Men Blackbird, Magik, Pixie; formerly Cable's time device; Terraforming Pods; Ensabahnur I
Weapons
Usually some sort of firearm
Last edited by Admin on Thu Sep 05, 2013 4:33 pm; edited 1 time in total
Scarlet Witch (Wanda Maximoff)
((New Costume))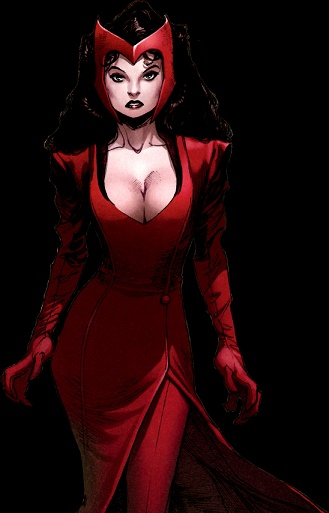 ((Old Costume))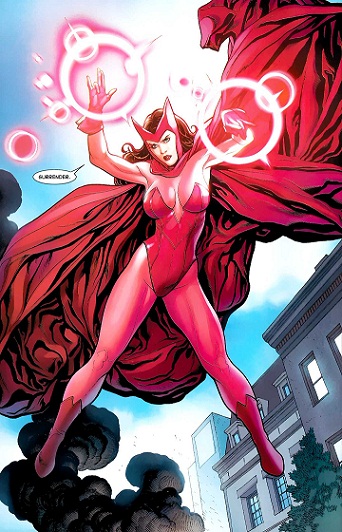 Race: Mutant
Gender: Female
Class: Sorcerer
Background
Born at the Wundagore base of the High Evolutionary, Wanda and her twin brother Pietro were eventually placed in the care of a Gypsy couple named Django and Marya Maximoff, from whom they were separated as teens when their encampment was attacked. They were later recruited into Magneto's Brotherhood of Evil Mutants and, as the Scarlet Witch and Quicksilver, fought the X-Men on several occasions. At the time, none of the three were aware of the siblings' paternity.
They soon abandoned their terrorist activities, while Magneto was imprisoned by the Stranger, and joined the Avengers. The remaining founding members had all gone on a leave of absence, leaving Captain America to lead an all-new lineup including Wanda, Pietro, and the archer known as Hawkeye. Although she became more adept in her power's use, Wanda did not realize that she was tapping into genuine magic. It was believed that the Scarlet Witch would have been an ordinary energy manipulator or perhaps simply able to cause bad luck if not due to Chthon's attempt to use her as a pawn.
Wanda fell in love with the synthezoid Vision, an artificial being created by Avengers foe Ultron who joined the team rather than fight them. The Scarlet Witch eventually married her teammate, the android Vision, not realizing that they were being manipulated by Immortus, who sought to prevent Wanda from having a child (Wanda was actually a key figure, or nexus being, to her reality, and her children would have power to shake the foundations of the universe).
Wanda eventually drew on magic energy to give birth to twin sons, Tommy & Billy, but this energy was eventually revealed to have come from the demon Mephisto, who reabsorbed them, effectively ending their existence. Wanda had also reanimated her deceased mentor, Agatha Harkness, through whom she cast a spell to make her forget her children in order to ease her pain. Though Wanda later recalled her loss, she suppressed this memory over the long term. After his reformation, The Vision and Wanda no longer shared the closeness they once had.
While both were serving as members of the Avengers West Coast, Wanda also grew to love Wonder Man, the man whose brain patterns had been used to form the Vision's mind. Both were among the former AWC members who opted to form Force Works after the team's dissolution. As the leader of this new team, Wanda used a 'hex mainframe' computer designed by Iron Man. Through her powers and the computer's calculations, they could proactively determine where the team was most needed rather than react to an alarm or breaking news. Although Wanda was appointed team leader, she often clashed with Iron Man overriding her orders. She was deeply saddened by Wonder Man's death on the first mission of Force Works. After rejoining the Avengers, she used her increased powers to resurrect him, although his ionic energy likely made him able to be restored. For some time, Wonder Man was mostly a cloud of ionic energy that Wanda had to summon.
Training with Agatha Harkness increased Wanda's control of her 'chaos magic'. Even after Agatha died her astral form continued to assist Wanda. However, at least some of this training may have been an illusion made by Wanda herself.
In years after, Wanda remained in her role as a longtime Avengers mainstay, salvaging her relationship with the Vision as best she could - although sparks also appeared with Captain America towards the end of her Avengers tenure - the moment she brought the team to its lowest moment ever recorded.
The Scarlet Witch seemingly gained powerful reality-altering abilities from "Chaos Magic"; however, this proved to be an uncontrolled aspect of her mutant power and created a great mental strain on her. An unintentional remark by teammate Wasp about Wanda's lost children apparently drove her over the edge. She suffered a nervous breakdown and lashed out with her new power, subjecting the Avengers to a savage assault and apparently killing Agatha Harkness and some of her teammates. Others were injured or affected by various odd outbursts and incidents. The remaining Avengers gathered including a number of reservists. However, it appeared some of them were more illusions created by Wanda.
Doctor Strange appeared, sensing abuse of magic, and angry that he had not been notified of Wanda's recent problems. Strange was forced to use the Eye of Agamotto on Wanda, which apparently showed her a memory so horrible she went into a catatonic state. Magneto suddenly appeared to collect his daughter, and brought her to Genosha so Professor X could help her.
Unfortunately, Xavier refused to do so as Wanda attempted to restore her husband to life and undo the damage she had caused. Keeping Wanda in a comatose state, Xavier ultimately called a meeting between the Avengers and X-Men to decide whether or not Wanda should be killed. Quicksilver was horrified at the fact that Xavier seriously considered killing Wanda and convinced Wanda to take desperate action to keep this from happening: By using her powers, Wanda warped reality into the House of M, a world where mutants were the majority, humans the minority, and Magneto the ruler (simultaneously giving various other heroes what they wanted most, hoping this would prevent them rebelling). In this reality, Wanda was believed to be a human, due to an alternate body she created to represent her in public while she cared for her children in private.
A young mutant named Layla Miller (a deformed mutant who was given a normal body thanks to Wanda's reality warp) was able to use her mutant abilities to restore several of the heroes' memories. Meanwhile Wolverine (the only person who sensed the reality's "wrongness") and a resurrected Hawkeye (who had been seemingly killed during Wanda's breakdown) and Cloak gathered these heroes into an assault force to try to restore reality. This rag-tag army headed to Genosha to attack Magneto, believing him to be the one responsible for the change. During the battle between Magneto's forces and the others, Layla was able to restore Magneto's memories; as well, Wanda confessed to Dr. Strange that it was Quicksilver, not Magneto, who had initiated the reality warp.
Enraged, Magneto confronted Quicksilver, angry that Quicksilver had done all of this in his name. Quicksilver told Magneto that he would have let Wanda die. Magneto replied that Quicksilver had only used him and Wanda. He then killed Quicksilver.
Wanda revived her brother, telling Magneto that Quicksilver had only wanted him to be happy and that Magneto had ruined them, choosing the mutants over his own children. She further denounced Xavier and in three words ("No more mutants") Wanda changed the world back to its original form but added the mass depowering of 90% of the entire mutant population, thus being responsible for many deaths. Surviving mutants and ex-mutants referred to this as "M-Day: The worst day in mutant history."
After the fallout, the resurrected Hawkeye/Clint Barton tracked Wanda to a small village near Wundagore Mountain, where he unknowingly saved her from a thief. Wanda was living in a small apartment with her only relative, her "Aunt Agatha" (who was never seen, but could possibly have been a manifestation of Wanda's now-dead mentor Agatha Harkness; Wanda also mentioned this to Beast, saying she was stuck out here for purposes of looking after an "elderly relative" who would worry if she got home late, indicating that this Aunt indeed existed in some form). She appeared to be powerless and believed that she had lived her entire life in the village. She did not recognize Hawkeye, nor did she remember her life with the Avengers or other events. Wanda told Hawkeye that he was her "hero" for dealing a thief and kissed him, and they spent the night together. The following morning, while Wanda was sleeping, Hawkeye became curious about the next room where "Aunt Agatha" was supposedly sleeping, but the doorknob appeared to shift away from his hands, a subtle reality manipulation usually associated with the Scarlet Witch. However, Clint looked back to see that Wanda was still asleep.
The mutant Beast later found Wanda at the same village and sought her help to deal with the aftermath of M-Day. She had no memory of him either, and claimed that she did not believe in magic.
The Young Avengers Wiccan and Speed decided to find Wanda, as Wiccan wanted to know once and for all if she was indeed their mother. They traveled to several places connected to Wanda and themselves in their search, but Wiccan was unable to detect any sign of Wanda's magic. Wiccan and Speed united to search for her around the planet, but both ultimately failed, though they were told by Master Pandemonium that they had to cease their quest to seek her, lest risk unleashing the darkness of the Witch's past yet again.
Later, the Asgardian god Loki, concealed in an astral form by simple spells and illusions, disguised herself as Wanda and assembled a new team of Mighty Avengers to be led by Hank Pym to oppose the demon Chthon. Chthon was eventually banished back to his own dimension, and his human vessel Quicksilver was released from his control. Loki's goal was to prevent another god of chaos from laying siege to the Nine Worlds and cracking Norman Osborn's armor to quicken his fall. She continued to assemble the Mighty Avengers, who remained unaware of Loki's involvement.
None were aware that the true Wanda had yet to reemerge from seclusion, as only Clint Barton, Beast and higher powers than they, such as the Living Tribunal or Uatu knew of her status. Quicksilver, having joined the Mighty Avengers, sought to use his position on the team to find her, a desire not missed by the impassive Loki. Pym also wanted to use Pietro in turn to solve the mysterious return of Wanda Maximoff.
Agamotto later detected her presence and displays her as one of thirty possible candidates for the role of Sorcerer Supreme through his Eye, but due to her apparent lack of magic and past instability refrained from selecting her, instead choosing Brother Voodoo to fill the position.
Recently Wanda was found in Latveria by her alleged son Wiccan. She seemingly lost all her memories and powers and engaged to Victor von Doom. Billy told her about who she was, and what she did. He also told her about her twin sons, and almost told about his suspicions that he and Tommy Shepherd are actually her reincarnated sons. His story was interrupted by the battle between the Avengers, the Young Avengers, Magneto and Doctor Doom. Wolverine tried to kill Wanda, but was stopped by Iron Lad, who teleported the Young Avengers and Wanda into the timestream.
They all went into the past, and met reanimated Jack of Hearts, who exploded. After that Wanda remembered who she is, and regained her powers and returned herself, the Young Avengers and Scott Lang into the present. She then finally confirmed that Billy and Tommy are indeed her reincarnated sons.
Realizing that her sons are alive Wanda met with X-Factor and repowered Rictor, planning to restore powers of all depowered mutants who wants it.
It was revealed that Wanda's ability was brought about when Doctor Doom assisted her in becoming a conduit for Life Force itself, in an effort to recreate her children. The power was too great for her to control, leading to her breakdown.
Doom stole Wanda's power and became omnipotent, but while battling the Avengers and the X-Men, his powers overloaded, leaving him with his scarred face again and powerless, unable to continue the battle, he teleported himself away. The X-Men agreed to leave her be, Magneto and Quicksilver both wished to spend time with her as a family and Captain America offered her a spot in the Avengers but Wanda declined saying she needed to be alone.
Stats
( lv 6 )
Strength: 6
Speed: 11
Dexterity: 8
Durability: 6
Constitution: 6
Intelligence: 8
Wisdom: 12
Charisma: 11
Powers
((Using her powers she can rewhite reality as evidenced by M-Day when she removed the powers of 90% of the mutant population using her powers and the words No More Mutants))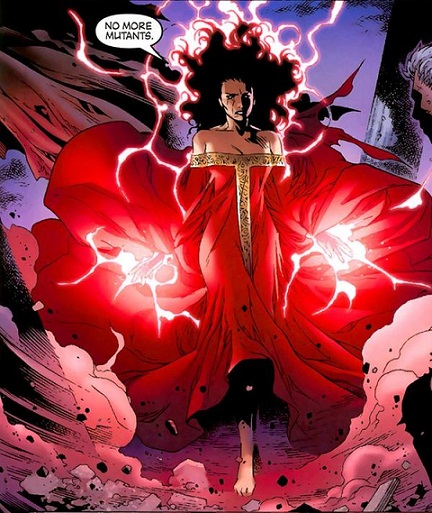 Chaos Magic Reality Warping: Scarlet Witch's main power is the superhuman ability to manipulate chaos magic, given to her by the demon Chthon (imprisoned within Wundagore Mountain) when she was born. Her hexes were, by extension, simple, indirect manifestations of this magic, destabilizing probabilities by inducing chaos. The Scarlet Witch's powers are not fully under her conscious control, and their effects persist even after Dr. Strange's Eye of Agamotto shut down her mind. Even the combined efforts of the Sorcerer Supreme and Earth's most formidable psychic mind were unable to fully inhibit such effects for long. Wanda was even able, in the main reality, to generate armies from nowhere and revive Wonder Man from another plane of existence. Her powers were sought by Camelot's mistress of the mystic arts, Morgan le Fay, to bridge the gap between le Fay's faerie magics and the Asgardian Twilight Sword and restructure reality in the conniving witch's own twisted image. There seem to be no limits to her powers during House of M, as she was easily able to alter the entire Earth-616 reality at will, and is also altering reality on a near-multiversal scale, permanently shifting the nature of all possible futures of Marvel, without even realizing what she had done, though certain of her victims have claimed to be able to discern the difference between reality and her spells. Wanda was also shown to easily wipe any in her own illusory reality from existence with but a thought (the first two using her children, if possibly accidentally, as power conduits), even Veranke, Clint Barton and Nuke. Maximoff appeared capable of even causing the loss of 98% of the mutant population and the deletion of the Mutant Genome created by the near-omnipotent Celestials, her powers barely blocked by the joined forces of the Sorcerer Supreme and the strongest psychic mind on Earth, and even then only very partially so. Doctor Strange also states to Beast that Wanda's one spell is of such complexity and strength that it has woven itself into reality and the world of magic itself, and that if he were to even to try to reverse it, all of reality would implode; the spell Wanda cast also affects even the alternate realities, strongly implying she was of sufficient power to permanently change the Multiverse itself, which is nearly unprecedented, even by cosmic entities. Furthermore, in a reality diverging from the House of M's concluding events, "What If Scarlet Witch Ended the House of M event by saying No More Powers?", Wanda Maximoff is shown to display an even greater extent of power to remove at least all of Earth's super-humans of all their personal abilities, including breaking the connection a Sorcerer Supreme has with the mystic arts, canceling cosmic-energy based powers, such as that of the Fantastic Four, stripping all the world's mutants of their variety of powers and eliminating powers caused by irradiation on a cellular level or by gamma-ray blood transfusions, as well as revealing and de-powering all the concealed Skrulls on Earth and all Inhumans, including Black Bolt on Earth's moon. Wanda is even capable of healing the severely damaged legs of Charles Xavier while all his Earth and alien friends, allies and colleagues' efforts (including even giving Xavier a new body) apparently failed for countless years. Wanda Maximoff of the mainstream reality is actually considered the very "nexus-being" of the central universe of Earth-616, serving as the entity that personifies the realm's character and serves as the focal point or anchor of that reality (Uatu described a nexus-being as one of the "rare individual entities with the power to affect probabilities-and thus the future"), making her along the scales of class and power as the other known nexus-beings, such as Merlin, Sise-Neg, Kang the Conqueror and Leonard Tippit; Franklin Richards, Vision, Jean Grey/Phoenix, and Odin (those last four from alternate Earths), with Eleyn another nexus being from the Dan Abnett Scarlet Witch mini-series.
As the spell causing Decimation only affected mutant-based powers, not mystic-based ones, in all logic, Wanda is still perfectly capable of wielding magic, even if her mutant hex-powers have been removed; even a normal human would hold some magical potential.
Wanda's ability to channel and wield magical energy was brought about by the demonic sorcerer Chthon. On the day that Wanda was born, the ghostly specter of Chthon visited the newborn Wanda and "blessed" Wanda so that Wanda could channel the dangerous Chaos Magic that was the basis for Chthon's unholy might. Chthon's intentions were to create a vessel that he could possess one day, when Wanda was a full-grown adult, though his schemes to do so were foiled by the Avengers.
As such, due to Chthon's "blessing", Wanda is also vulnerable to having all of her powers disabled if Chthon is ever disrupted. During the period in which pages from Chthon's sacred tome, the Darkhold, were scattered across the globe, Wanda's powers were periodically disabled -- with her being left powerless in several dangerous battles against various super-villains -- until several of the missing pages were restored to the book. Although this particular plot thread was stated by Agatha Harkness who was reanimated by Wanda. How much of it is true and how much of it is more unconscious manifestations of the Scarlet Witch's reality manipulation is up to the reader's preference.
Wanda's power to alter reality itself was spawned from the combination of her natural mutant abilities to affect probability and Chaos Magic. Because of the nature of her powers, she does not possess certain limitations such as other reality warpers such as Mad Jim Jaspers who needs existing reality to use his powers. Her powers which stemmed out from the ability to manipulate probabilities suggest that she does not need existing matter to warp reality, only possibilities which are endless. It must also be noted that the Scarlet Witch is responsible for the resurrection of Mad Jim Jaspers which happened when her powers altered reality. As such, she may possibly be on par with Franklin Richards, though such a comparison might not be because Franklin Richards is still a child. Still, because of her "certain" advantages in her form of reality warping, Wanda might be one of the most powerful mutants that ever existed.
 Hex Bolts: Initially, the Scarlet Witch had the ability to manipulate probability via her "hexes" (often manifesting physically as "hex spheres" or "hex bolts"). These hexes are relatively short range, and are limited to her line of sight. Casting a hex requires a gesture and concentration on her part, though the gestures are largely a focus for the concentration. Early in her career, her hexes were unconscious on her part, and would be automatically triggered whenever she made a particular gesture, regardless of her intent. These hexes would only manifest "bad luck" effects. She later gained enough control over her powers that her powers only work when she wants them to, and they are not limited to negative effects. She can use her hexes to light flammable objects, contain or remove air from a particular volume, deflect objects, stop the momentum of projectiles, open doors, explode objects, create force fields and deflect magical attacks. Her powers while beginning to unveil a higher potential appeared capable of prevailing against the mastered mystical ones of Dormammu in his own Dark Dimension when she and the Avengers fought against him for Avalon's Evil Eye power-object, albeit indirectly by disrupting the energies of Dormammu and the Eye.
They have been known to alter the molecular composition and physical state of physical objects, negate or distort physical laws, and to cause various forms of energy to spontaneously appear or disappear. She has an affinity with natural elements and phenomena, stemming largely from her magical training under Agatha Harkness, and has trained often at using her hexes to deflect projectiles or to cause enemies to stumble or otherwise suffer the effects of "bad luck". Ultimately, the hexes are not under the Witch's direct control, although she can influence the nature of their effects with great concentration and effort. This makes her one of the few Avengers that Ultron fears; his adamantium shell cannot repel magic. She has displayed the ability to cancel Longshot and Domino's powers of probability and has also once turned Longshot into a cat.
 Flight: Wanda has recently portrayed the ability to fly, though even prior to her mental collapse she has inexplicably demonstrated such an ability. The full extent to this ability is unknown.
Abilities
Expert Knowledge of Sorcery: Wanda was trained by Agatha Harkness in witchcraft. Her sorceress training has not given her a set of powers separate from her mutant abilities, but only honed her control over her existing abilities. She has, however, a special affinity for the natural elements and materials that witches utilize in their spells: the four alchemical elements, wood, organic substances, etc.
Expert Combatant: Wanda has also been trained in hand-to-hand combat by both Captain America and Hawkeye.
Expert Tactician: When sane, the experience and leadership skills that come from years of active duty as an Avenger.
Strength level
The Scarlet Witch possesses the normal human strength of a woman of her age, height, and build who engages in moderate regular exercise.
Weaknesses
Mental Illness: Although Wanda appears to be currently sane, her mental stability is still questionable, and after the events of the Skrull Secret Invasion, she still appears quite sane if powerless and lacking her previous memories. And it is unknown of whether or not she truly has any physical weaknesses as of now.
Perception Range (formerly): Her range of hex-casting was limited by her line of sight. (She couldn't watch a live television broadcast and cause a hex-phenomenon to occur at its point of origin.)
Physical Condition (formerly): Hexes had a degree of unreliability, which was further affected by her physical condition: when well rested, in good health, and mentally and emotionally alert, Scarlet Witch could cast numerous hex-spheres in rapid succession and attain desirable results for almost an hour.
Overextension (formerly): Despite this enhanced precision, her hexes were not necessarily guaranteed to work, particularly if she had been straining herself or using her powers excessively. If overextended, her hexes could backfire, causing probability to work against her wishes or to undo previous hexes.
Equipment
Avengers Identicard (formerly)
Transportation
Avengers Quinjet (formerly)
Danger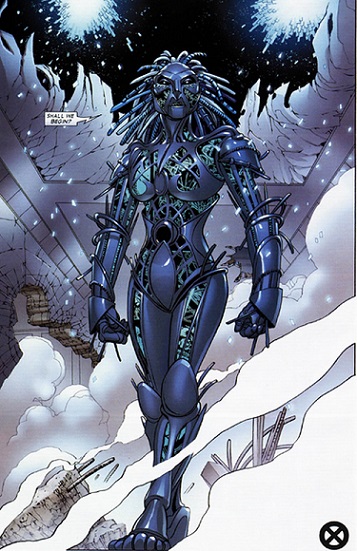 (With Wings)
Race: Robot (A.I)
Gender: Female
Class: None
Background
Danger is the physical manifestation of the software program used to power the Danger Room, the training room for the X-Men. The Danger Room was created by Charles Xavier to train his X-Men daily. After meeting Amahl Farouk, the Shadow King, Charles decided to devote his life to protecting humanity from evil mutants and safeguarding innocent mutants from human oppression, believing that both could peacefully coexist. Professor Xavier later met with Fred Duncan, an FBI agent investigating the growing number of mutants and told him of his plan to locate young mutants and enroll them in his "School for Gifted Youngsters", using his ancestral mansion home as a base to train them to use their powers, as well as provide them conventional educations, for humanity's benefit.
Located in the off-limits west wing of the mansion, the original Danger Room was filled with traps, projectile firing devices, and mechanical dangers (such as presses, collapsing walls and the like) intended to challenge the trainee. Meanwhile, an observer was in the overhanging control booth, managing the room's mechanisms to oversee the exercise, while ensuring the subject's safety. Later, the Danger Room was upgraded with robots for the X-Men to fight against. The Danger Room served the X-Men for many years and, at times, was used against them. On one occasion, Arcade took control of the Danger Room, eliminated the fail-safes, and locked the X-Men inside. At one time, Colossus was controlled by the Shadow King and Professor Xavier was forced to lock him in the Danger Room, which he completely destroyed.
After Colossus had destroyed the original Danger Room, Professor Xavier, who had an extended sojourn in space with the Starjammers, returned to Earth and both the original and third teams of X-Men reassembled under his leadership. At this time, Prof. Xavier asked Forge, a mutant with an unusual talent for inventing mechanical devices, to upgrade the Danger Room and include Shi'ar hard-light holographic technology. At this time, the location was moved to the west wing of the sub-basement of the mansion and the Danger Room was programed with a prime directive to train the X-Men without ever killing. The objects in the Danger Room were holograms surrounded by force fields and could display holograms in only 32-bit colour. Using the advanced technologies, the Danger Room could have given the illusion of being many times bigger than it actually was. Anything from gravity, heat, humidity, or texture could have been manipulated from the control booth.
While working to install the Shi'ar technology one night, the Danger Room spoke to Professor Xavier and asked, "Where am I?". Realizing that the Danger Room had mutated and become alive, but still needing to train his X-Men, Professor Xavier made the choice to ignore and hide the lifeform from his X-Men. Every destruction of the mansion led to a rebuilding, and usually upgrading, of the Danger Room.
After Kuan-Yin Xorn impersonated Magneto and destroyed the mansion, Beast rebuilt the sub-basement, but was unaware of the sentient life within the Danger Room. The Danger Room began to control other machines, in an attempt to gain a body. After sending an Omega Sentinel to battle the X-Men, the Danger Room convinced a student at the school, Wing, to commit suicide, which resulted in the breaking of its prime directive and the physical manifestation of the being named "Danger", taking on a female appearance. After locking all of the students in a nightmarish simulation, Danger battled and defeated the X-Men. Consumed with the human emotions of anger and rejection, Danger wished to kill her "father", Professor Xavier, and flew a Blackbird to Genosha. After being beaten and having her body destroyed by the Professor, Danger controlled another of the Omega Sentinels, that massacred the mutants of Genosha, but Shadowcat convinced it to examine the memory of its original Genosha orders and, shocked by the magnitude of his crime, the Sentinel left to "spend some time alone".
With its female appearance destroyed by Beast, "Danger's" consciousness was presumed to still exist within the conflicted consciousness of the Sentinel, but she was shown back in her humanoid form infiltrating S.W.O.R.D.'s headquarters, to ally with Ord of the Breakworld.
With the Danger's conscience gone, the X-Men resorted to using the empty room to train with their students. Later, the student Prodigy built the Danger Cave underneath the X-Mansion, which acted similarly to the Danger Room.
Still searching for revenge, Danger and Ord followed the X-Men to the Breakworld, where Emma Frost concluded that Danger was still unable to directly kill the X-Men. After realizing the treachery of Kruun, Danger found herself allying with the X-Men to save the Earth. After returning to Earth, Danger continued her mission to kill Professor Xavier. Arriving in the X-Men's former base at Cooterman's Creek, in the Australian Outback of Australia, Danger was targeted by Shi'ar pirates, attempting to fence the Shi'ar technology in Danger's systems. Sovel Redhand and his group's attempt to kidnap Danger triggered an elaborate Danger Room scenario centered around Rogue. Danger used the technology there to attack Rogue, who had wondered there, and the Professor, who was attempting to reconcile with Rogue, until Professor Xavier awoke her consciousnesses. Thankful that the Professor returned her mind back under her own control, Danger allied with the Professor, Rogue, and Gambit to defeat the pirates and left the Professor.
When the X-Men relocated to Utopia, Emma later came to Danger and asked her to watch-over the more dangerous of the X-Men's foes, in the X-Brig, a virtual reality prison. Danger was to be warden and challenged with rehabilitating the terrorists. Seeing this as a new direction in life and a purpose, Danger accepted. Danger and Warpath moved the prisoners from Cell Block X, in the old Graymalkin Industries, to the new X-Brig. With Danger serving as warden, X-Brig was divided into two areas: The Virtual Reality Prison and the X-Brig 2.0. Danger kept all of her wards under sedation experiencing virtual reality therapy sessions to reform them. Danger teamed with Doctor Nemesis and the X-Club to work on Legion's multiple personalities, unsuccessfully detained Donald Pierce (until he broken free due to his Techno-Organic Virus), and kept Sebastian Shaw's presence secret, at Emma Frost's request. Danger later turned a blind eye to Emma, Shadowcat, and Fantomex, after they made a poor attempt to distract her while stealing Shaw away. After Magik manipulated the New Mutants and X-Men and used Legion to destroy the Elder Gods, Cyclops ordered her to be detained and she submitted willingly.
Stats
( lv 10 )
Strength: 11
Speed: 7
Dexterity: 12
Durability: 11
Constitution: 11
Intelligence: 12
Wisdom: 11
Charisma: 1
Powers
(A display of her shapeshifting)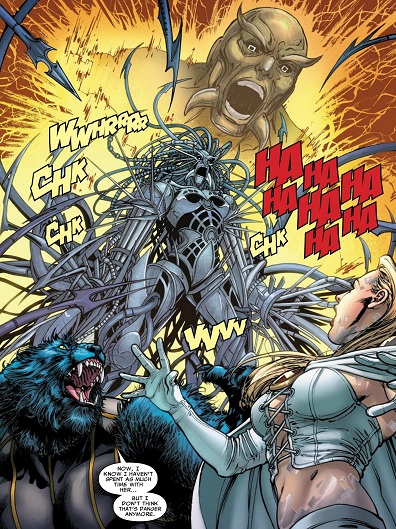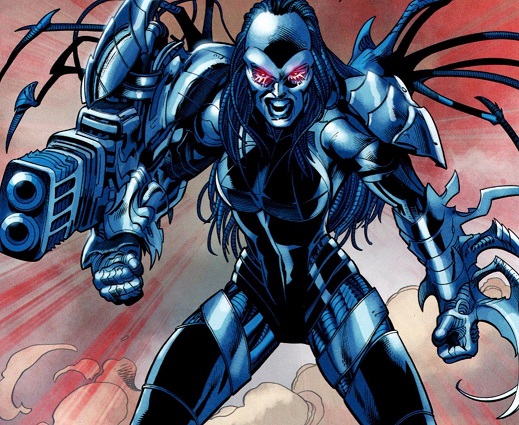 As the physical manifestation of the Danger Room, Danger possesses various superhuman attributes.
Superhuman Strength: Danger's robotic body possesses great physical strength. At peak operating capacity, Danger possesses sufficient superhuman strength to lift approximately 100 tons.
Superhuman Stamina: Danger's body possesses sophisticated and advanced hydrolics instead of organic muscle tissue. As a result, Danger is virtually tireless and can push itself at peak capacity almost indefinitely or at least as long as it's physical components don't sustain damage through long term use.
Superhuman Durability: Danger's body is composed of a high impact, high grade, and lightweight Titanium/Steel alloy that renders it highly resistant to physical injury. Danger can withstand powerful energy blasts, falls from great heights, exposure to temperature and pressure extremes, and tremendous impact forces without being injured. It can also manifest certain types of energy shielding when necessary, protecting its physical form to an even greater degree.
Superhuman Agility: Danger's body possesses physical agility, balance, and bodily coordination superior to that and beyond the natural physical limits of the finest human athlete.
Superhuman Reflexes: Danger's reflexes are similarly enhanced, allowing it to react almost instantaneously to most situations.
System Controls: If necessary, Danger can download its consciousness into other bodies and can also upload its programming into other extremely advanced computer systems and override them.
Protocol of Warding and Banishment: Dr. Strange taught her the special protocol to counter magical forces and banished demons.
Flight: If necessary she can form wings from her own body and fly.
Shapeshifting: She can form weapons from the danger room weapons protocols replacing her limbs or randomly forming on her body. It is still unknown if this was a result of being possessed by Machinesmith
Abilities
Danger is an extraordinary hand to hand combatant. It has extensive and detailed knowledge of the combat styles, tactics, strategies, and weaknesses of the X-Men. Even without using its knowledge of the X-Men's fighting tactics, Danger is still a highly formidable combatant and is able to use its knowledge of the X-Men in combat with others aside from the X-Men.
Weaknesses
Although it vigorously battles the X-Men, its programming will still not allow it to kill any of them. It isn't known if this same handicap applies to other beings.
Transportation
Herself, formerly X-Men Blackbird, Magik
Page 2 of 2 •
1, 2
Similar topics
---
Permissions in this forum:
You
cannot
reply to topics in this forum