Judomaster (Sonia Sato)
(Her costumes look)

(Her cowls look)

Race: Human
Gender: Male
Class; None
Not much is known about the newest hero to acquire the name of Judomaster. Her father, Yoshio Sato, was the last and best of the traditional assassins employed by the Yakuza of Japan. Her father tried to leave the Yakuza when he discovered Sonia was his daughter. He was eventually killed by the Blood Soldiers (super-powered villains employed by the Yakuza).
Sonia adopted the Judomaster identity to repent for her father's past deeds and has since been on the run from the Blood Soldiers. She first sought the help of Oracle, who she agreed to help out with a mission for the Birds of Prey. When the Blood Soldiers found her the Justice Society of America stepped in to help. The Blood Soldiers were defeated as Tiger watched on the sidelines. Sonia was placed in the JSA care where she has remained.
During Gog arch, Sonia initially was on Gog´s side, but when the JSA discover the truth, she fights against him. After Gog is defeated all the gifts he gave to the various JSA members were taken from them including the restoration of Damage's face. He once again sunk into despair until Sonia removed his mask and kissed him, showing that she cared about the man inside, not outside. The two began dating afterwords. Sonia joins the All-Stars when the JSA divide. During Blackest night, Sonia and Atom Smasher found Black Lantern Damage, who tells them that he wants to destroy the Black Lanterns because he doesn't want to suffer. It was revealed to be a trick to revive Black Lantern Kal-L again.
After Blackest Night, a depressed Sonia decided to came back with her objective to kill White Tiger, who killed her father. She was about to kill him when KIng Chimera appear and show her a video made by Damage where he tell her that he knew that he would die in the Blackes Night. He told her to live happy and never forget all the time that they spend together. Judomaster decided to only defeat White Tiger in combat, steal a payment for a murder and use it to help the people of Georgia who were hurt after Damage's manifestation of powers.
Stats
Strength: 6
Intelligence: 6
Willpower: 7
Speed: 8
Durability: 4
Personality: 3
Powers
(Judomaster Vs Karate Kid)

Aversion Field: Sonia's metahuman talent allows her to project an "aversion field" which prevents her from being hit by attacks specifically aimed at her, though not ones with wide-effects like explosions.
Abilities
Master Martial Artist: Martial artist specializing in Judo.
Last edited by Admin on Mon Apr 30, 2012 12:57 pm; edited 3 times in total
Atom Smasher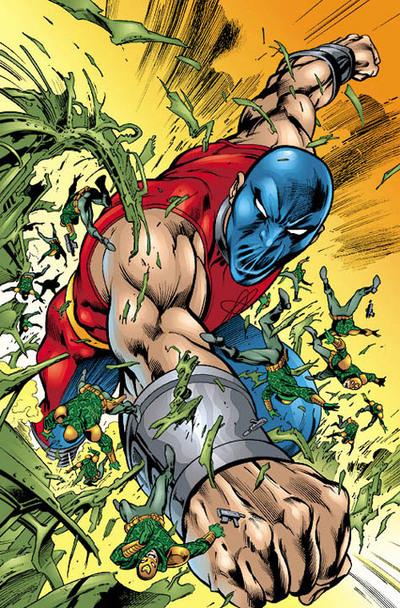 Race: Human
Gender: Male
Class: None
As Nuklon, Albert was a charter member of Infinity, Inc. and subsequently served in the Justice League. He took the Atom Smasher identity shortly before the founding of the current Justice Society of America, of which he was a charter member. He views Pratt's son, Damage, as a brother, and acted as an older brother figure to Stargirl. While Stargirl has (or at least had) some romantic feelings for Atom Smasher, he has not yet openly reciprocated.
For years, Atom Smasher cherished his role in upholding Pratt's legacy and constantly sought to prove himself worthy to his Golden Age idols -- especially when many of them became his teammates in the JSA. But when Albert's mother was murdered in a plane crash engineered by Kobra, he became consumed by vengeance. Not long after the fatal crash, Albert -- with the aid of Metron of the New Gods -- went back in time and replaced his mother with a weakened Extant, saving her life but murdering the supervillain.
Stargirl recruits Atom Smasher to literally knock some sense into Damage, who had become an evangelist of sorts for the Third World god Gog after the cosmic being (temporarily) healed Damage's scarred face. He views Pratt's son as a brother figure, since he was brought up by Pratt in the first place.
Atom Smasher finally returns to the JSA. Asking the team for a second chance at honoring the memory of Al Pratt, Atom Smasher joins the Justice Society in battling Black Adam and Isis, who have robbed Captain Marvel of his powers and his throne at the Rock of Eternity. At the conclusion of the story, despite Wildcat's distrust, Atom Smasher is readmitted into the JSA as a full member, along with all the other members of the team who had acted poorly in recent issues. He vanishes for several issues, but has reappeared in the JSA: All-Stars book, being a victim of kidnapping.
Stats
Strength: 8
Intelligence: 4
Willpower: 9
Speed: 4
Durability: 7
Personality: 2
Powers
Atomic Dispersal: As a result of exposure to uncontrolled Thorium radiation, the Atom Smasher's mass has become unstable. Al can increase his size, allowing him to grow up to 28 feet tall. At this height, Al is resistant to all attacks from normal sized people. With atomic dispersal, Al increases the distance between his own atoms, thus increasing his overall size. Under normal circumstances, his mass would remain the same no matter how large he becomes. However, his mass increase power counteracts these effects to a point.
Mass Increase: Al can increase his body's mass. His weight is multiplied by his height. Of course, as he weighs more, he has a greater effect on the environment. The power gives Al amazing resistance to physical attacks. He can also use the mass instead of his strength to inflict charging damage. This power is tied to his growth power.
Enhanced Strength: As he grows, his strength increases, both compensating for his increased mass and allowing him to grow to greater heights.
Enhanced Stamina
Enhanced Speed
Enhanced Durability
Density Control (formerly): During his time as Nuklon, Albert was able to phase through walls
Abilities
Aviation: Rothstein is also a skilled pilot and mechanic. In the first few years with the JSA, he could be seen piloting the JSA's jet, the Steel Eagle, as well as the Star Rocket Racer and earlier being Infinity, Inc.'s primary pilot.
Multilingualism: In addition to his native language, Al Rothstein is also fluent in Kahndaqi.
Strength level
At 7'6" tall, Al can lift (press) 800 lbs. At 9' tall, he can lift (press) 1 ton. At 12' tall he can lift (press) 10 tons. At 18' tall, he can lift (press) 30 tons. At 28' tall he can lift (press) 50 tons.
Weaknesses
Size Limit: Increasing his size beyond his optimal limitations causes Al great physical discomfort.
Last edited by Admin on Mon Apr 30, 2012 12:52 pm; edited 1 time in total
Jessie Quick/Liberty Belle
(Jessie Quick Costume)

(Liberty Belle Costume)

Race: Human
Gender: Female
Class: None
Jesse Chambers was born in Queens, New York to the super-heroes Johnny Quick and Liberty Belle.
Her father taught Jesse the formula that let him draw energy from the Speed Force, 3x2(9yz)4a, hoping that she would become a super-hero. However, she devoted her life instead to studying super-heroes of the past.
While Jesse was studying at Gotham University, the first superhero team, of which her parents had been colleagues, the Justice Society of America, reemerged, following a long absence. Naturally, her thesis topic became "The Impact of Superheroes on Society" and she began to follow the returned heroes, cataloging their adventures. When her father asked her to deliver some documents to the Society, that encounter would result in her aiding the team as Jesse Quick, finally living up to her father's dream of her being a costumed crimefighter.
Wally West and Max Mercury brought in Jesse to help teach Bart Allen the ways of the super-speed. Wally, realizing that he may not come back from the Speed Force, asked Jesse to take on the mantle of the Flash in the event of that happening. However, she saw through his plan. He had really intended for Bart to be the next Flash, but had given the honor to Jesse to provoke him into actually getting serious. When Wally was trying to save Linda Park from a laser blast from Kobra, Jesse got him out of the way in time to save him, but not enough to save herself. The laser nearly severed her leg. She tried metabolizing the wound at super-speed, but it didn't work. However, when Wally returned from the Speed Force, he was able to heal her leg.
esse accepted the reins of managing her father's corporation, Quickstart Enterprises, while also operating as Jesse Quick, even joining the members of the New Titans to stop a nuclear threat. When the Titans were later going through a reorganization, Wally, a founding member, selected Jesse to join the roster, hoping to soothe their old wounds. After initially declining the offer, she ultimately joined the Titans, but was only on the team for a short time, feeling herself to be second-best to Wally.
Nightwing, another founding member, persuaded Jesse to return to the Titans. Later Jesse became involved in a murder mystery involving her own widowed mother, Libby Lawrence. The victim was Philip Geyer, Libby's fiancé. An investigation by the Titans revealed not only the killer, but also an ongoing affair between Philip and Jesse which had contributed to his death. Although Jesse attempted to reconcile with her mother, the saddened Libby found it hard to forgive her daughter, although she apparently did, as in later appearances the two had returned to their friendly relationship. The Titans were disbanded not long afterwards, as two of the team's members were killed in an attack by a rogue Superman robot
Following that disbanding of the team, Jesse threw herself back into her responsibilities at Quickstart Enterprises, finding little time for a social life. When Wally would later need assistance to defeat the villain Zoom who was capable of moving at speeds surpassing any of Earth's other speedsters, Jesse lent Wally a portion of her special abilities, temporarily boosting Wally's speed so that he was moving almost faster than light and allowing him to defeat Zoom, but leaving her powerless and unable to remember the formula to access her powers. Although Wally knew the formula, she told him not to remind her, reminding him that he'd earlier told her that she needed to slow down anyway.
Since then, she has taken a new position as business manager for a newly-reformed Justice Society of America. Jesse was affected by the disappearance of Rick Tyler, the JSA member known as Hourman, to whom she had grown quite close, but he has since returned. A reunion between the two has not been shown, although she did meet the JSA when they were able to rescue her mother, who had returned to her role as Liberty Belle, but whose powers had gone out of control. In that same adventure, mother and daughter reconciled.
Jesse has been selected to join the JSA and is acting as Liberty Belle. She has also married Hourman (Rick Tyler).
After hearing the news of Bart's death she, along with Jay Garrick, mourned his demise; her reaction to Wally West's return from the Speed Force is as yet unknown.
In an encounter with Zoom, it is revealed that Jesse has retained her speed powers by repeating her father's formula. This of course, adds onto her super-strength which means she inherited both of her parents powers.
Stats
Strength: 6
Intelligence: 5
Willpower: 4
Speed: 10
Durability: 4
Personality: 5
Powers
Superhuman Strength: She possesses super-strength like her mother. As with her mother, the mechanism of this ability remains unexplained, which irritated her father.
Speed Force Connection: Jesse has a connection to the speed force which happens to be related to her visualization of the speed-formula her father came up with.
Super-Speed: Jesse initially believed that her powers of flight and accelerated speed resulted from the state of mind achieved from the visualization of the speed-formula: 3x2(9YZ)4A. She can turn-off her speed by speaking "Z25Y(2AB)6." These formulas function as mantras that connect Jesse with the Speed Force, and few other people can utilize them. Jesse is able to move at roughly half-light speed.
This power also conveys:
Superhuman Agility
Superhuman Reflexes
Anti-Friction Aura: When endowed with super-speed Jesse also gains an aura of unknown energy that protects her from friction heat and other adverse effects of super-speed.
Phasing: She can also vibrate her atoms at such high speeds that they can slip past the atoms of solid objects, enabling her to pass through such objects without harming them or herself. This also grants her a degree of invisibility.
Flight: Jesse can fly by running at super-speed and then launching into flight. (however, all speedsters traveling faster than exit velocity exhibit "inverse flight").
Metabolize Wounds: Accelerating her healing factor while using the Force to sustain her, she could heal from grievous injury.
Equipment
Homing Beacon: As a member of the JSA, Jesse Chambers has an electronic homing beacon sewn into the weave of her costume.
Citizen Steel
(The suit is shiny)
(Full suit look)
Race: Human
Gender: Male
Class: None
Nathan is the grandson of Henry Heywood and cousin of Henry Heywood III. Formerly a football star, Nathan retired after shattering his kneecap and having his leg amputated. The incident left Nathan addicted to painkillers.
While attending a Heywood family reunion, he is attacked by the Fourth Reich, a team of metahuman Neo-Nazis ordered by Vandal Savage to wipe out the bloodlines of Golden Age heroes. Despite the Fourth Reich's effort, they fail to completely destroy the Heywood bloodline, as both Nathan and a few children manage to survive. Both Nathan's brother and mother are turned to metal statues by the villain Reichsmark. Nathan jams his crutch into Reichsmark's mouth, causing him to spit liquid metal blood onto Nathan. Hawkman takes him to Dr. Mid-Nite, who notes that the metal is being absorbed by Nathan's skin. Later, it is revealed that the metal has grown out from where Nathan's amputated leg once was, forming metallic bone, muscles, and flesh. Waking in his hospital room, Nathan is shown to have superhuman strength. Dr. Mid-Nite informs Nathan that he is now a being of living steel, due to an unknown reaction to Reichsmark's blood.
He is christened Citizen Steel by Power Girl.
Heywood acquitted himself well against the Heartbreak Slayer, saving two of his team-mates from a runaway bus. When Gog manifested in Africa, Heywood sided with him, hoping to be "gifted" with the removal of his powers; however, Gog never acknowledged him, as he didn't truly believe. When the Justice Society finally united to defeat Gog, unleashes his full strength against Gog, actually managing to topple the giant, which gives Gog's former herald Magog the chance to cut off his head and send him to the Source Wall. Following Gog's defeat, Nathan takes time off from the JSA to be with his family. This consists of survivors of the attack on the reunion, various children, most of whom call him 'Uncle Nathan' or 'Uncle Nate'.
During the events of Blackest Night, Nathan helps fight off the hordes of Black Lanterns attacking Manhattan. He tries to help Power Girl during her battle with the newly reanimated Kal-L, but is knocked aside by the hero, who mockingly refers to him as a "paperweight" compared to him.
Following the split in the Justice Society, Nathan opted to join Power Girl's more youth-oriented team of JSA All-Stars.
Stats
Strength: 10 (6 when wearing suit)
Intelligence: 3
Willpower: 6
Speed: 3
Durability: 10
Personality: 2
Powers
Organic Steel Physiology: Nate Heywood's skin, bone and muscle tissue has been transmuted into organic steel, which provides him with enhanced strength and durability. According to Doctor Mid-Nite's prognosis, it would take nothing less than an AIM-9 Sidewinder to even knock him down.
Superhuman Strength
Superhuman Durability
Abilities
Nate Heywood possesses great athletic prowess.
Strength level
Prior to his football injury, Nate Heywood possessed the strength level of a man his age, size and weight who engaged in intensive regular exercise. Now that he is bonded with organic steel Nathan's strength levels have increased substantially.
Weaknesses
No Tactile Sensation: The organic steel also covers Heywood's nervous system disabling his sense of touch to an extreme degree.
Uncontrollable Strength & Durability: As such, he has trouble gauging the amount of pressure that he exerts and cannot feel varying extremes of temperature.
Equipment
Stainless Steel Skin-Suit: Steel wears a specially designed containment suit developed by Mister Terrific. The costume functions as a secondary skin and is composed of a stainless steel alloy with a tensile strength of over 280,000 lbs. per square inch. The metal shell adapts to the curvature of Steel's body, and re-molds itself based upon his movements. Although the suit helps Steel adjust to his body's new composition, it also significantly reduces his strength level. Donning the costume requires an invasive smelting and subsequent cooling process aided by Mister Terrific's T-Spheres.
Last edited by Admin on Tue Jun 19, 2012 8:26 pm; edited 1 time in total
Cyclone
(Her Hat and Monkey)
Race: Human
Gender: Female
Class: None
Maxine Hunkel is the granddaughter of the original Red Tornado, Abigail "Ma" Hunkel, an honorary member of the Justice Society and current caretaker of their headquarters. Maxine grew up idolizing her grandmother's allies in the JSA.
As a young girl, Maxine was once kidnapped by T.O. Morrow, the mad scientist who created the second Red Tornado, a powerful android. He injected her with Red Tornado technology nanobytes, though the effect of this did not manifest until years later.
Cheerful, bubbly, and extremely intelligent (4.0 GPA and a 1300 SAT score in high school), Maxine is a 19-year-old student at Harvard University and an avid fan of musical theatre, particularly the play, Wicked. However, her talkative nature and know-it-all personality often alienate her peers and leave the young woman isolated. Her outcast status causes her to suffer from atypical depression.
In recent months, she has begun to manifest unusual superhuman abilities. A sneeze demolished her grandmother's garage and, the next day, she awoke inside a tornado five hundred feet off the ground. The young woman soon realized that she has the power to manipulate wind.
When the Justice Society decides to expand its ranks and provide training to new heroes, Maxine is one of the first recruits on their list. She is invited to join the team by Power Girl and Mr. Terrific and accepts through extreme amounts of excitement (her motormouth response nearly causes them to revoke the offer). Shortly afterwards, she is introduced to the rest of the JSA and her fangirl personality becomes evident in her bubbling reaction to meeting her heroes, particularly fellow teen Stargirl. As a way to ease her pain over seeing Mr. America's death, Stargirl takes her to a room full of colorful fabrics, and (playing on Maxine's college major and interest, the theatre) asks her to select her new outfit.
In her 'rookie phase' with the Justice Society, she helped defeat the Fourth Reich, assisted the Justice League during the Lightning Saga, and fought the Heartbreak Slayer when he attacked Justice Society headquarters. Along the way she visited the Fortress of Solitude and teamed up with the android Red Tornado.
Stats
Strength: 2
Intelligence: 8
Willpower: 5
Speed: 8
Durability: 4
Personality: 7
Powers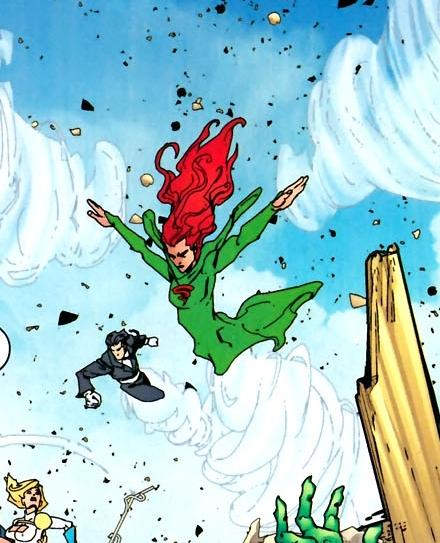 Aerokinesis: Maxine possesses the power of wind manipulation. She is able to mentally summon cyclones and whirlwinds, project powerful bursts of air, and glide through the air on wind currents.
Flight: She can either glide on wind currents or create a direct cyclonic wind beneath her to guide her flight.
Air Blasts: She can force wind outwards in an air blast cone, direct blows and in larger areas around herself.
Cyclone Creation: She can create massive tornadoes, huge cyclones that react to the environment by themselves or bend to her will. Likewise she can create smaller twisters to blow down doors or small enough to gently blow loose clothing and hair.
Deflection: Also is able to deflect approaching objects with ease.
Transportation
Tornadoes and Cyclones that power her Flight.
Dr. Mid-Nite (Pieter Cross)
Race: Human
Gender: Male
Class: None
In Sogndal, Norway, the pregnant wife of noted surgeon Theodoric Cross was attacked by vagrants, but saved by Dr. Mid-Nite. She went into labor, and Mid-Nite delivered the baby boy, whom she named Pieter. Pieter grew up to be a brilliant doctor, graduating Harvard at age 19, and later immigrating to America and working under Dr. Charles McNider (Dr. Mid-Nite). Pieter began investigating A39, an accidental derivative of the steroid-like Venom, which was plaguing the residents of Portsmouth City.
Pieter found that the powerful narcotic was being produced by an evil corporation called Praeda Industries, which in turn was ran by the Terrible Trio. The drug lords behind A39 knocked Pieter out, injected him with the drug, and placed him behind the wheel of a moving car. Pieter woke just as the car struck and killed a woman. The drug had left him blind, but gave him the ability to see in the dark instead. He then took on the identity of his long time mentor Dr. Mid-Nite, and brought the drug lords to justice, eventually joining the JSA.
Aboard Hourman's timeship, Metron explained to Mid-Nite and the JSA that Extant used Metron's stolen Mobius Chair to travel to the end of creation and create a new universe of his own making. Unless the JSA stopped him, Extant's new universe would go backwards through time and erase the current universe.
Dr. Mid-Nite and Black Canary went on a date at Coney Island and discussed where their relationship was going.
Dr. Mid-Nite is one of the most prominent physicians in the world, along with his JSA teammate and colleague Mister Terrific. They are often called upon when an autopsy is needed, or when a hero needs major surgery. In this roll Pieter has accomplished many notable achievements including: determining that Alan Scott was composed of the green flame of the Starheart; giving Power Girl her annual checkups, as well as testing her powers; emergency surgery on Hourman; removal of the Brainiac virus from Oracle; the autopsy of Sue Dibny during the Identity Crisis storyline; and removing the sniper bullet that wounded Lois Lane in Umec. He is also called upon by other medical agencies, such as S.T.A.R. Labs, when medical emergencies or dilemmas appear.
When the Justice Society encounter Gog, last survivor of the Third World, the benevolent being restores Pieter's vision.
Since his sight was restored, Pieter could not effectively use his blackout bombs, as he couldn't see any more than his targets could. Furthermore he felt more blind than ever as he had less ability to see than he did prior to his returned sight, and thus could not perform surgery on Lance when he was mortally wounded, or determine the accuracy of a patients ailment when he returned to work at the hospital.
When the rebellious half of the JSA shows up to tell the other half what Gog is doing to the planet, a battle ensues. For the JSA's defying of Gog and his will, he undoes all the "miracles" he has done for them. Thus returning Cross's blindness.
Doctor Mid-Nite owns a pet wood owl, which he named Charlie. Charlie was named after Cross' mentor and predecessor, Charles McNider. McNider also kept company with a pet owl, though this one was named Hooty.
Stats
Strength: 2
Intelligence: 10
Willpower: 4
Speed: 8
Durability: 2
Personality: 8
Powers
(one of his weapons and his owl Charlie)
Infrared Vision: Cross's eyes were altered by a chemical injection, allowing him to see the infrared spectrum.
Abilities
Expert Martial Artist: Cross is a superb athlete and martial artist
Master Physician: as well as a top physician. Capable of all manor of various surgery. Excelling in Surgery in the dark. The most prominent surgeon on the planet and secondly a hero.
Genius-Level Intellect
Strength level
Athlete: Doctor Mid-Nite possesses the strength level of a man his age, size and weight who engages in intensive regular exercise.
Weaknesses
Blindness: Doctor Mid-Nite is blind to visible light.
Equipment
Specialized Lenses: Utilizing special infrared lenses, Cross can see in light; Cross can also equip special ultrasonic lenses, as well as receive images from a camera strapped to his owl, Charlie.
Blackout Bomb: A small bomb which release pitch-black gas that blinds villains; these "blackout bombs" have had improvements made to them and are similar to those used by his predecessors.
Gauntlets: Cross's gauntlets carry a wide variety of chemicals, medicines, and small-scale equipment.
Transportation
As a member of the JSA, Doctor Mid-Nite had access to the Steel Eagle.
Last edited by Admin on Fri Mar 22, 2013 8:06 pm; edited 1 time in total
Stargirl

Race: Human
Gender: Female
Class: None
Courtney Whitmore found Sylvester Pemberton's gear in her stepfather's belongings and donned the costume in order to annoy him as partial revenge for marrying her mother and supposedly forcing the family to move from Los Angeles to Blue Valley, Nebraska. Dugan, a skilled mechanic, designed and built S.T.R.I.P.E., a Powered Armor which he rode in to accompany and protect her.
As well as her relationships with Atom Smasher and Captain Marvel, Courtney was the object of a crush held by Jakeem Thunder. She has also been stalked by Solomon Grundy, who was at one point obsessed with her.
Eventually, she joined the Justice Society of America and, after being given Starman's (Jack Knight's) cosmic rod/staff, changed her identity to Stargirl. Courtney has appeared in most issues of JSA and it was in these pages that her little sister Patricia Dugan was born.
Stargirl was one of the more powerful members of the JSA, thanks to her cosmic rod and converter belt. She has developed from a bit of a brat to a well-rounded heroine. She was best friends with Hawkgirl and was also close to Power Girl, whom Courtney considers a role model of sorts. As well, she has started to befriend the new Supergirl, Kara Zor-El. Early in her superhero career, Courtney was invited to join Young Justice; she declined, since she was already a member of the JSA, but she remained a reserve member. Courtney often trusted and stood up for those whom other members of the team seemingly distrusted, such as Atom Smasher, or Brainwave. She has also developed good leadership skills and courage, often throwing herself directly into harm's way for the greater good. She could also be quite violently effective when angered. After Courtney's family was killed by Per Degaton's Forces (incident later erased from history), she utilized the rod to disintegrate all of the attackers.
Despite a glimpse into the future, which showed an adult Starwoman married to Albert Rothstein (a.k.a. fellow JSA member Atom Smasher), Courtney briefly dated another JSA member, Captain Marvel, who in actuality was a teenage boy named Billy Batson. However, Captain Marvel was, by all appearances to those not knowing Billy's secret, an adult, and the seemingly pedophilia of Marvel with regard to Stargirl drew the attention of JSA members Jakeem Thunder and Jay Garrick, the original Flash. After being confronted by Garrick over the issue, Marvel chose to leave the JSA - and Courtney - instead of telling the team his secret. Marvel has recently reappeared in the JSA and revealed he can't give up his identity due to the wisdom of Solomon's guidance.
Courtney's family was murdered by agents of Per Degaton. She traveled with the rest of the JSA back to 1951. The time-traveling adventure featured the newest versions of classic JSA members meeting and fighting alongside the originals to try to save her family and the future. While there, she found herself forced to work with Atom Smasher again, for the first time since he defected to Black Adam's rival team. Following this, she apparently forgave him, but Atom Smasher was then nearly murdered by The Spectre. Though Atom Smasher was saved, the events clearly revealed the depth of feeling she had for him. She was quite relieved to return after this time-traveling adventure to see that her family was still alive.
Recently Atom Smasher was tried and convicted for actions he took while working for Black Adam. During a TV appearance Courtney stated that, even though he was in prison, she would "Wait for him."
During the Infinite Crisis, Courtney was approached by the Shade, who told her of the final demise of her biological father. The tragedy, and the witnessing of the love between Liberty Belle and Jesse Quick, a love even stronger than their strained family bond, led her to rethink her familial life. She discovered that she couldn't hate her biological father, even for being an absentee, a slacker, and even a supervillain thug. She also learned from the tragedy to accept Pat Dugan as the first true paternal figure in her life.
While other members of the Justice Society were phased from the main Earth to the new Earth-Two, Whitmore along with teammates Mister Terrific and Doctor Mid-Nite remained, revealing that they would not have been native to Earth-Two.
Stargirl survived the Crisis largely intact, and began attending college. She changed her equipment: her rod now compresses to a small cylinder, and when she activates it, her costume and belt appear while the rod grows to full size. She has started to take driving lessons from Mr. Terrific.
Courtney was involved with the new JSA helping to find the new Starman and is apparently somewhat of a role model for Cyclone. In preview art for Issue 3, Courtney and Maxine Hunkel are seen picking out Maxine's new costume. During this Courtney notes that calling yourself the Anything Kid apparently leads to people treating you like a six-year old.
When the JSA split up recently, Courtney decided to join the JSA All-Stars. At first she felt out of place because everyone was older than her, but Power Girl convinced her that they needed her and that she was a role model to most of the members. During this time, Albert Rothstein was missing and Johnny Sorrow claimed to be in love with her. He takes her to the subtle realms disguised as Atom Smasher in order to receive a kiss from the girl. The real Atom Smasher was tied up at a castle in the realms and the JSA All-Stars come to save her. At the end, Courtney continues her work with the All-Stars. She also at attempted to patch up her relationship with Albert, they soon realized that they both had a need for space.
Stats
Strength: 2
Intelligence: 6
Willpower: 6
Speed: 7
Durability: 6
Personality: 7
Powers
None, average human without her weapons.
Abilities
Trained Gymnast
Kickboxing
Strength level
Stargirl possesses the strength level of a girl who age, size and weight who engages in intensive regular exercise.
Equipment
Cosmic Converter Belt = The Cosmic Converter Belt is based on the technology first designed by Ted Knight, the original Starman. When the first Star-Spangled Kid, Sylvester Pemberton, was rescued after being lost in time, Knight gave him the Cosmic Rod to use in his adventures. Pemberton improved the tech and adapted it for use as a belt. Following Pemberton's death at the hands of Solomon Grundy, the belt was found by Courtney Whitmore, the step-daughter of his former partner Stripesy, who used it to become the second Star-Spangled Kid.
Powers
Solar Energy Conversion: The Cosmic Converter Belt converts cosmic energy (star light) and into a very useful and flexible force.
Enhanced Strength: It enables the wearer to lift incredible weight
Enhanced Agility: move with heightened agility.
Enhanced Speed
Enhanced Stamina
Shooting Stars: which are light forms which disrupt electric devices and organic nervous systems.
Aura Connection: the Converter Belt is attuned to the aura of the wielder
Transportation
Star-Rocket Racer: Pat Dugan provided her with a car for her birthday. Although Courtney has yet to realize it, the car is actually a modified version of the original Star-Rocket Racer, once used by her predecessor Sylvester Pemberton.
Weapons
Cosmic Staff = Wielded primarily by Jack Knight and Stargirl, the Cosmic Staff is a powerful weapon/device that absorbed stellar energy and used it to create a wide range of abilities which it's wielders used to fight crime. This device was invented by Ted Knight, and based on the earlier Gravity Rod. The Cosmic Staff, sometimes called the Cosmic Rod, offered the wielder powers including rapid flight, levitation of objects, manipulation of energy, creation of defensive force fields, and offensive energy blasts of incredible power. Both powers could be used at once, to protect the wielder from atmospheric damage in high velocity flight. Another power of the rod was that it was capable of receiving mental commands from a distance, that became possible when the rod attuned itself to the user over time. At present, the staff is attuned to its current holder, Stargirl.

Powers
Anti-Gravity Field: Focused energy to defy gravity, allowing the wielder and others flight.
Defense Force-Fields: Also used in conjunction with flight to protect against atmospheric damage in high velocity flight.
Energy Blasts
Solid Energy Constructs: Ability to create simple solid energy constructs.
Heat Emission
Attunement: Ability to attune itself to it current wielder; doing so makes it hard for the staff to become attuned to anyone else, easily. Ability to receive mental commands from the wielder from a distance.
Sandman (Sanderson Hawkins)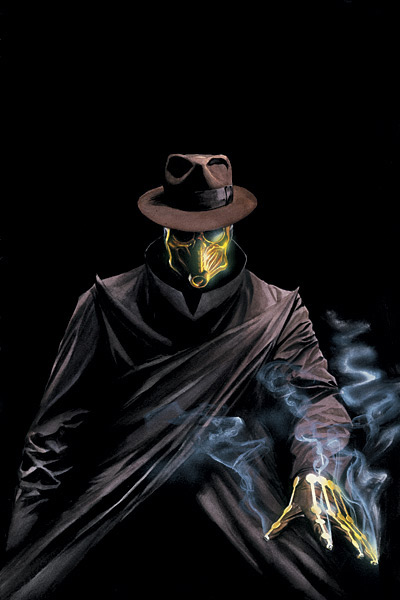 Race: Human
Gender: Male
Class: None
Sanderson Hawkins was the sidekick to the original Sandman, using the name of "Sandy, the Golden Boy." Like Batman's Robin, he was an orphan who was adopted by the hero he fought beside, although Sandy had one prominent surviving relative: Dian Belmont, the Sandman's love interest.
Sandy was a member of the Young All-Stars, a team that was later absorbed into the All-Star Squadron. He was later turned into a silicon-based monster by one of his mentor's failed experiments, a "silocoid gun" that exploded and bombarded him with radioactive silica particles. Sandy was kept in suspended animation for many decades while the Sandman searched for a cure.
After being turned back to normal by Sandman and the Justice League, Sandy found he had the ability to transform himself into sand as well as other powers over earth derived from his ability to control silica compounds and the generation and control of seismic energy. He changed his codename to Sand and led as the first chairman of the modern incarnation of the JSA for a time. As Sand, Hawkins uses a gas mask and 'gas gun' similar to that of his mentor. After Wesley Dodds' death, he also inherited his mentor's prophetic dreams.
Due to his years in suspended animation, Sand has occasionally found it difficult to adjust to life in the 21st century and remains a somewhat withdrawn member of the superhero community. His home Dodds Mansion (also known as the JSA Brownstone) was inherited from his late mentor and has served as the headquarters for the modern Justice Society of America.
For a while, Sand was involved in somewhat of a romantic triangle within the JSA. Kendra Saunders (aka Hawkgirl) confided in Sand that she was upset about the recent return of Hawkman and her apparent pre-destined fate to be his lover. As Sand attempted to comfort her, Kendra kissed him--both unaware that Carter Hall, the newly resurrected Hawkman, was outside the window at the moment of the kiss. Later on, the three apparently resolved their differences, but it became quite apparent that Sand did in fact have strong feelings for Kendra.
During the "Princes of Darkness" adventure in JSA, Sand was thought to have been destroyed while preventing multiple earthquakes on Earth but was in actuality put into a limbo state. His body was trapped beneath the Earth while his soul was trapped in the fragment of Dreamtime once inhabited by Sandman. He was eventually saved and is now back with the JSA (part of his salvation lay with Hawkgirl; Doctor Fate informed her that she was Sand's mental bridge, due to his still-existent feelings for her). After his return, Sand seems to have much more control over his powers, using them in new and varied way that he didn't before including levitating rock and generating lava.
Hawkins takes up the mantle of Sandman wearing an outfit similar to Wesley Dodds' original costume. Sand will become the JSA's "Recon Man" doing more detective work in the process. Apparently, his prophetic dreams now come in the form of nightmares, and he now wears a mask that appears to be a cross between his old mask, Wesley Dodds mask, and the Helm of Dream of the Endless.
When the JSA meet Gog, the god-like being gives Sandy 24 hours of blissful, dream-filled sleep. In return he has no more Precognitive Nightmares, just good dreams. The downside being without that knowledge his ability to track, find and stay ahead of criminals and killers before they do any serious damage are gone. He as at a lose and then feels the pain of earth and is the one to discover that in fixing all thats wrong with the earth Gog is also killing it.
Sand finds out that Gog is fusing with the planet the longer he is on it. If he ever leaves it the earth with be torn apart. When the rebellious half of the JSA shows up to tell the other half what Gog is doing to the planet, a battle ensues. For the JSA's defying Gog and his will, he undoes all the "miracles" he has done for them. Thus, Sand's night terrors return to him.
Stats
Strength: 2
Intelligence: 10
Willpower: 2
Speed: 2
Durability: 10
Personality: 8
Powers
Geokinesis: Sand can mentally manipulate the earth and soil in his vicinity, causing it to rumble, change shape, levitate, or burst forth to attack his enemies. He is also able to produce seismic waves which have the effect of small, localized earthquakes. Sand can transform the consistency of earth and rock, tap into lava flows, and create shapes out of solid rock.
Silicate Form: Sand has the ability to transform into a malleable sand-like substance which can be hardened, dispersed, or shaped according to his will, something akin to a type of geokinesis limited to sand and small rock particles. Even if his body is blown apart, he is capable of reforming it. He can pass his molecules through solid objects that contain traces of silica and is able to travel through the earth as easily as one would swim through water.
Earth Affinity: Sand is mentally and empathically tuned to the Earth. He can feel when it's in pain and all that happens on it. The Earth in its way speaks to him, and he discerns knowledge from what it tells him.
Precognitive Nightmares: Sand possesses a limited form of precognition, which manifests as occasional prophetic nightmares. This ability was psychically passed to him by his mentor, Wesley Dodds, and derives from a fragment of the literal Sandman of folklore, Morpheus (a connection maintained by the current dream lord, Daniel Hall).
Abilities
Detective: Sandman was trained as a detective though this is an ability which he rarely utilizes, relying more on his nightmares.
Martial Artist
Criminologist
Leader: Sandman has led the JSA on many missions and because he is the only one able to see his precognitive nightmares he alone must lead the team to whatever evil that plagues his dreams.
Weaknesses
Seismic Sensitivity: Due to his powers Sand is sensitive to seismic disturbances causing him considerable pain.
Night Terrors: His precognitive nightmares are profoundly horrifying and don't allow him to dream as well they are persistent and will not dissipate until after he has solved the problem but even then only for a couple of days or so. These situations cause increased insomnia and sleep deprivation in him.
Equipment
Sandman also uses his mentor's crime-fighting equipment, including:
Gas Masks: Granting him immunity to his sand blasts as well as his gas weapons.
Wirepoon: A harpoon/grapple invention allowing him to grapple up or down buildings and cliffs.
These devices and his current uniform were constructed out of silica-compounds by the TylerCo company (owned by his teammate Hourman), allowing Sandman to bring them with him when he alters his shape.
Weapons
(once in a while he uses a regular pistol but with rubber bullets or other non lethal rounds)
Gas Gun
Power Girl
(Main Costume)

(Alternate Costume Difference Is In Gloves And Boots)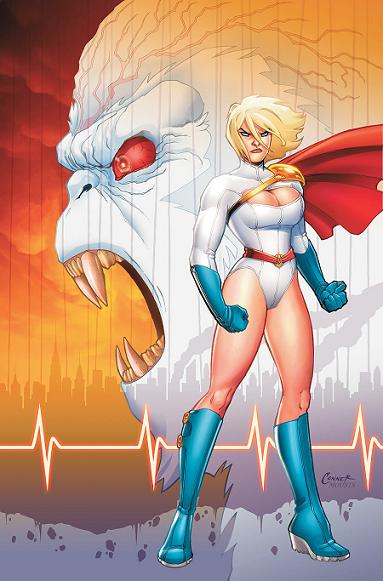 Race: Kryptonian
Gender: Female
Class: None
Power Girl is the Earth-Two counterpart of the Kryptonian Supergirl and first cousin to Kal-L, the Superman of Earth-Two. Possessing her cousin's superhuman strength and ability to fly, she took his place in the Justice Society of America after he entered into semi-retirement to focus on his personal life. Kara-L has since been recognized as an important member of the JSA.
After the events of the Crisis on Infinite Earths and the merging of Earth-Two into New Earth, Power Girl was led to believe that she was a descendant of the Atlantean sorcerer Arion. This was later revealed to be a deception, and Kara's true Earth-Two heritage was revealed to her during the "Infinite Crisis".
After discovering Krypton was about to explode, Kara's father Zor-L launched her as an infant to Earth in a ship at the same time that Kal-L's ship was launched. However, Kara's ship took a much longer journey, resulting in her arriving on Earth decades after her cousin. According to Kara, the trip took 60 years to finish.
Unlike Kal-L's ship which was designed for fast travel, Kara's "Symbioship" was designed to hold Kara in stasis during her development through the prolonged voyage. In addition, the ship's artificial intelligence had the life experiences and education of a Kryptonian in the form of a virtual reality program wherein she could interact with life-like copies of her parents and fellow Kryptonians. When she landed on Earth, Kara was the age of an adult woman in her early twenties.
Power Girl's existence was not revealed to the general public until years after her arrival on Earth-Two. Her cousin Clark and his wife Lois provided her a family environment to assist her transition toward real life relationships. She came to regard her cousin and his wife as her "uncle" and "aunt" for raising her on Earth-Two despite being cousins by blood and marriage.
Power Girl's relationship defined with Kal-L as her uncle, not merely cousin
Foock offAdded by Foock off
Lane-Kent stated that they regarded her as their daughter.
In her first recorded case, Kara assisted Justice Society members Flash and Wildcat in containing an artificially induced volcano that had erupted in Peking, China. She then joined them and other young heroes Robin and Star-Spangled Kid to form a Super Squad, along with active members of the Justice Society, to defeat Brain Wave and Per Degaton's scheme for world domination. Later, she was granted full membership when she took over Superman's vacated spot on the team roster.
Having been raised by the Symbioship with artificial Kryptonian life experiences, Power Girl had trouble fitting into life on Earth, but with the help of reporter Andrew Vinson, she eventually adopted the secret identity of computer programmer Karen Starr. She developed her knowledge in this field from treatment under Wonder Woman's purple ray on Paradise Island. She never wore a mask or other disguise between her two identities and, at some point, her identity would be revealed to the public. During this time, Kara developed a close friendship with Helena Wayne, the daughter of the Earth-Two Batman and Catwoman.
Following the events of the original Crisis, Kara's background was completely altered. The reality wave that eliminated the Krypton of the Earth-Two dimension changed Kara into the descendant of the Atlantean sorcerer Arion, having been frozen in suspended animation for millennia until the present day.
After the Justice Society disbanded, Power Girl joined the Justice League. Later, while a member of Justice League Europe, she was badly injured by a mystical being. Superman assisted in her medical treatment, using his heat-vision to perform surgery on her otherwise-invulnerable tissues. Although she recovered, she was significantly weaker, lost all of her vision powers, and temporarily lost her ability to fly.
During Zero Hour, she was mysteriously impregnated. She gave birth to a son, Equinox, who aged rapidly through artificial means. He later disappeared, never to be heard from again.
Power Girl was recruited to be one of Oracle's first field agents. Their short-lived partnership ended in failure after a disastrous mission that resulted in a large loss of life. Power Girl believed that bad orders from Oracle were to blame for the tragedy and disliked Oracle intensely as a result (although she has worked with her again on a few occasions when needed).
During the events of Infinite Crisis, Power Girl was shocked to learn from Arion that her Atlantean origin was a lie. The story was crafted for her own protection, and was created by her foster mother, Lois Lane.
The Psycho-Pirate showed Kara multiple origins in an effort to drive her insane, but eventually revealed that her Kryptonian origin was her true origin. Power Girl was not only a survivor of Krypton, she was also a survivor of the entire Earth-Two universe. It is still unclear why she survived the Crisis retaining her pre-Crisis origin, when other Earth-Two figures, such as Jay Garrick and Alan Scott, did not.
Kara's recognized history as an Earth-Two being was re-established as her natural state. How she continued as an Earth-Two dimensional being despite everyone else from the same original Earth-Two dimension being destroyed and reformatted to current Earth natives -- including Alan Scott and Jay Garrick and every other dimensional survivor such as Captain Marvel (Earth-S) and Captain Marvel (Billy Batson) -- has NOT been specifically clarified. She has been retconned into being powered by yellow sun radiation, as was her cousin, Kal-L, in Infinite Crisis, where flying through a red sun depowered him.
To further complicate the matter of her basis and identity, Kara is now to have been raised as the cousin of the current Superman and living with the current Kent Family and inspired by her cousin to join the Justice Society as done by Kal-L in the Earth-Two dimension where her cousin Kal-L was training her and announced her superhero appearance. Currently Kara remembers living through both histories.
Power Girl was shown to have been working under the guise of Nightwing in the dimensionally separated Kryptonian city of New Kandor. Kara-L was working alongside her dimensional counterpart, Supergirl, who had adopted the alias of Flamebird while on New Kandor. When they left New Kandor, Kara-L and Supergirl had revealed that the supporter of the cult of the Saturn Queen was not the Primary Earth Superman but Ultraman operating under the guise of Superman's identity. After exposing Ultraman, Supergirl decided to leave New Kandor. Power Girl wanted to stay and overthrow them completely. Supergirl dragged Power Girl out of New Kandor, which led to a strain between the two. Power Girl went on to help re-form the current roster of the Justice Society of America, where she was elected Chairperson of the team. She is helped the Earth-22 Superman adjust to life on New Earth and worked to come to grips with the death of her cousin Kal-L.
When confronting the super-being known as Gog, Power Girl was sent to the parallel Earth known as Earth-2 as part of Gog's understanding of "sending her home." Thinking she had somehow returned to her home reality of Earth-Two, she sought to adapt to life there with the counterparts to her long dead (and historically erased) friends. But she noticed several major differences to her own reality in the form of Helena Wayne, who was going to murder the Earth-2 Joker. Kara took the brunt of the Joker's electrical attack, preventing Helena from actually doing the deed and saving Helena from making a terrible mistake. However, Helena immediately sided with the long missing Earth-2 Power Girl who brutalized Kara Zor-L. Escaping, Power Girl defeated her crazed doppelganger from Earth-2 before being felled by a mental attack from Brainwave Jr., who revealed to the JSI that the two Power Girls were in fact the same person up to a point. The coming of the JSA with Starman, eased the situation, and the JSA took their leave of Earth-2 with their Power Girl in tow. Starman revealed to Stargirl that the JSI would play a significant role in Power Girl's future.
Power Girl was trying to avoid fighting her unbalanced Earth-2 counterpart and her associates of the Justice Society Infinity as she sought to return to her adopted reality and friends.
Once back in the New Earth reality, Power Girl resumed her position as leader of the JSA. She also began devoting more time to her old R&D firm, Starrware Labs. She has since resigned as leader of the full JSA team and has formed a subset team known as the JSA All Stars which she leads composed of the younger members of the full JSA team including Magog, until a clash of attitudes lead her to kick him off the team.
Around the same time she struck up a friendship with the young superheroine Atlee aka Terra III, who served as her sidekick in confrontations with several villains including Ultrahumanite (New Earth) during his attempts to take over Power Girl's body to gain her immense power, even temporary gaining control of Terra's as part of one of his plans until Power Girl defeated him and restored her young friend to her rightful body with the help of Atlee's people.
Kara was recently fighting against her resurrected "aunt" Black Lantern Lois Lane-Kent of Pre Crisis Earth-Two, who is seeking to kill the New Earth Martha Kent and Lois Lane-Kent and uncle Kal-L. She was instrumental in completely destroying Kal-L's corpse so it could not ever again be used as a weapon in the future as it was by Nekron. Though that destruction also meant Kal-L's body was forever destroyed and not returned to its grave on New Earth.
Stats
Strength: 7
Intelligence: 6
Willpower: 8
Speed: 7
Durability: 8
Personality: 0
Powers
Kryptonian Power Set: The following represents the potential superhuman abilities available to the average Kryptonian while operating within a yellow sun environment such as Earth even if demonstration of such abilities has not been explicitly shown in a canonical resource. Variations of these powers may apply depending upon the wielder in question.
Kryptonian Physiology
A Kryptonian's cellular structure is more dense, resilient and biologically more effective than human tissue. Kryptonians do not seem to possess superhuman strength levels despite their enhanced cellular ability without constant exposure to yellow solar energy. Without such charging, their strength is equitible to that of an average Earth human who engages in regular physical activity. As aliens, they possess several organs whose functions are not yet disclosed or understood but are believed to be part of and perhaps even the source of his biomatrix force field and reclamation aura. A Kryptonian's body also stores energy actively within their bio-cellular matrix as an energy pattern that is linked to their body's electromagnetic field. This energy powers most of a Kryptonian's electromagnetic capabilities such as flight and heat vision. It also supplements their physical strength.
Solar Energy Absorption
Under optimal conditions, this is the main source of a Kryptonian's super powers and are contingent upon exposure to solar radiation from a yellow sun star system.
Superhuman Strength
A Kryptonian develops enhanced physical strength after absorbing a sufficient amount of yellow solar radiation. While the exact magnitude of a Kryptonian's strength level is unknown, it is generally accepted that they are sufficiently strong enough to lift 100,000 tons or more. The specific range is unknown as a Kryptonian's strength, like their other powers, may fluctuate over time. A Kryptonian's strength is more an act of conscious will on energy fields than actual physical strength. It is through this act of conscious will that enables a Kryptonain to perform physical feats that are beyond merely applying applicable force (such as moving a mountain top without said rock crumbling under its own mass). At full power, a Kryptonian's normal strength levels are well into the multi-megaton range.
Invulnerability
A Kryptonian's body is nigh-invulnerable to extreme energy forces. In addition, their immune systems protects them from toxins and diseases. The most common explanations for their invulnerability is that they have a super-dense molecular structure and/or a supercharged bioelectric "aura" which acts as an invisible "force field" around their bodies within a few millimeters from their skin, and presumably within their bodies as well. The proximity of this field to their skin means that loose clothes, for example, may be burned off of of them, while cloth that is close to their body is protected by the "aura;" This phenomenon is sometimes cited as a Kryptonian's reason for wearing a skin-tight bodysuit. It is this understanding which allows them to be able to carry and move objects that would collapse under their own mass, overcoming gravity or inertia tearing them apart around their human-sized hands.
Superhuman Stamina
A Kryptonian has the ability to maintain continuous strenuous physical action for an undetermined period of time. Theoretically, Kryptonians have unlimited stamina as their enhanced nourishment is produced from the solar energy their cells process; however their base physical structures do need to process food stuffs as well as have the psychological need to eat and drink just as Earth humans do, despite the fact that their superhuman powers receives the majority of that power from a yellow sun. A Kryptonian does require sleep on occasion so they can dream. They can also hold their breath for an undetermined period of time.
Flight
A Kryptonian is able to manipulate graviton particles, in an unknown and apparently unconscious manner, to defy the forces of gravity. Under one Earth gravity, a Kryptonian is capable of speeds of multi Mach speeds in Earth's atmosphere. Their control of their flight is very precise and they can perform aerobatic feats such as hovering, flying backwards and even lifting great weights while flying.
Superhuman Speed
A Kryptonian is capable of enhanced reflex action and the ability to move at incredible speeds by sheer force of will. A Kryptonian can match most other speedsters in their ability to perform super-fast movements, reactions, and processes. They can use this power to disarm opponents without heightened reflexes, catch bullets or shrapnel or cross vast distances in seconds.
Super-Breath
Super-Breath is the ability to create hurricane force winds by blowing, and to chill their breath in order to freeze a target (this latter ability has also been called "freeze breath" and "arctic breath"). A Kryptonian can also breathe in large amounts of air, an ability used when dealing with and disposing things like clouds of poison gas.
Super-Hearing
Super-Hearing is the ability to hear any sound at any volume or pitch. With practice, a Kryptonian can develop enough control to block out ambient sounds to focus on a specific source/frequency. As such, they can identify a person by their heartbeat, or pick out a single voice in an entire city.
Heat Vision
The ability to fire beams of intense heat at a target by looking at it with the conscious act of activating this power. Visually, the power is typically depicted as two beams of red light firing from the eyes. These beams can be made invisible, allowing a Kryptonian to work undetected. The maximum temperature of their heat vision is said to be around that of a nuclear detonation. The area of effect can be consciously determined by the Kryptonian in question, down to the microscopic level.
Enhanced Vision
A Kryptonian also possess a superior sensory arrangement of microscopic, telescopic, infrared and ultraviolet visual capabilities. They are able to see the entire electromagnetic spectrum. Part of this mechanism is physical, part of it is believed to be psionic in nature. Abilities include:
Electro-magnetic Spectrum Vision: Can see well into most of the EM Spectrum. He can see and identify radio/television and any and all broadcast/transmitted frequencies, allowing him to avoid detection through radar or satellite monitoring methods. A Kryptonian can see the aura that every living thing generates.
Telescopic Vision: Telescopic Vision is the ability to see something at a great distance, without violating the laws of physics. The total telescopic ability is unprecedented, but limited to some extent. In function, it is similar to the zoom lens on a camera.
X-Ray Vision: The ability to see through any volume of matter except lead. A Kryptonian can see things behind a wall as if the wall were not there, or can "peel back" layer after layer of matter in their mind. A Kryptonian is able to focus their vision past layers of matter, literally seeing "through" them -- possibly perceiving x-rays, cosmic rays or other forms of energy invisible to normal human vision which pass through Earth's atmosphere (and solid objects) after emission from stars. Since it is passive, this ability would not generate harmful radiation in the same manner as a focused projection of hard X-rays.
Microscopic Vision: The ability to see extremely small objects and images down to the atomic level (normal optical microscopes can only see objects down to the size of chromosomes).
Infrared Vision: Allows a Kryptonian better visual accuity in total darkness.
Abilities
Master Combatant Kara has trained with several notable teachers including her teammate Wildcat, who is a world renowned boxer and hand to hand combatant. She was also trained in Karate by martial arts instructor Mongo Krebs.
Genius-Level Intellect: Power Girl has shown enhanced memorization, intelligence and computational abilities; her mind works sharply and with extreme speed.
Strength level
Class 100+. Power girl is easily strong enough to lift 100 tons with minimal effort
Weaknesses
Magic: Power Girl is vulnerable to magic and magic systems. Kara's Kryptonian biology is open to certain radiations, particularly magical energies whose chaotic electromagnetic or extra-dimensional signatures disrupt her body's stability. Power Girl's vulnerability to magic varies on the special effects of the magic. She can be injured and worn down by magical entities. Magic can have powerful and unpredictable effects and her magical enemies have often proven to be the most dangerous.
Psionics Kara-L is as vulnerable to psionic attacks as a normal human being. She is subject to mental domination attacks against her. Those whose mental powers are superior to her own have been able to render her unconscious or disrupt her natural thought processes.
Vision Limitation: Kara's x-ray vision cannot penetrate lead or lead-lined walls, or objects of dense enough structure. Certain energies also can be used to block her from visually analyzing them.
Kryptonite: Since the destruction of Krypton, its remains (rendered radioactive by the explosion) have been spreading throughout the universe as Kryptonite, a crystalline substance whose specific radiation is lethal to Kryptonians. In the Earth-Two dimension, there was only one type of Kryptonite: Green. Its effect was directly poisonous to Earth-Two Kryptonians. The long term effects of other races being in close or direct contact with Earth-Two Kryptonite is unknown.
Originally Kryptonite from other realities affected Kryptonians regardless of their reality of origin, as shown when Kal-L battled the Earth-Three dimension Ultraman. After the Crisis on Infinite Earths, Kryptonite affected only those who come from the same reality as the Kryptonite. Kurt Busiek has confirmed that New Earth Kryptonite does not effect Power Girl, which has been directly and indirectly confirmed in Infinite Crisis and Brave and the Bold.
Solar Energy: Originally Power Girl, as an Earth-Two Kryptonian, did not function on solar power, but her own body generated its own energies. However, based on recent events, Kara operates in a similar way to the New Earth universe Kryptonians, whereby she requires solar energy to function at peak capacity, or her powers fade to greatly reduced levels, some disappearing entirely if her solar reserves are empty. How Power Girl's powers function under suns not colored red or yellow is unknown.
Power Girl can survive conditions in deep space; and she does not need to breath or eat. Kara requires sleep on a regular basis in order to function at her peak mental efficiency, as well as needing to dream, or she will experience the psychological effects of sleep deprivation as would any other person.
In the plot line of New Kandor, Kara is shown not to have her powers replenished by red sunlight, and its radiation can be used to weaken her.


Similar topics
---
Permissions in this forum:
You
cannot
reply to topics in this forum