Name: Jade Mia
Age: 26
Gender: Female
Class: SHIELD
Height: 5'6''
Weight: 121lbs
Languages: English, French, Japanese
Nationality: American, (New York)
Appearance: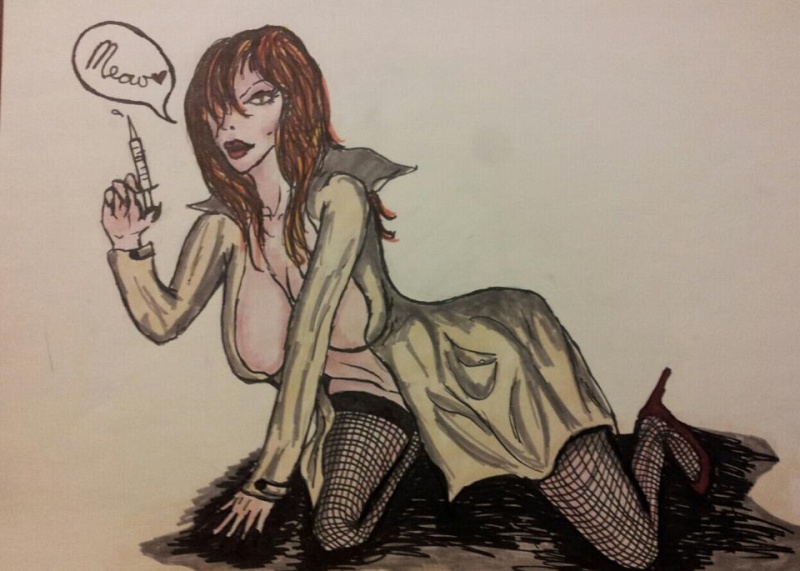 Race: Human/mutant (if you can become one she would certainly be classified. Xmen movie #1 example.)
Background: (O_O have fun...)
People ask what I do for a living, I tell them im a doctor. A lot of the questions very the same, "a gorgeous women like you? A doctor?! You gotta be kidding!"
"Are you sure you aren't really an actress…. if you get what I mean?"
Its quite flattering, watching brainless men drool all over me. They are so simple minded and can be controlled by the littlest things…which makes them perfect for my experiments of course. Whats better than having your subjects just waltz on in mindlessly into your bedroom waiting for sex, I just let them fall right into my trap. My name Is Jade Mia and im a doctor, I love luring lustful men into my trap and dissecting their gorgeous bodies….i normally go for the built men so that my...creations are always at their best. *laughs* Here's my story.
Growing up I was always fascinated by living creatures, I loved animals…bugs…nature. I was fascinated with how the world worked. Always wanting to learn about how certain creatures worked, what their insides were like. My favorite class was biology…I guess you could refer to me as an expert biologist today…its only something I majored in and made me who I am today. The science of animals crafted me, I was nothing but a simple human that wanted more…being human wasn't enough for me. I was weak, people were weak…we fear animals and need to arm ourselves with a bullet to protect each other…an animal can burst through with its own claws. An animal such as a lion or bear can be its own weapon, they don't need a weapon to defend themselves. No…that's nonsense…
When I was in university at Harvard, for biological sciences. I was at the top of my class, I remember girls hating me and boys trying to use me for their grade… they didn't deserve a life of science! All I ever saw was idiots! IDIOTS EVERYWHERE!!
My dorm mate was frightened of me…and maybe she had a right to…I didn't like her…so I made sure it was painful that night. Yes…she was gorgeous and smart…to smart.. so I dissected her alive. Probably let my jealousy get in the way of things… but the bitch deserved it. She was the start of my first major lie of how she never woke up that morning. No matter what I was up to in life it always involved science and experiments, when I wasn't in class I was in my private dorm. I refused to have a new roommate stay with me, claimed I was to traumatized and living in fear of having another friend die next to me in that room. Being at the top of my school, they made an acceptation and gave me a private dorm. Now that I had my own space to work, that was where the real experimenting happened…on myself as the subject. I worked on myself day and night, seeing what effects were positive and negative to my body, how would my body react to these new injections. I would steal research supplies such as jars with animal parts, frozen amphibians and rodents waiting to be dissected…some even large mammals or people that have had their bodies donated. And I would get away with it all. No one would ever suspect the perfect top of the school student for doing such a thing, what could her reason be?
Heheheheehe….and that wasn't all! I drugged myself, froze my body to be dissected on! I turned myself into the experiment! To become the perfect being!! Starting out with simple things in the labs, frog DNA, rat and feline, birds…anything I can get my hands on. I experimented, finding way to effectively merge human and animal DNA together! It was amazing!! My secret…MINE!!! I found this lust for science was beginning to make me go mad, I had scars all over my once beautiful body from the experiments…I had an addiction to pain killers and certain medicines I had to train myself to resist and use only for science. I eventually taught my body to ignore pain as a way of getting off the pain killers and drugs. In time as I eventually discovered more DNA and experimented, I began noticing works in DNA strands. I was effectively creating new species. Now that I discovered this, the experimenting started on myself again. This time, injecting the DNA inside me.
People around the school began to notice a dramatic change in me that they could not explain. Little things would happen such as my eye color changing, dramatic reflexes as my animal instincts began to kick in, high senses and hearing…little things. Just…little things….but big at the same time. My changes were dramatically shown while working in a lab with the other students, when a beaker fell and I caught it before anyone else could realize it without wasting a drop of what was inside. Since my senses became dramatically heightened, I knew that my experimentations were working properly. I was proud of what I was able to achieve, and began to work on myself even more…transforming my body into the ultimate being I wish to become. I soon enough came to realize the impossible of what I was now able to do, I can run at speeds faster than any human and running on all four of my limbs feels more natural than two allowing me to run up to animalistic fast speeds, (Stallion, cheetah, falcon.) I can leap over buildings without any effort as long as I keep my speed up of course, I can balance myself over the most narrow objects, (feline.) Climbing up walls and trees is a lot easier than if I were a normal human,(arachnid, reptiles.) I found the most interesting traits relied in my strength and other parts of my body that I have picked up that I could hardly explain…such as being able to camouflage my skin (chameleon, other forms of reptiles and animals.) Unfortunately my surprised strength became the death of me,(Bull/Ram , lion, bear) I found this out when hitting a boy across the room…I could hardly believe the strength I held and neither could he…he was passed out against the wall covered in blood…of course that was when my secret got out…to bad…I would have been a graduate if this held off just a little longer. He deserved it though…unfortunately I doubt he could live that punch through... a boy should know better than to touch a women without asking her permission.
I was kicked out of Harvard…no more than a month before I could be holding that degree in my hands. But it was their lost… a lost of their best student…I could of turned this world around…but its their lost…good luck getting me back….GOOD FUCKING LUCK!!
And it was not only that…my dorm was searched and lab was found…everything I stole recovered… the student I attacked was found dead…even my experiments and DNA samples were found….EVERYTHING…EVERYTHING WAS FALLING APART!!!
I cursed out to all the students at the school, threatened to kill them all and dissect them!!! "YOU WILL NEVER TAKE ME !!! YOU ARE FOOLISH IF U THINK YOU CAN EVER CAN TAKE ME!!!!!" I was being taken away, to prison but I got out of every trap a cop could lay on me as I attacked every one of them that would put their hands on me! I leaped out of the school, in broad daylight the chase was seen from everywhere as the entire campus watched me run wild on all four of my limbs, the girl finally went crazy, it was obvious what they were all thinking and were scared of me to…only hoping I will be taken to prison as soon as possible. But just when my luck was rising, choppers began to surround me…with my heightened site (Eagle) I could see they had guns…no…what were those? Tranquilisers?! Suddenly I heard guns go off…I was hit deep in the jugular vein…everything soon faded around me as I collapsed to the hard ground.
Sentenced to life in prison….my life was over….my trial was even held in impossibly tough shackles and cuffs holding my body so stiff even I cannot break it….obviously prepared for mutants…this society is so use to them they now see me as one. I laughed at their intentions and accepted my life sentence.
They held me in a separate prison from others, away from other prisoners as they knew they wouldn't stand a chance against me. I was forced into isolation where all I could think about was science and my next plot for escape. It actually seemed that they eventually found a suitable area for me…a separate section of the prison where only mutants were held…funny…would they know I am not really one of them? Would they care? I didn't exactly like the idea of being placed with actual mutants…never have I met one face to face or know what to expect. I would have to study them closely and hopefully come to good terms with them.
Three years have passed…i have found way around living as a prisoner and still finding ways to experiment. My cell was becoming more like a suitable lab…I would experiment on a rat now and then and some mutants allowed me to do little experiments on them to see how their powers worked. It was a fair deal for now…but only because I know I am unmatched against these mutants.
I was approached this day by some men, I was claimed to now be free. Just what sort of deal could be made here? I was wanted somewhere? The S.H.E.I.L.D corporation wants me in their hands…how interesting. I knew eventually that the world would need me, I knew it… I laughed, laughing at the top of my lungs with the freedom that I now possessed. When I was brought aboard their jet, a black man sat before me with an eye patch, he greeted me and told me he knew what I was capable of and why I was here. With the offer of joining S.H.E.I.L.D I couldn't possibly pass the opportunity off, and to break free of this suffering. I took his offer, I finally met someone who knew of my true potential…. I was needed for something Important. The world will now either know me as a Goddess or the their worst nightmare, this was my chance to create miracles.
Weapons and Fighting Skills:
She has every trait from an animal you could imagine, she is as flexible as an ape and feline, as powerful as a rhino. She has natural claws that she can use to tear her opponent apart. Being similar to the famous Cat women at times, she often shows her feline traits the most...being a women it is more natural to her she can be very cat like and sexy. Now lets forget about her suductful ways, she can punch a man twice her size through a wall with her unbelievably powerful animalistic strength, which isnt as bad as her being able to lift a cannon and use it like an oversized rocket launcher...her strength is unrealistic...especially when matched with her size...how could it be that this puny little thing is doing all this? The power of science i suppose? Well its working...
Stats:
STRENGTH: ★★★★★
SPEED: ★★★★
INTELLIGENCE: ★★★★★ (+2)
WILLPOWER: ★★★ (+1)
DURABILITY: ★★★
PERSONALITY: ★★★★ (+1)
Powers: Super Human Strength, Super Human Speed, Super Human Agility, Invisibility (camouflage) can crawl up walls and ceilings.
Weaknesses: Her own insanity has gotten the better of her at times, it was the reason she was discovered and kicked out of University and ended up in prison for all of her crimes and illegal experiments and murders. It is impossible to tell if you can trust her or if she is going to betray another person. She has been trying her best to keep her sanity closed within her mind while she focuses on science at SHEILD. Since she has joined them she hasn't had one slip up and is currently working with the scientist Earl Asplund.
Mentor: You can choose one that you think is most suitable for her.
RP Sample: (( how she became partners with Earl Asplund
http://marvel-dcanewday.canadian-forum.com/t78-earl-asplund-vinio2323
))
Jade - Indigo Earl - Cyan
"So I here your the big scientist around here... She would say posing in the doorway of his lab. Without noticing her he remained at work on his inventions,
"purrr....
Names...Jade...So are you going to introduce yourself to your new partner?" She would walk over to where he was working on his invention, bending down seductively in front of his view while wearing a low cut top beneath her lab coat.
"Would you mind unpacking your things and moving into the other room? And you are blocking my view and limiting my concentration."
Jade would smile, "Oh hunny...soo focused on your work...its sooo inspiring to find someone so dedicated to what they love. I think you and me will make a fine team." She winked while dangling her breasts in front of his face.
"To make an effective team as you would say, first requires equivalence of intelligence..." Without looking up from his work he continued to speak, "But I suppose you were sent to work with me because of such..."
"Hmm...I see." She would stand up, "I guess i would just have to prove myself to you. But in the mean time i am just making myself at home here, good luck on your project handsome." She would leave as she traced her fingers along his shoulder, leaving to her lab where she went to set up her new area.
Last edited by Nightmare696 on Wed Dec 12, 2012 4:06 am; edited 1 time in total (Reason for editing : o f)



Posts

: 247


Join date

: 2012-03-09




um ok is she going to be wearing that in battle because A that would be awkward to fight in as she would show her naked but if she does any flips or attacks anyone from above etc and B if she is naked under the rube than i am pretty sure that it would be breaking my pg rating rule so please clarify because I let you get away with the image for your mutant but the image here shows nothing of your mutation and it seems needlessly provocative. just saying
Well in the comics mutants are people who possess the x gene unless you gave yourself the x gene by taking it out of another mutant (which would be amazing but would have to be explained how you did that) you would probably just be a human with superpowers.
Nick Fury is white in the origional comics so your statement of a black man picking you up is wrong unless you mean Nick Fory Jr but he has no real athority right now.
For mentors i would say there are a couple of people that fit with this character one is from hydra named Viper (or Madame Hydra) who is also a master of espienage and deception and a femme fatale the other is Monica Rappaccini who is a scientist at A.I.M. and was the supirior in fact I think she still is when MODOK is not around. She can provide some scientific knowledge for you as she has biological knowledge that you can absorb. Oh and one more I can think of is Mister Sinester as he is a great biologist and works on mutants like this character did in her bio. it is up to you.
how often do you intend to have your character swear? Just wondering?
Admin




Posts

: 588


Join date

: 2012-02-23



LOL!! that is not her actual outfit!! She just wears a labcoat , she wears clothes under it >.>


and alright ill say shes just a super powered human, and ill have to look some of those ppl up as mentors.



Posts

: 247


Join date

: 2012-03-09



Ok I was just wondering. The picture spooked me.
As for the other stuff you mentioned take your time with choosing your mentor because in terms of villains all have their agendas and many will use you like a dish rag and then discard you like garbage. But there are also many who wish to teach their criminal craft to others to raise the next generation of criminal.
Finally
NICK FURY IS BLACK!!!
Oh wait the Avengers movie right. Well the Avengers movie is set in the Marvel Ultimate Universe Earth-1610 we are going under the Classic Marvel Universe Earth-616 just so you know
This is Nick Fury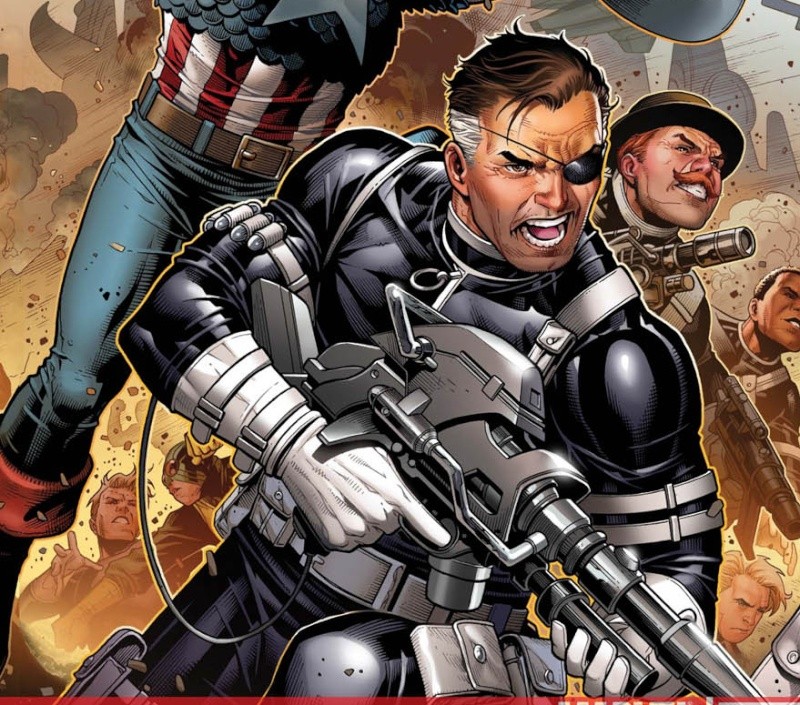 There is a Nick Fury Jr but he appeared after the cut off date of my forum
Admin




Posts

: 588


Join date

: 2012-02-23





Similar topics
---
Permissions in this forum:
You
cannot
reply to topics in this forum