Real Name:
Julian "Ivo" Avalon
Fake Name:
Dr. Ivo Avalon
Current Alias:
Avalon
Real Age:
45
Apparent Age:
20
Race:
Human/Synthoid
Gender:
Male
Height:
6ft 5in
Weight:
170lbs
Alignment:
Villain
Class:
None
Universe:
Marvel
Nationality:
United States
Base Of Operations:
None atm, but eventually the A.R.K. A mobile flying fortress in outer space O.o.
Occupation:
Criminal Genius
Languages:
English, binary. He tends to understand most languages even though he can't speak them.
Appearance:
Theme Song:
Dr Avalon's Theme
Background:
Doctor Avalon was a genius in the field of robotics, and was known as such. He developed robotic soldiers against non human threats for years. Many of these inventions were sold to the MIB. At the time he didn't know about this, but he currently realizes the prowess of his inventions. After serving the government for many years he eventually decided to experiment on himself. After successfully robotizing himself to make him immortal, Avalon's inhumane experiments were brought to light publicly. As he was accused he simply stated that he was a visionary, here to change the world into a Utopia he would call Megatropolis. As expected this idea was rejected, however Avalon persisted destroying part of new york city, and firing missiles along the east coast. This act of terrorism cause countless casualties, and after publicly announcing his claim to the world he vanished into hiding. His legionaries and their minions still carry out his dirty work publicly declaring the dominion of the Avalon Empire.
Weapons and Fighting Skill:
While Avalon prefers to stay sidelined and let his Legionaries do the dirty work, he is trained in over 7 different martial arts, and his self taught Chaos Theory improves his combat arts by being able to predict a persons moves based on past encounter and muscle movement. He will fight dirty and takes any chance he gets to shoot or back stab an opponent, however he isn't beyond respect for a strong competitor. He always carries his personal pistol with him just in case. Usually when he fights he will use his Egg Walker XVS-5000, or one of his other crazy monster suits.
Stats:
(56/56)
Strength:
1 (+2) = 3
Speed:
10
Dexterity:
8
Durability:
7
Constitution:
5
Intelligence:
10 (+2) = 12
Wisdom:
7
Charisma:
8
Natural Powers:
(I put bonus powers in with descriptions of why he has them)
IQ 300:
Dr. Avalon is a super genius and therefore gains Superhuman Intelligence, and Enhanced Memory.
Robotics Mastery:
Dr. Avalon is a master in the field of engineering and robotics, allowing him to develop and unending arsenal of robotic minions to serve his purposes. He usually has a few organic followers or higher processing AI that help look over the mindless numbers of his Pawn Legion. (Essentially hoping for higher minion limit as a power, since Avalon rarely fights)
Logical Will:
Avalon rationalizes everything very effectively by predicting flaws in his own plans before they happen. This allows him to have acceptance for his mistakes without feeling fear of loss or failure. This gives him Superhuman Willpower.
Renowned World Villain:
Avalon has revealed himself publicly as a world villain and has committed terrible acts of public murder and destruction. This has given him a name as a merciless tyrant and therefore he has enhanced Charisma for his intimidation and persuasion tactics.
Tech Based Powers:
Built-In Roboticizer:
Dr. Avalon has a roboticizer built into his body. Simply this is a device to mass produce minions against their will, and it protects him from machines and viruses. When the roboticizer is used it will turn organic beings the doctor is touching into an android who once fully turned will be 100% loyal to him. However this process is slow and he has occasionally left victims with more powerful bodies as cyborgs. However a partially robotized person draws energy from their organic body when using their robotic parts. The effect it has on machines and software is causing the machine to self implode as it tires to be roboticized.
Chaos Emerald:
A strange glowing green emerald that Avalon always keeps on his person. It supplies him with unlimited energy allowing his body to live without recharge. He can also use it to send power or surge organics or machines with anything from a small shock to the power of a suns solar burst. No one is sure where he actually got this emerald from or where it energy originates.
Weaknesses:
Dr. Avalon is not the most athletic person in the world, and tends to spend all him time plotting and building machines of death. He considers any down time and waste, and often runs his own power low by accident. This also causes him to rely alot on other to do his work and defend him, making him fairly weak in combat.
Mentor:
MADOK
SideKick List(Avalon Legionaries) and Minions:
Iron Queen:
Pawn x2, Drgonbot x1
4
Shadow:
none
1
Total Minions used so far: 5
RP Sample:NPC's/SideKicks:
%%%%%%%%%%%%%%%%%%%%%%%%%%%%%%%%%%%%%%%%%%%%%%%%%%%%%%%%%%%%%%%%
Real Name:
Regina Ferrum
Fake Name/Alias:
Iron Queen
Real Age:
45
Apparent Age:
20
Race:
Human
Gender:
Female
Height:
6ft 1in
Weight:
120lbs
Alignment:
Villain
Class:
Sorcerer
Universe:
Marvel
Nationality:
Chinese
Base Of Operations:
None atm, but eventually the A.R.K. A mobile flying fortress in outer space O.o.
Occupation:
Criminal Technomancer, Internet Hacker
Languages:
English, binary, Chinese, Korean, Japanese.
Appearance: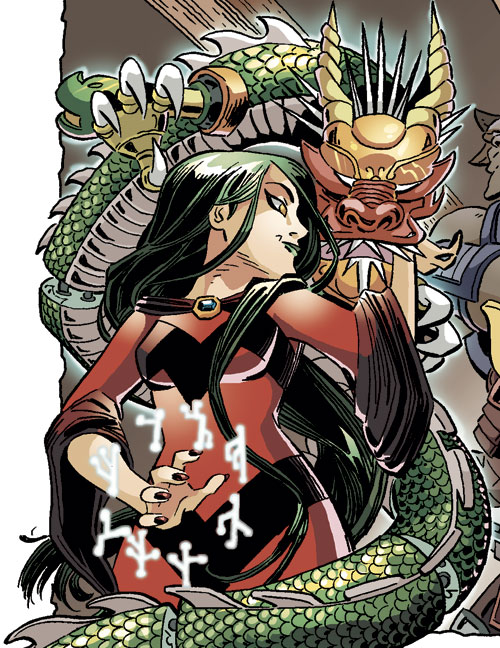 Background:
Regina is from an order of Technomages forgotten by mages. She was abandoned and left as an orphan. Her form of magic was shunned in China and she fled to the USA as a stow away on a freighter. She was luckily found by a kinder old man who was named Avalon. He saw potential in her and took her in. She grew up practicing her magic and learning some self defence skills. Avalon rose her like a daughter, and she's respected him for that. She has no idea who her real parents are, nor does she seem to mind now.
Weapons and Fighting Skill:
Defying the normal stereotype of a scorcerer Regina is actually quite the adept fighter. While not physically strong she is trained in the arts of Kung Fu. Specifically Shequan (Snake Style[fluid defensive]), Longquan (Dragon Fist[hard style]), Baguazhang (8 Trigram Style[counter circle]). She fights with a staff, her fists, and her technomagic.
Stats:
(56/56)
Strength:
10
Speed:
5
Dexterity:
8
Durability:
7
Constitution:
3
Intelligence:
6 (+4) = 10
Wisdom:
5
Charisma:
12
Skills/Styles(will declare what style she's in in combat):
Dragon Fist:
A kung fu art based around body and mind. Because of it's hard style of fighting Regina has gained the ability to focus her muscles to the point where she can punch through steel with her bare fists, giving her a strength boost when in this style. Also the mind aspect allows her to cast more potent techno magic also giving her a magic boost.
Snake Style:
A kung fu art based on mimicking the opponent's fighting style and redirecting their attacks. This style gives her a bonus to dodge and to hit with her attacks.
8 Trigrams Style:
A kung fu style where you target opponents nerve point and redirect their attacks back at them. In this style Regina's hits deal direct willpower damage, and she is able to counter moves to deal damage.
TechnoMagic:
Her signature brand of magic being able to manipulate metal and technology to her own will, even remolding it to function in ways that should not be possible. This also means she cannot use elemental magics.
Weaknesses:
Regina is so enthralled with technology that she goes gaga over advanced tech, and has panic attacks when no technology is available.
RP Sample:Minion(s) For Iron Queen:
LIST:
Serpent Bot x1
Pawn x2
%%%%%%%%%%%%%%%%%%%%%%%%%%%%%%%%%%%%%%%%%%%%%%%%%%%%%%%%%%%%%%%%%
Real Name:
Shadow Avalon
Fake Name:
Shadow Black
Alias:
Ultimate Lifeform
Real Age:
50
Apparent Age:
17
Race:
Human/Mutant
Gender:
Male
Height:
5ft 10in
Weight:
115lbs
Alignment:
Villain
Class:
Sorcerer
Universe:
Marvel
Nationality:
USA
Base Of Operations:
None atm, but eventually the A.R.K. A mobile flying fortress in outer space O.o.
Occupation:
Criminal, Terrorist, Previously Shield Agent
Languages:
English.
Appearance:
Background:
Shadow is a long lost half brother of Julian Avalon. They were never properly introduced since birth, and only after Julian contacted Shadow did they ever really talk. During this time it was revealed that their father had created some weapon that Julian was trying to find, and the SHIELD forces had in fact wiped his memory of them killing his sister and capturing him and this weapon. Julian also knew that they could not use the weapon anyways without Julian himself. Shadow found this all to be too much, and secluded himself for a while. After thinking it through he left SHIELD and joined his half brother Julian in his Tyranny. Julian also invented the inhibitor rings Shadow now used.
Weapons and Fighting Skill:
Shadow is a powerful fighter. His mutations allow him to go above and beyond the normal levels of combat. He is trained in hand to hand fighting by the military as well as gun use and driving skills. He also over years of research had gained the ability to tap into an unknown magical energy source he calls the Chaos Force. This allows him to perform certain magical feats, however the chaos force is so potinent that he himself could not control it, and had to get inhibitor rings to stop it from killing him.
Stats:
(56/56)
Strength:
5
Speed:
10 (+2) = 12
Dexterity:
8
Durability:
8
Constitution:
8 (+2) = 10
Intelligence:
5 (+4) = 9
Wisdom:
7
Charisma:
5
Mutations:
Black Blood:
Shadow has an odd form of black blood inside of him. This blood stopped his body from ageing at 17, and has given him very rapid healing abilities. So much so that his body has been charred to a crisp only to have him recover a day later. (Superhuman Constitution/ Superhuman Durability)
Inhuman Speed:
Unclear whether this is separate to his regular mutation of the black blood or not, Shadow has the ability to run at insane speeds. His top speed had been recorded at 4000mph or 5 times the speed of sound. It takes him a mere 4 seconds to reach this top speed. Of course this takes its toll physically in terms of exhaustion on him. Surprisingly he is able to easily corner at 90 degrees at close to top speed. (Superhuman Speeds)
Combat Reflexes:
Do to his training as a SHIELD agent, he was taught to shoot and fight with accuracy. (Superhuman Dexterity)
Chaos Energy:
Shadows main source of magic. This chaos energy is driven by all the chaos of the entire universe, making it very strong. He wears inhibitor rings to subdue himself from overloading on energy. Shadow is basically able to manipulate the energy into spears of energy to throw, manipulate the low of time to make himself move beyond time and space for short distances (this requires alot of energy), or focus the energy into a large explosive blast.
Chaos Form:
If Shadows inhibitor rings are ever removed the chaos energy takes over his whole being within seconds. While in chaos form his body is constantly being ripped apart from the inside causing terrible pain, his black blood regenerating him. He is able to fly, shoot chaos energy, and reach the speed of light in this form. However the max he was ever able to maintain this form was 1 minute. He has even used chaos control to move an object as big as the moon in this form.
Weaknesses:
Shadow has flashbacks often having had shield mess with his head. He doesn't fully remember his past, but he does keep remembering bits. His main goal now is revenge against SHIELD for killing his sister. While he uses chaos energy, it is a force quite easy to tap into or steal from him, which is unfortunate.
RP Sample:Minion(s) For Shadow:
LIST:
None
%%%%%%%%%%%%%%%%%%%%%%%%%%%%%%%%%%%%%%%%%%%%%%%%%%%%%%%%%%%%%%%%%
Real Name:
E series 123
Fake Name:
Omega
Alias:
E123 Omega
Real Age:
Unknown
Apparent Age:
N/A
Race:
Robot/AI
Gender:
Male (by human standards)
Height:
6ft 3in
Weight:
300lbs
Alignment:
Villain
Class:
None
Universe:
Marvel
Nationality:
USA
Base Of Operations:
None atm, but eventually the A.R.K. A mobile flying fortress in outer space O.o.
Occupation:
Criminal War Machine
Languages:
English, binary.
Appearance: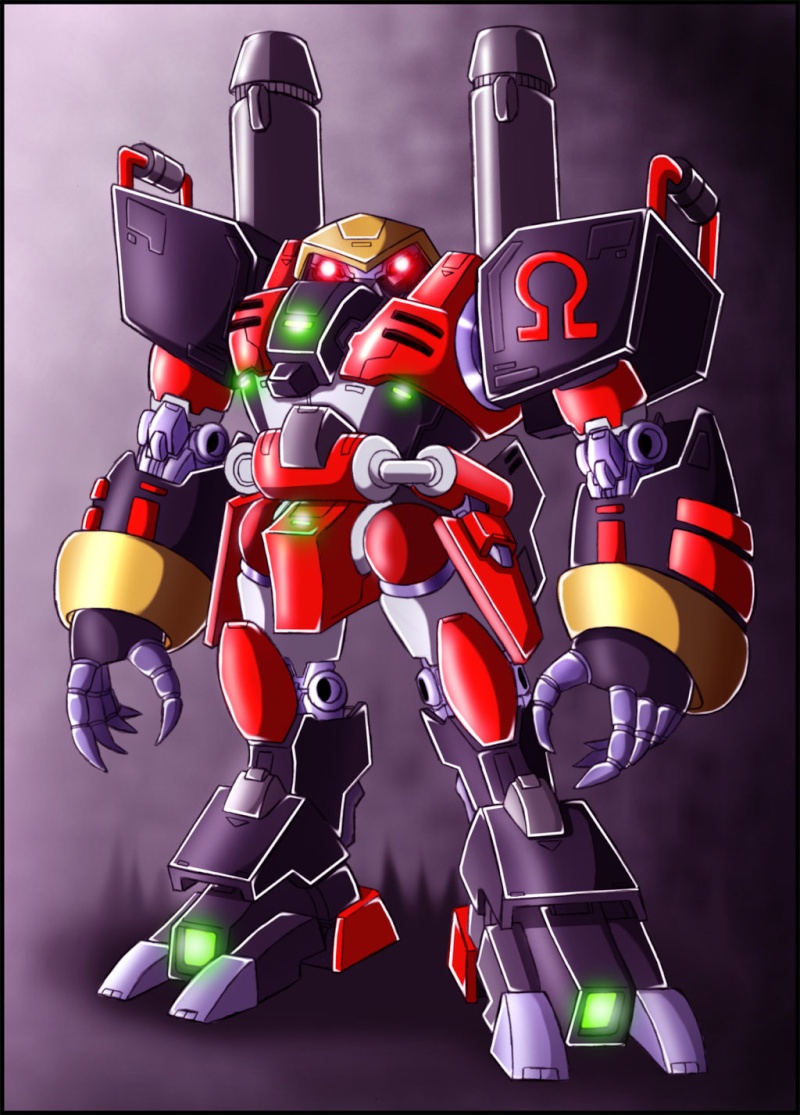 Background:
An artificial AI made to work for Julian Avalon himself. He's a secret project not yet revealed to the world. He is an advanced military platform using armored plating and technologies beyond normal means. It took years for Julian to produce, but this machine is now the pinnacle of military warfare.
Weapons and Fighting Skill:
Omega is programmed with every heavyweight fighting style, every piloting format, and every weapon and vehicle drivers information known to man. Surprisingly he even has a small bit on flying the SHIELD helicarrier. He also has build in armour layers of adminium layering 4 sheets of 2 inches, and has a chaos driver inside of him generating a (seemingly) limitless supply of electricity to keep him functioning. He is a marvel to man's work.
Stats:
(56/56)
Strength:
10 (+2) = 12
Speed:
2
Dexterity:
10
Durability:
12
Constitution:
9
Intelligence:
5 (+2) = 7
Wisdom:
5
Charisma:
3
Tech Powers:
Power Gyros:
Omega has a system of power Gyros giving him superhuman strength. The gyros are able to spin 360 degree and allow him to flex in any geometric way, beyond the human range of motion.
Retro Thrusters:
Omega is able to fly at high speeds and even though he is heavy, when he is airborne his thrusters allow him to turn normally at a top speed of mach 1, and achieve a top speed of about mach 5. He can also make quick dashes forward on the ground if he uses controlled bursts.
Adminium Plating:
Omega has a 4 layer thick, 2 inch per layer, adminum plate body. This makes him absurdly heavy, and as such also makes him extremely durable. This means Omega has superhuman durability.
Combi-Tool Arms:
Omega's hands and forearms can be turned into a bunch of tools such as claws, fists, drills, super powered tazers, and even mini-guns.
Targeting Array:
Omega has many targeting bodies all over himself allowing him to see in all directions at once, and through most solid objects. He can even see invisible heat signatures. This allows him to target and track up to 50 targets at a range of 50ft around him. Essentially superhuman Dexterity (thats the accuracy skill right?)
Rail Cannons:
Omega's heaviest weapons. Using energy to accelerate large metal slugs at velocities close to the speed of light, using frictionless magnetics, these guns can pierce even the most durable armour in a single shot. The downside is that Omega must entrench his feet to fire them, or suffer recoil equal to being hit by a fighter jet going mach 1.
Supercomputer:
Omega has been made so that no outside sources can influence his hardware. His body itself is even airtight to keep out nano-tech and small creatures. This is because his processor in his chest is able to process data at 100 petaflops per second, thats over 100,000 teraflops (or 1 followed by about 14 0's). This gives him superhuman intelligence, but also causes him to always take the logical answers and sometimes over analyze a situation.
Weaknesses:
Omega has many weaknesses, like being unable to access outside connections wirelessly, being unable to fit into all areas because of his bulkiness, hes really slow on the ground, and he has a superiority complex. While being a machine he was programmed to think he was prefect. Therefore he believes everything else is below him, including his creator. The only reason he still listens is for common goal, and he has already rebelled against the doctor once.
RP Sample:
???
Minion(s) For Shadow:
LIST:
None
%%%%%%%%%%%%%%%%%%%%%%%%%%%%%%%%%%%%%%%%%%%%%%%%%%%%%%%%%%%%%%%%
Real Name:
Rouge
Fake Name/Alias:
Rouge Bat
Real Age:
30
Apparent Age:
21
Race:
Human/Mutant
Gender:
Female
Height:
5ft 8"
Weight:
90lbs
Alignment:
Villain
Class:
N/A
Universe:
Marvel
Nationality:
US
Base Of Operations:
None atm, but eventually the A.R.K. A mobile flying fortress in outer space O.o.
Occupation:
SHIELD Agent, Criminal, Jewel Thief, Master Spy
Languages:
English, French, Russian, German.
Appearance:
Background:
Weapons and Fighting Skill:
Stats:
(56/56)
Strength:
 7 (+2) = 9
Speed:
7 (+2) = 9
Dexterity:
7
Durability:
4
Constitution:
6
Intelligence:
7
Wisdom:
7
Charisma:
12
Mutant Powers:
Bat Wings:
Bat wings allow Rouge to fly around and easily maneuver in the air.
Bat Senses:
Rouge's bat ears and senses allow her to react faster and find things more easily. Great qualities for being a spy. This counts as having superhuman senses.
Powerful Legs:
Rouge's mutation gave her the ability to hold herself upside down using her feet. This requires a lot of strength and her legs adapted to be stronger. She fights by kicking and her kicks have superhuman strength.
Spy Abilities:
Master of Deceit:
Rouge is very influential in her speech and therefore has superhuman Charisma.
Master of Stealth:
Rouge is a master of all things stealth. With her heightened senses even she wouldn't be able to pick herself out of the shadows. Mixed with her mutations she is almost impossible to see in dark places or at night, and she never makes a sound, even her wing beats are silent.
Weaknesses:
RP Sample:Minion(s) For Rouge:
LIST:
NONE
%%%%%%%%%%%%%%%%%%%%%%%%%%%%%%%%%%%%%%%%%%%%%%%%%%%%%%%%
%%%%%%%%%%%%%%%%%%%%%%%%%%%%%%%%%%%%%%%%%%%%%%%%%%%%%%%%
EMERGENCY BATTLE SUITS:
Simple tech suits Avalon designed in case he gets in a lot of trouble. He can call any of these suits to come pick him up via gobal launcher in his base, but as they require manual control he cannot use more than one at a time, and they are too complex for his associates.
CRISIS MkII
Description:
After failure on the MkI, this suit has had many improvements to support and protect the user as well as leaving flexible to most combat situations. Unfortunately it lacks in movement because of its durable frame.
Height:
10'
Weight:
450lbs
Appearance: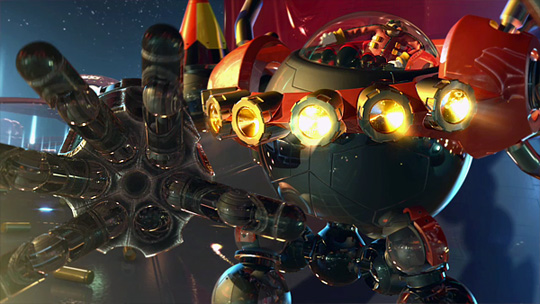 Stats:
Strength:
12
Speed:
6
Dexterity:
8
Durability:
12
Constitution:
12
Intelligence:
2
Wisdom:
2
Charisma:
2
Tech Powers
Rocket Fists/Retractable:
The Crisis MkII is equipped with rocket propelled fists that can be steered from the cockpit. They have a long fibre steel cord attached to them that allows quick retraction.
Titanium Alloy Hull:
The Crisis MkII is meant for defense in a bad situation and as such is build from strong metals giving it superhuman Durability.
Overclocked Servos:
The Crisis MkII is a close combat robot capable of immense feats of strength. This tech is similar to those used in the Arsenal units by one Tony Stark (
).
Air Seal:
The Crisis MkII is a fully build environment in that it is airtight and can be submerged for up to 10 hours and have enough oxygen for it's pilot.
Missile Salvos:
The Crisis MkII is equipped with 12 chest mounted smart missiles. They lock onto a target and track them. If they miss the target they will calculate a route back around to hit them. Of course they aren't the most manoeuvrable so they may hit something else mid flight.
Strengths/Weaknesses:
Being a battle suit it cannot run without an operator, and is susceptible to internal water and electric shock as well as hacking. However from the outside it is air tight so water should not get in. It is meant to take a beating and as such most damage usually able to break it would instead dent it.
%%%%%%%%%%%%%%%%%%%%%%%%%%%%%%%%%%%%%%%%%%%%%%%%%%%%%%%%
DRAGOON
Description:
An experimental battle suit that is so complex it tends to glitch. It has technology well beyond even what Avalon normally uses and has cause him to go through a great deal of trial and failure to produce. He even got some assistance from the Mandarin on this one. Though he will never admit it.
Height:
17'
Weight:
650lbs
Appearance: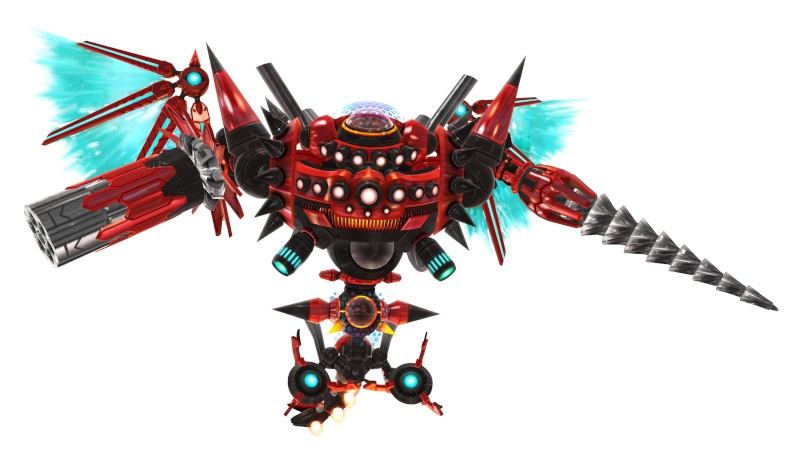 Stats:
Strength:
10
Speed:
10
Dexterity:
10
Durability:
10
Constitution:
10
Intelligence:
2
Wisdom:
2
Charisma:
2
Tech Powers
Flight/Hover Systems:
The Dragoon can fly at Mach 2 speeds and manoeuvre very well. It can even hover in place.
Fire Lance:
The fire lance is the left arm mounted cannon that can either shoot a fireball or function similar to a flaming lance in close combat.
Liquid Nitrogen Launcher:
The feet of this machine can fire balls of liquid nitrogen about 3' in radius. These balls will instantly freeze anything they hit.
Septuple Lazer Arc Canon:
The right arm of the machine is a powerful lazer arm canon able to fire one giant shot at a single target, or up to 7 small shots at different targets.
Separation System:
This machine can function even when its parts are broken or separated. However the functionality drops and the complexity increases. (See complex machine tech power).
Sheild/Wall Generation:
When Avalon is piloting the Dragoon he can use his emerald to send power to his barrier engine. This creates a reflector shield around the cockpit and can create solid walls at a distance of 30ft out of thin air. These walls cannot exceed a distance of 30ft sqr.
Complex Machine:
More of a major weakness than a power, this machine is very complex and as such even the genius mind who invented it has trouble with it. Because of this when using any system on the machine besides flight it has a chance to fail of 10%, this chance increases as the fight drags on at +5% per 10min, and by adding multiple weapons (such as cannon and lance) would add another +10%. A failure usually only causes the system to not fire, but in some very rare cases usually 1-3% the system will malfunction and misfire causing damage to the machine.
Strength/Weaknesses:
This mech is super powerful having little to no weaknesses besides itself. Its complexity causes a huge problem and while it resists almost all elements, it can still be hacked, but the hacker much be physically integrated to it as unless its separated (Separation System Tech Power) it uses no wireless signals.
%%%%%%%%%%%%%%%%%%%%%%%%%%%%%%%%%%%%%%%%%%%%%%%%%%%%%%%%
%%%%%%%%%%%%%%%%%%%%%%%%%%%%%%%%%%%%%%%%%%%%%%%%%%%%%%%%
MINION LIST:
Pawn:
Type: Robot Minion (32pt minion)
Strength:
1 (+2) = 5
Speed:
6
Dexterity:
6
Durability:
7
Constitution:
3
Intelligence:
1 (+2) = 5
Wisdom:
3
Charisma:
1
Specialty:
As robots the Pawns are weak to shocks and water, however they will not die by human means. They can even function without a head, just not very well.
Serpent Bot:
Type: Robot Dragon Minion (32pt minion)
Strength:
3 (+2) = 5
Speed:
9
Dexterity:
2
Durability:
5
Constitution:
4
Intelligence:
1 (+2) = 3
Wisdom:
3
Charisma:
4
Specialty:
As robots the Serpent Bots are weak to shocks and water, however they will not die by human means. They can even function without a head, just not very well. Serpent bots also have a built in hover system to be able to fly, and using a mix of oil and flames can breathe fire, similar to a flamethrower.[/u]
Attachments

DrAvalon.MP3

Doctor Avalon's Theme

You don't have permission to download attachments.

(1 Mb) Downloaded 2 times
Last edited by vinio2323 on Thu Nov 14, 2013 12:00 pm; edited 7 times in total

vinio2323




Posts

: 299


Join date

: 2012-03-08



Dr. AVALON'S WEAPONS AND SUITS
((in progress))

vinio2323




Posts

: 299


Join date

: 2012-03-08



I have watched this character grow and all I have to say is accepted. This guy is a great design even if he is a eggman in looks you have made a truly original designed character in backstory although I am half tempted to make the hero fighting him sonic lol

The MIB would not steal your tech that is S.W.O.R.D. and S.H.I.E.L.D.s job lol. They steal tech to be able to take down any threat with the top tech around the world you can even talk to iron man about that one. MIB on the other hand they only take tech from aliens that they have confiscated their weapons from so unless you are an alien I doubt they would mess with you.

ok chaos emeralds were not in until you brought them in you may want to explain where they come from and what they do but again I know what they do so you don't have to.

For mentors id suggest MODOK or Dr Doom for this guys there are others but they are the ones I can think of at the top of my head. Oh and I am leaning towards MODOK more as you fit his personality more.

Finally minions a quick note if they are a generic thing like normal thugs or a type of mass produced robot in your army they count as 1 slot  and get minion stats which are 1/2 of a characters stats but if you are making minions that have their own individuality and are unique that falls under the side kick motif I made and counts as 2 slots each but sidekicks are interchangeable and the less you bring the more minions you can have with them. Is that ok with you?

Ok for Iron Queen I need a backstory sorry to say

Minions need at least 28 points to meet stat requirements due to the new stat adjustments but its fine for now.

Though I have my issues listed above I like the idea here to do your own spin on a classic character sounds cool. Considering that Avalon and his minions are so prevalent in the forum already I have no choice but to accept them. Oh and he will go into the AIM mission as we discussed.
I did make it that he holds the only chaos emerald known to exist, but if u wanna make the other 6 exist thats up to you. I'll change MIB to SWORD probably, and i completely forgot Regina's backstory.

vinio2323




Posts

: 299


Join date

: 2012-03-08



ok what I meant is explain what the 1 chaos emerald is as this universe did not have it. just wanted to know if it was magic or some kind of science. as for the rest you have time to do that as he is already accepted and btw his mission is almost done with scripting so yea gl you will need it against the s.h.e.i.l.d. agents I sent after you and a.i.m. cause they will be hardcore lol.
---
Permissions in this forum:
You
cannot
reply to topics in this forum